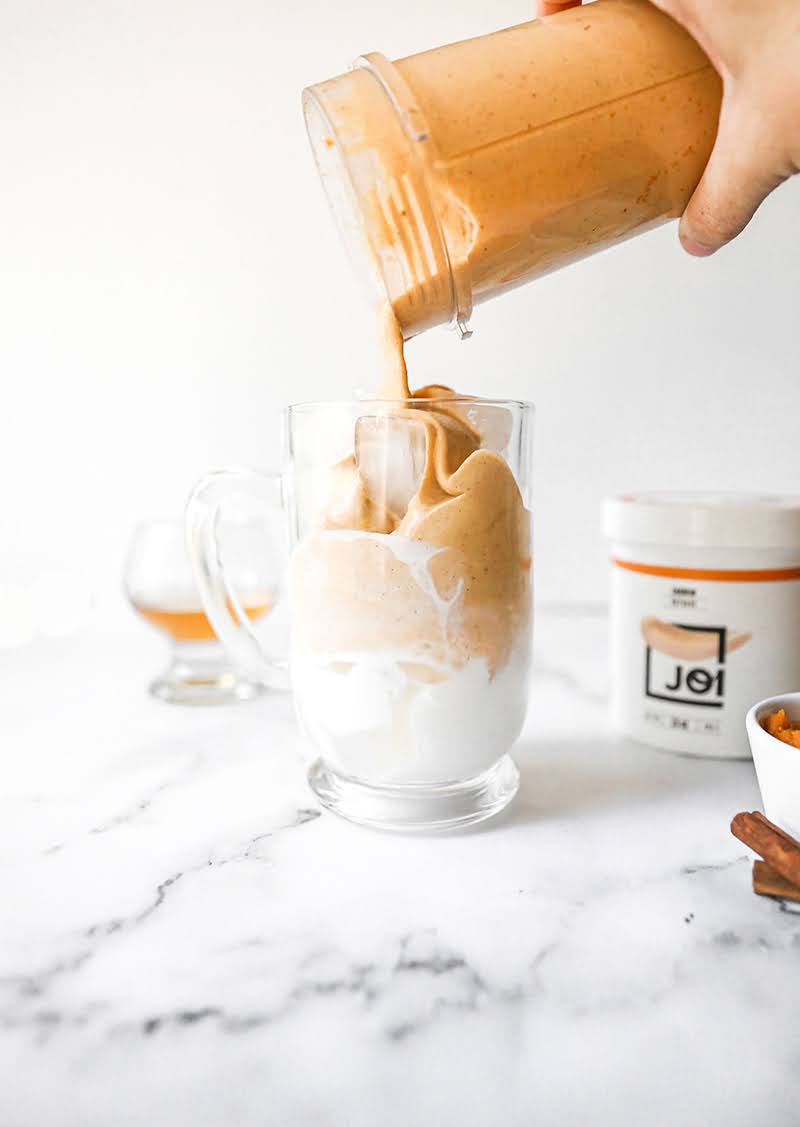 Pumpkin White Russian (Dairy-Free)
< BACK
Oct 7, 2022| By JOI team
Pumpkin White Russian (Dairy-Free)
Almond-Base |&nbspBeverage |&nbspCashew-Base |&nbspCreamer-Base |&nbspDairy-Free |&nbspDessert |&nbspGluten-Free |&nbspOat-Powder |&nbspRecipe |&nbspVegan |&nbspVegetarian |&nbsp
Want to enjoy a super indulgent adult beverage that combines fall flavors with a classic white russian, one of the best after-dinner drinks around? Introducing the JOI Pumpkin Spice White Russian. Creamy and flavored with the best taste of fall... pumpkin! 
This Recipe is Simple and Easy to Make!
This drink (or is it a liquid dessert?!) is easy to put together. Just pour the spiked pumpkin mixture (the "base") over ice and top it with JOI milk. You'll be toasting in no time.
First things first. Putting together the pumpkin base of this drink is very simple. Chances are you have all of these staples already stocked in your pantry and liquor cabinet.
Just blend up a couple of scoops of pumpkin puree, pumpkin pie spice, vodka, coffee liquor, and JOI plant base. The JOI gives this drink (so good you can call it dessert) an ultra creamy texture and adds to the richness of the experience. 
After blending all of that together, simply pour the spiked pumpkin base over a glass filled with extra creamy JOI milk. The swirling of the two liquids creates a beautiful presentation. Add a cinnamon stick if you're feeling fancy. This is the perfect fall drink to enjoy cozied up after dinner!  
This Recipe is Customizable!
Use the baseline recipe below and then go nuts and make it your own! Here are a few ideas to get you started:
Make it a Virgin: Skip the spirits and make it a non-alcoholic drink instead! Just add a little more milk or coffee to replace the vodka and coffee liqueur.  And try adding some maple syrup to replace the sweetness lost from removing the liqueur.
Skip the Pumpkin: No pumpkin puree? No problem. Swap sweet potato puree or butternut squash puree instead.
A Tropical Twist: Swap out the vodka and coffee liqueur for an equal amount of coconut rum and top with coconut whipped cream. Make your own whipped topping by blending the coconut cream from the top of a can of coconut milk with a bit of powdered sugar.
Frozé it: Instead of pouring over ice, blend the base and milk with the ice and enjoy a frappé instead.
What are The Ingredients in this Recipe?
From the liquor cabinet:  vodka and coffee liqueur 
From your pantry:  pumpkin puree, JOI milk concentrates (cashew, almond, creamer or oat), maple syrup (or sweetener of choice)
From the spice rack:  pumpkin pie spice
From the fridge: JOI milk and whipped cream 
Recipe developed and photographed by Sara Ayesh of White Kitchen Red Wine