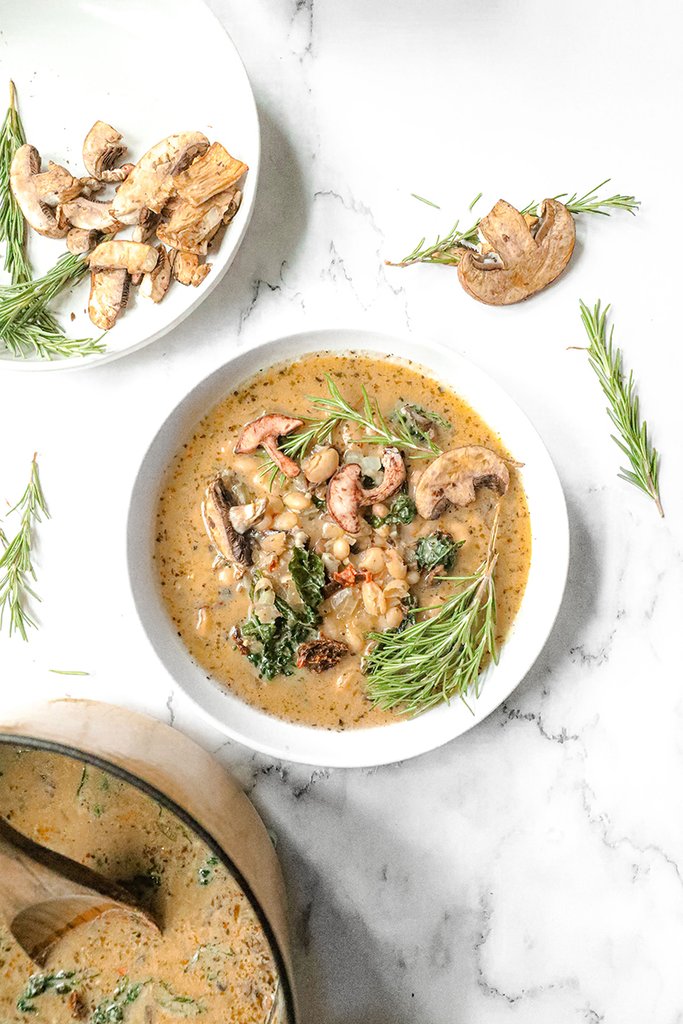 Creamy Vegan White Bean Soup 
Sep 21, 2020| By JOI team
< BACK
Sep 21, 2020| By JOI team
Creamy Vegan White Bean Soup 
Almond-Base |&nbspCashew-Base |&nbspDairy-Free |&nbspDinner |&nbspGluten-Free |&nbspKeto |&nbspLunch |&nbspRecipe |&nbspSnack |&nbspSoup |&nbspSugar-Free |&nbspVegan |&nbspVegetarian |&nbsp
Recipe developed and photographed by Sara Ayesh of White Kitchen Red Wine
September officially marks the start of cozy soup season. From squash soups to tomato soups, there are SO many possibilities. You'll want to be sure to add this Creamy White Bean soup to the top of your dinner list this fall! 


What Ingredients are in this Soup?

White beans, kale, and sun-dried tomato make the most comforting and cozy soup that is packed with things that are good for the body.
Sprinkle in a couple of cups of chopped kale for a nutritional boost, and sun-dried tomatoes for a pop of color and acidity! 
We're going to up the creamy factor by adding a big scoop of JOI!  You achieve all the richness, without the dairy.  Just stir in JOI at the end of the cooking process.  Like magic, the soup becomes creamy, no cream or butter required. 
Plus, with JOI almond base, you're getting protein, fiber and healthy fats.


How Do I Serve This Soup?

This soup a hearty option to serve as a main dish to a group or your family. 
It is delicious - served with a side of your favorite crusty bread and it's dinner party perfection! Top it with extra sun-dried tomato and mushrooms and it looks like a work of art. 

We also love it alongside a fresh salad for a contrast in texture and temperature. Check out salad inspiration on our recipe blog.