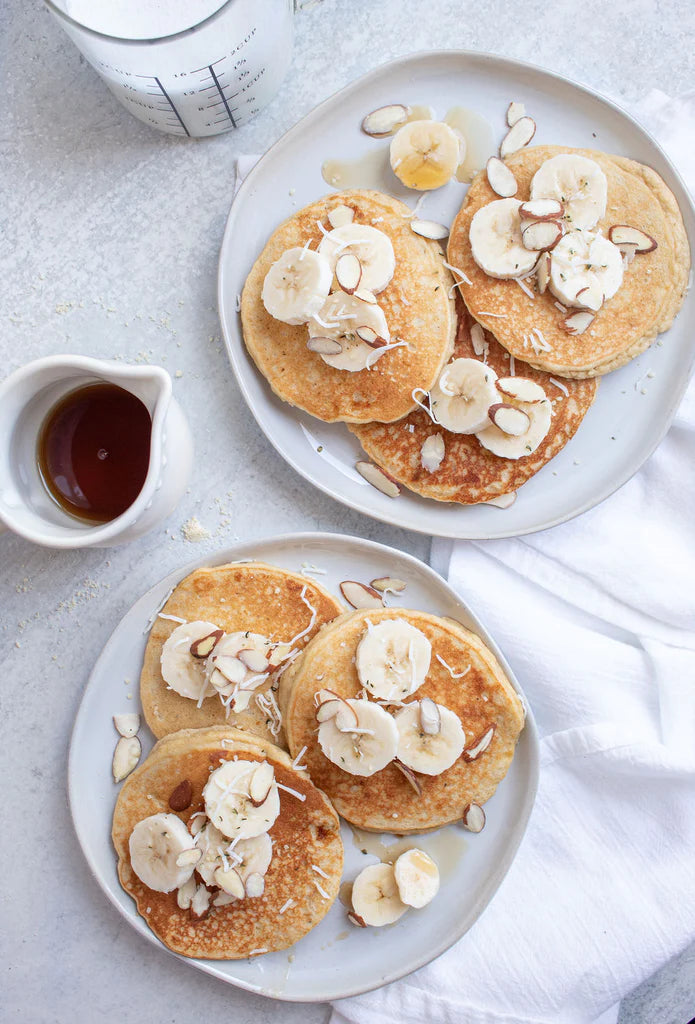 Gluten-Free Banana Pancakes
Feb 25, 2022| By JOI team
< BACK
Feb 25, 2022| By JOI team
Gluten-Free Banana Pancakes
Almond-Base |&nbspBananas |&nbspBreakfast |&nbspDairy-Free |&nbspGluten-Free |&nbspPancakes |&nbspRecipe |&nbspVegan |&nbspVegetarian |&nbsp
Who doesn't love a slow Sunday morning at home, whipping up a fresh batch of pancakes for the family! With sliced bananas and shredded coconut on top, these Gluten and Dairy Free Banana JOI Pancakes are surely a breakfast everyone will hop out of bed for! Even the famous Jack Johnson shares this love for banana pancakes as a cozy breakfast at home (and I can't help but sing 'Banana Pancakes' in my head while I make these!) 

To make these pancakes, you will want to start by making sure you have ripe bananas on hand. While you can mash up unripened bananas and still have tasty pancakes, you will notice a smoother texture with perfectly ripe bananas. You will also want to get out your JOI Almond Base and blend with water to make fresh almond milk for this recipe. Never did I see the day when I would be able to make almond milk at home so easily! 




This gluten-free twist on a tropical classic makes the recipe more allergen-friendly, so the whole family can enjoy. Replace eggs with a vegan substitute to make them 100% plant-based. Stack them up, add your favorite toppings and dig in!




Recipe and images courtesy of Wanderfully Wholesome.