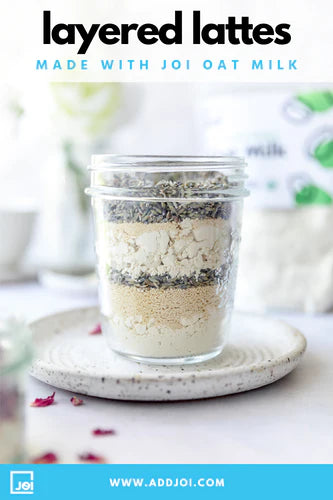 Lavender and Rose Honey Oat Milk Lattes
Apr 30, 2021| By JOI team
< BACK
Apr 30, 2021| By JOI team
Lavender and Rose Honey Oat Milk Lattes
Almond-Base |&nbspBreakfast |&nbspBrunch |&nbspCashew-Base |&nbspCreamer-Base |&nbspDairy-Free |&nbspDessert |&nbspKeto |&nbspLatte |&nbspOat-Powder |&nbspRecipe |&nbspSugar-Free |&nbspVegan |&nbspVegetarian |&nbsp
A beautiful gift to your Mother for mothers day or a gift to yourself in the afternoon on a long day, these layered lattes are easy to mix up and you'll want to keep them on hand! Oat Milk powder layered with delicious flavors blend together in hot water to create a special moment you'll savor all day!
Dried flowers like lavender and rose petal make perfect light flavors for these slightly sweet oat milk lattes. They aren't caffeinated so a perfect evening wind down treat. Layer these in some mason jars to create gorgeous gifts for anyone you love.
Sweetened naturally with the slight sweetness of the Oat Milk Powder and granulated honey, it's not overpowering and you can sip and enjoy the calming aroma of the rose and lavender while you enjoy an afternoon latte.