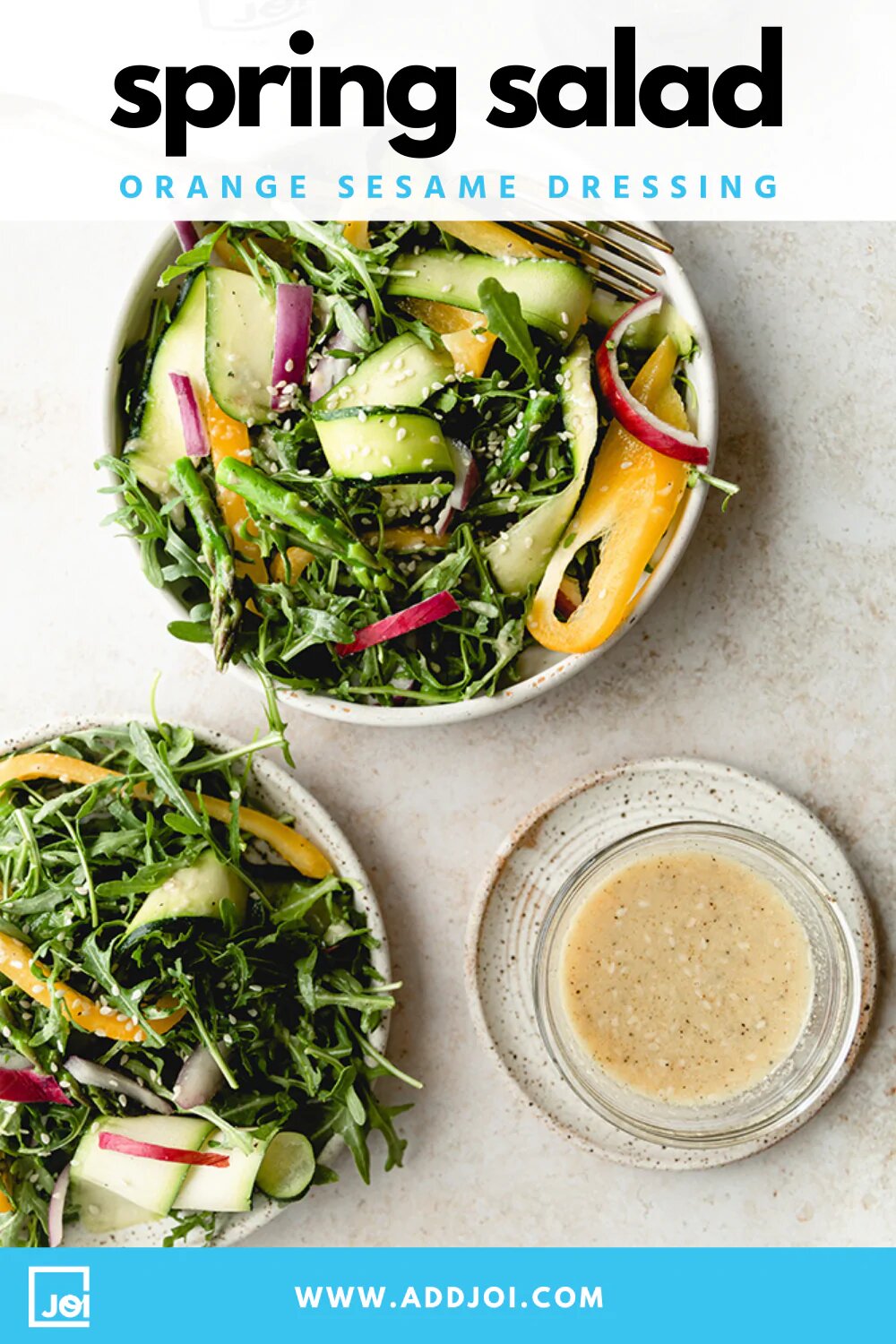 Spring Green Salad with Orange Sesame Dressing
Mar 17, 2022| By JOI team
< BACK
Mar 17, 2022| By JOI team
Spring Green Salad with Orange Sesame Dressing
Almond-Base |&nbspCashew-Base |&nbspCreamer-Base |&nbspDairy-Free |&nbspDinner |&nbspDressing+Dip |&nbspKeto |&nbspLunch |&nbspOat-Powder |&nbspRecipe |&nbspsalad |&nbspSugar-Free |&nbspVegan |&nbspVegetarian |&nbsp
A light and fresh salad tossed with unique spring vegetables and an orange sesame dressing is great to add to your lunch-time or dinner rotation. The orange sesame dressing is vibrant, delicious, and sure to jazz up any of your favorite salads, no matter what the season!
What's the Green Bed Anchoring Your Spring Salad?
The great thing about this salad is that you can really use whatever greens call your attention at the grocery store, farmer's market or even your own garden bed.  We've started with arugula today, but clean out that crisper drawer with whatever you have handy.  A mix of greens works well too!  Tossing together more than one green adds color and a diversity of nutrients.  
We love:

Lettuce (all kinds, from romaine, red leaf, boston, bibb, 

Frisee

Endive

Radicchio

Mache

Beet greens

Swiss chard leaves

Cabbage, shredded

Tatsoi or bok choy

Escarole

Spinach

Kale

Collards (shredded or blanched)

Microgreens!
What Vegetables Do I Add?
You can use a multitude of vegetables for this salad as well!
Whether they're the family favorite (cucumbers!  shredded carrots!) or you're sticking with the Farmer's Almanac for what's most fresh and in season in your neck of the woods (tomatoes and strawberries!), this salad can take it.
We suggest mixing textures and shapes and perhaps colors. 
Add some color with thinly sliced red onion and bell pepper to really create a show stopping Spring Green Salad.  Or maybe you prefer monochrome.  A green on green palate can be just as elegant as eating the rainbow.  
Using asparagus?  By quickly blanching asparagus tips, you can add a unique twist to an everyday salad recipe.
When it comes to texture, think crunch, soft, juicy, or even roasted.  Some of your veggies can shine if shaved, others can be grated or cubed.  Have fun playing around with the vegetables that you add.
How to Make the Tangy, Flavorful Dressing?
In a nutshell, make this easy dressing by whisking or shaking together a few pantry staples with some orange juice.
Orange juice combined with JOI and sesame seeds create a bright and tangy dressing that coats the greens and veggies. 

Out of OJ?  Why not substitute a combination of lemons, limes or other citrus?

Shake it up and toss!  So easy to make.


More Ideas for Salad Success:
Want to make your salad a meal?
Add some protein and/or fiber!  We're thinking
Nuts (cashews, pistachios, hazelnuts, macadamias, almonds, walnuts)
Seeds (chia, basil, sunflower, pumpkin)
Tofu or Edamame
Beans 
Chicken
Fish 
Shellfish
How about some "non-traditional" crispy coutons?  We love crispy chickpeas, crispy plantain bits or even crumbled high-fiber crackers.
Don't forget to pack a fresh punch of flavor with whatever fresh herbs you love.
Round out your successful salad meal with a side of soup.  Check out a soup for every season on our blog!