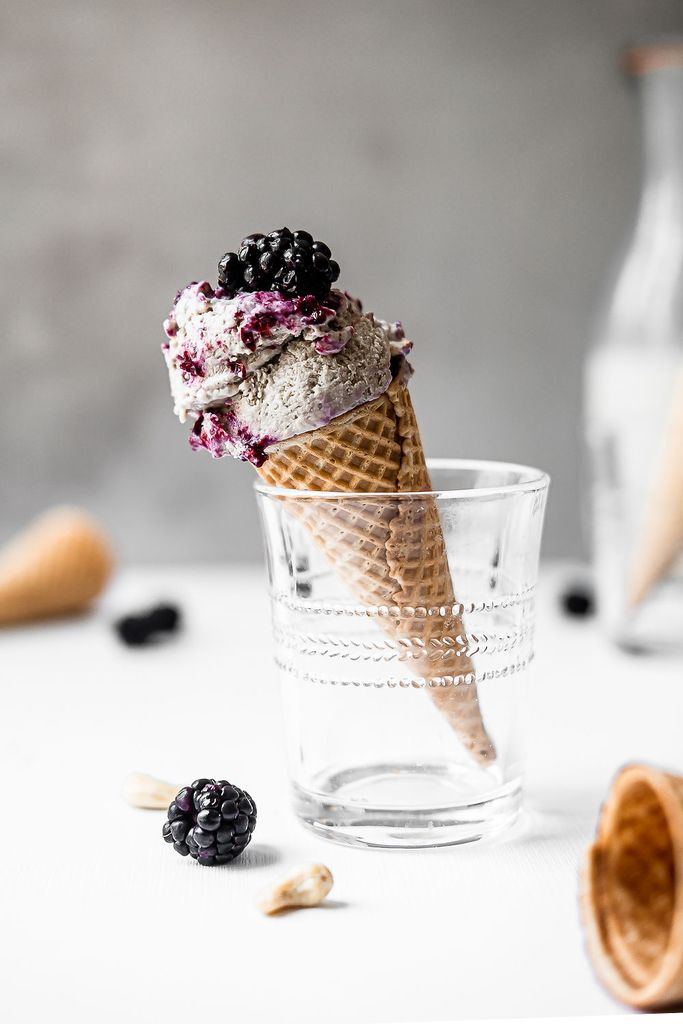 Vegan Blackberry Nice Cream
Jun 15, 2020| By JOI team
< BACK
Jun 15, 2020| By JOI team
Vegan Blackberry Nice Cream
Almond-Base |&nbspCashew-Base |&nbspCreamer-Base |&nbspDairy-Free |&nbspDessert |&nbspIce Cream |&nbspRecipe |&nbspVegan |&nbspVegetarian |&nbsp
Recipe created and written by Sara Ayesh of White Kitchen Red Wine
When Summer rolls around, one of my favorite things about the season change is the produce! Summer months to me scream black berries. Fresh, juicy, sweet, perfectly plump blackberries that you can only experience this certain time of year. Don't run out of recipes to use up those babies, here is a dairy free, vegan Blackberry Nice Cream that will curb that sweet tooth and take full advantage of blackberry season! 
What is Nice Cream?
Nice cream is a common term for an ice cream made with a frozen banana base. By also incorporating JOI milk concentrate, we take away some of the coying sweetness that traditional Nice Cream can have. It's a perfect balance that is rich and creamy, yet dairy-free! 
How Do I Make This Recipe? 
The first trick to the ultra creamy nice cream is to add JOI cashew or almond base for richness.
After you've blended in the frozen bananas, just use water - or JOI cashew or almond milk if you have some made - to thin it all out until it is smooth and creamy. Blend and voila! Nice cream.
How Do I Use the Blackberries?
Back to those blackberries though.  For this recipe, we are flavoring the ice cream base with those juicy blackberries.  That way you can preserve the taste of summer in your freezer for months!
I like to reduce them over medium high heat with agave syrup and vanilla. Allow to cool, and then swirl it into the nice cream before freezing. 
You can use also fresh berries to make your own compote or use your favorite jar of blackberry preserves.