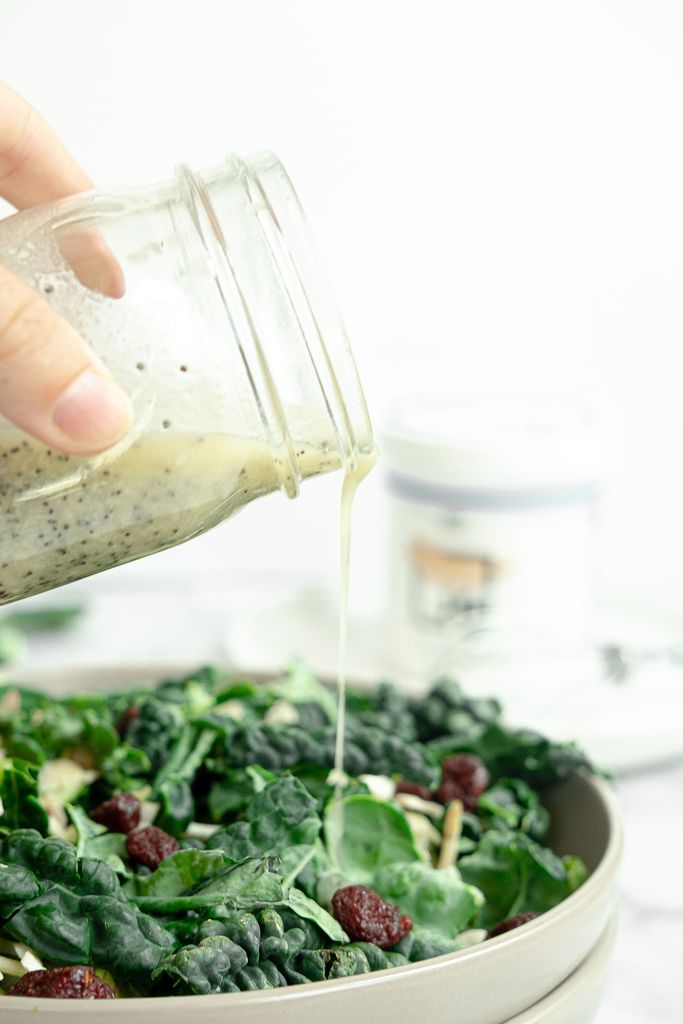 Vegan Poppy Seed Dressing on Kale and Cranberry Salad
Aug 12, 2020| By JOI team
< BACK
Aug 12, 2020| By JOI team
Vegan Poppy Seed Dressing on Kale and Cranberry Salad
Almond-Base |&nbspDairy-Free |&nbspDressing+Dip |&nbspGluten-Free |&nbspKeto |&nbspRecipe |&nbspsalad |&nbspVegan |&nbspVegetarian |&nbsp
There aren't much better salad dressings than a super creamy dressing. 
Let's lighten up your favorite poppy seed dressing with JOI Almond base, tossed with chopped kale, shredded cabbage, and sweet dried cranberries. It'll be a great transitional side dish or meal heading into fall!



Kale salads sometimes get a bad reputation. It's true they can be bitter and a little hard to eat. If you simply massage your chopped kale with a little olive oil before assembling the salad I think you might change your mind! By wilting the kale a bit first it will be much more pleasurable to eat! 



This kale salad is combined with a little shredded green cabbage for crunch. Topped with sweet dried cranberries it's the ultimate combination! Crunchy, sweet, savory, and creamy! Thanks to our poppy seed dressing.
This poppy seed dressing combines a few pantry staples and is definitely a house favorite around here. Grated onion, poppy seeds, JOI Almond base, apple cider vinegar and a little olive oil are all you need for this amazing dressing!



Looking for more salad inspiration? Check out all of our delicious salad dressings made with JOI.