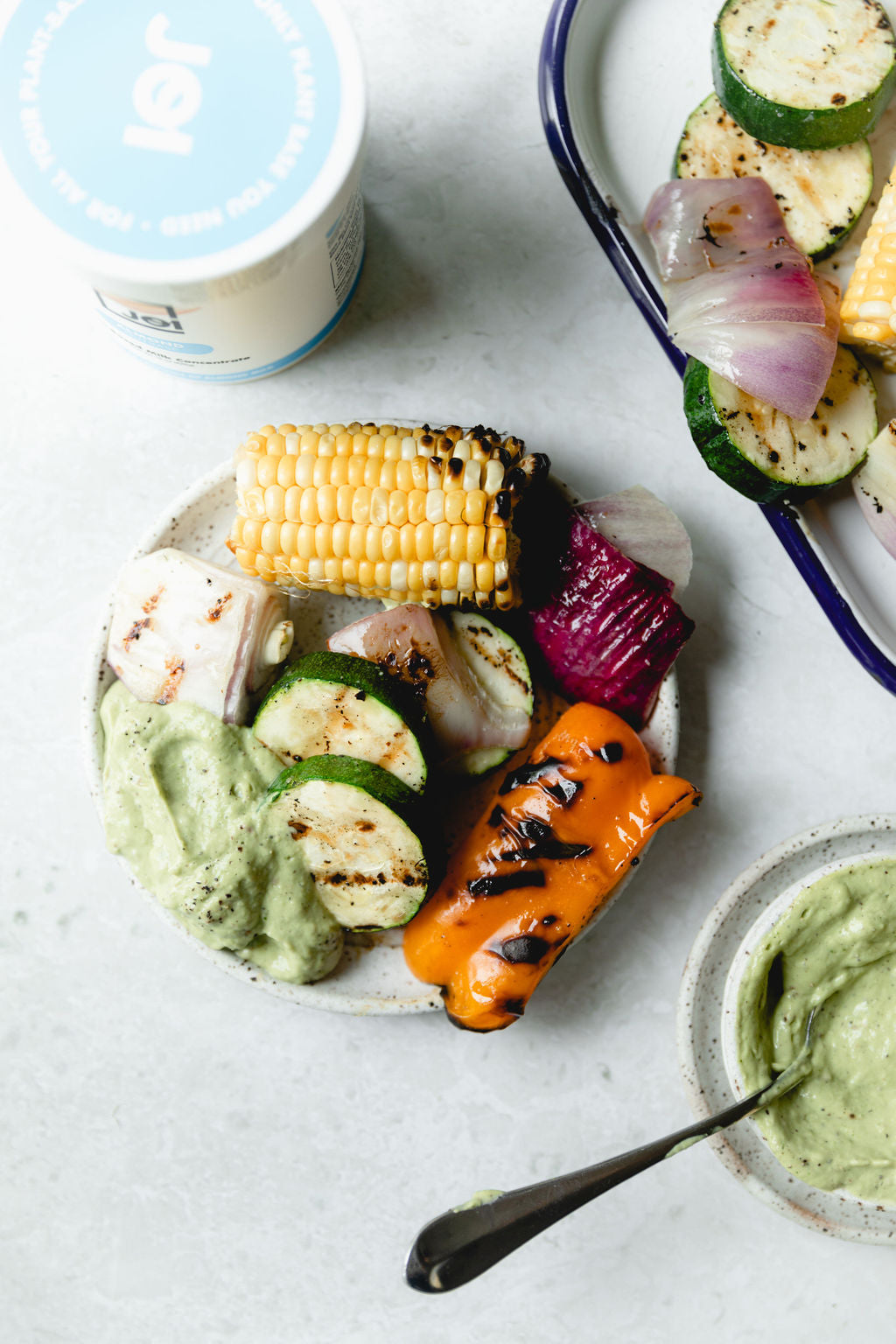 Whipped Avocado Dip (and Grilled Summer Vegetables)
< BACK
Jun 9, 2022| By JOI team
Whipped Avocado Dip (and Grilled Summer Vegetables)
Almond-Base |&nbspAppetizer |&nbspCashew-Base |&nbspCreamer-Base |&nbspDairy-Free |&nbspDips |&nbspDressing+Dip |&nbspKeto |&nbspOat-Powder |&nbspRecipe |&nbspSugar-Free |&nbspVegan |&nbspVegetarian |&nbsp
Cool and creamy avocado dip is the perfect complement to warm and charred grilled vegetables, or the perfect place to dunk your crudités (or tortilla chips!). A summer cookout match made in heaven! Herby avocado dip is smooth and creamy, surprisingly light and really packs a flavorful punch!
How Do You Make this Easy Avocado Dip?
By blending JOI nut base with ripe avocado, fresh cilantro, lime juice (or lemon juice), and a shallot you create an incredible dip that tastes like guacamole but the texture is out of this world! Just whip it all up (don't forget to add salt and pepper) in a blender or food processor and you're done.  So easy.
Plus, by skipping the dairy (no thanks, sour cream and yogurt), you're reducing your saturated fat intake. The secret ingredient to achieving the light creamy texture without dairy? JOI of course!
What do you use Avocado Dip for?
"Guacamole, again?!" - said noone, EVER. But even if you just love your guacamole recipe and can't get enough of it, sometimes it's refreshing to mix things up.
Enter this avocado dip recipe. It's the perfect alternative to guacamole. Similar flavors, but with a different texture.
In fact, use it as a dip for crudités or tortilla chips. It's also perfect for spreading over grilled corn on the cob or dipping charred red peppers into.
Have extras? Thin out the dip with a little water and use it as a salad dressing on a slaw.
Why do you Pair Avocado Dip with Grilled Vegetables?
Our recipe includes instructions for grilling veggies and using the avocado dip as a complement to those. That's because when simply seasoned, grilled vegetables are the best match for this whipped avocado dip.  After all, sometimes grilled veggies can be a bit boring on their own - so spice things up with an avocado drizzle.
The sky's the limit with your grilled vegetable choices as well! A variety of colors and texture is a must so have fun with it.