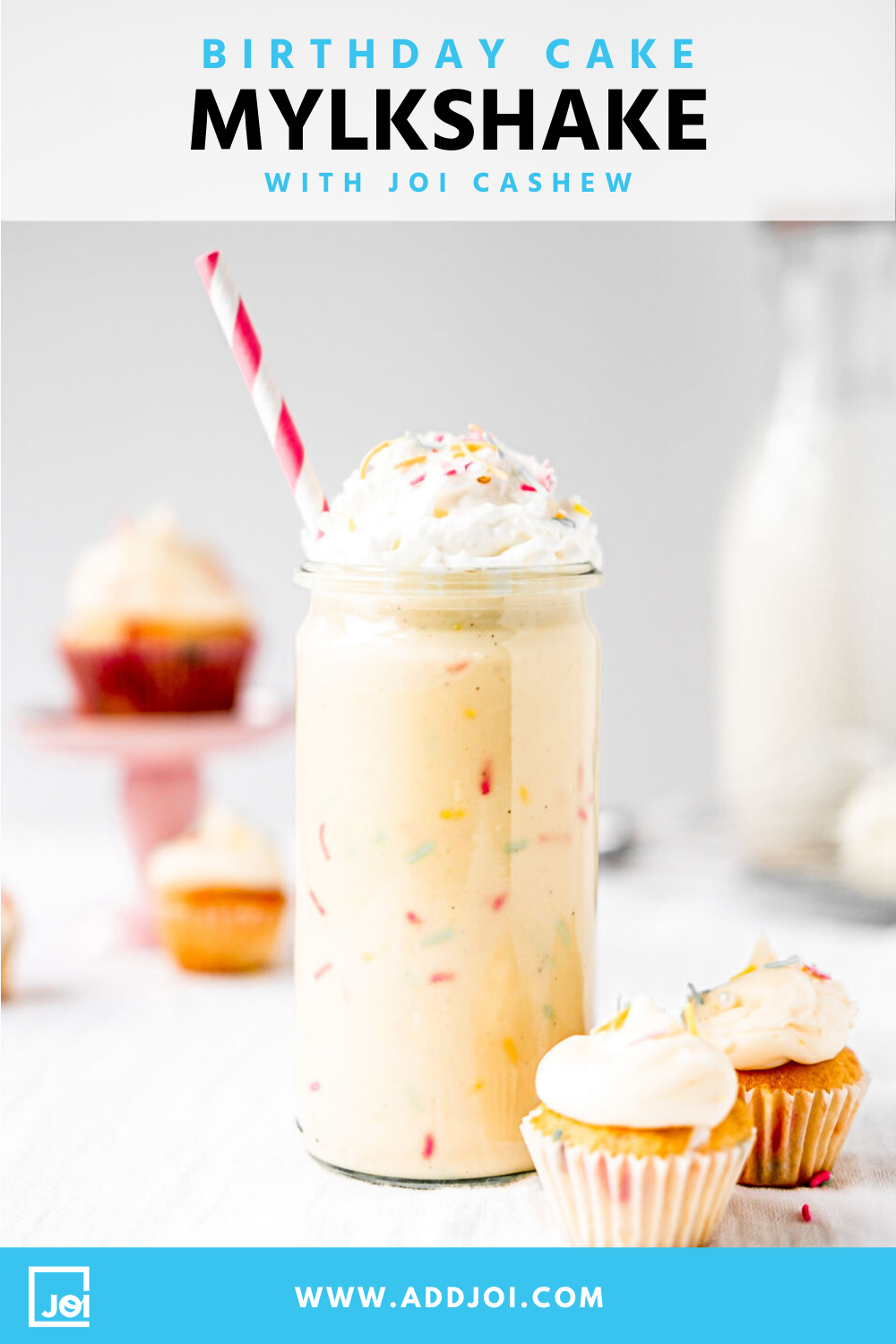 Birthday Cake Shake (Vegan, Dairy-Free)
< BACK
Sep 2, 2022| By JOI team
Birthday Cake Shake (Vegan, Dairy-Free)
Almond-Base |&nbspCashew-Base |&nbspCreamer-Base |&nbspDessert |&nbspRecipe |&nbspSnack |&nbsp
Curb that craving for cake with this dairy-free Birthday Cake Shake using JOI cashew or almond milk! It's the perfect sweet treat that is fun for kiddos and adults alike. I mean, who doesn't love birthday cake? Using our incredibly creamy plant-based milk, we are able to achieve an amazingly creamy and delicious milkshake!
What is a Birthday Cake Milkshake?
Think yellow cake batter (or cake batter ice cream) turns into a smooth and creamy milkshake! We're freezing - and drinking - our cake today.  Sort of.
What ingredients are in this recipe?
The ingredients for this one are simple yet surprising.
Sometimes mixing grocery dairy free milk with ice can make the texture "icy" rather than creamy. Using frozen cauliflower rice as the "ice" here gives it the most amazing texture, plus it's a vegetable so you get some nutrients! Plus, using JOI bases makes this super creamy. The JOI milk is perfectly smooth and adding a touch of cashew butter creates the richness you look for when sneaking a taste of cake batter. The other surprising ingredient is lemon juice. By giving the smallest squeeze of lemon you end up with a tang that perfectly mimics birthday cake batter.
To get that intense vanilla flavor, a sprinkling of instant pudding does the trick.  We've opted for pudding instead of a dry cake mix because you get the cake flavored effect without blending gluten and leaveners into your shake!
Yep, surprising and simple ingredients pack a big punch in this shake. Missing? Vanilla ice cream and milk. We're going dairy-free with this one.
Is this recipe easy?
This birthday cake milkshake recipe is so easy! Just grab those ingredients and blend until smooth. Pour into a tall glass and don't forget a straw. It's a cake and ice cream mashup you can drink.
How can I adapt this creamy milkshake recipe?
Have fun with it! Add a splash of vanilla extract. For a thicker milkshake, add a little more frozen cauliflower rice and JOI.
Or go the chocolate route if you prefer that to the yellow cake vibes. Just substitute chocolate instant pudding mix for the vanilla. Skip the lemon juice and add a pinch of instant espresso powder instead to really enhance the chocolate flavor.
Other fun add-ins include sprinkles, because it's a birthday cake!
Top it with whipped cream (or a non-dairy whipped topping) and you've got yourself a birthday cake shake.
Here's the recipe:
Let's make a Birthday Cake Shake!
 [[ recipeID=recipe-8kkflvic8, title=You'll Never Want To Slice Another Birthday Cake Again Once You Taste This Birthday Cake Shake ]]
Recipe created and written by Sara Ayesh of White Kitchen Red Wine