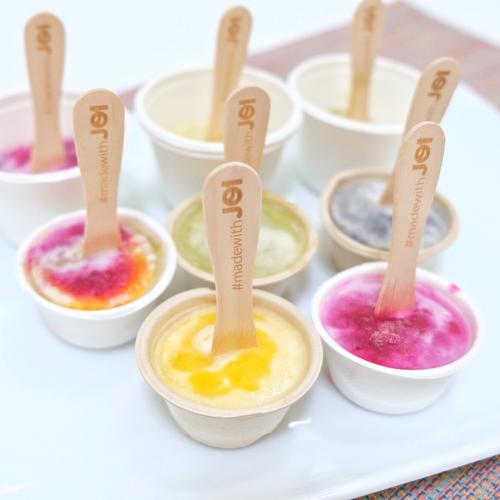 Coconut Fruit Popsicles
Jun 14, 2019| By JOI team
< BACK
Jun 14, 2019| By JOI team
Coconut Fruit Popsicles
Almond-Base |&nbspCashew-Base |&nbspCreamer-Base |&nbspDairy-Free |&nbspDessert |&nbspKeto |&nbspOat-Powder |&nbspPopsicles |&nbspRecipe |&nbspSugar-Free |&nbspVegan |&nbspVegetarian |&nbsp
Step 1 - Blend Some JOI:  First, make your popsicle base by blending together the following ingredients in a blender, and setting aside: 
16 ounces of coconut water
5 Tablespoons of JOI plant base (almond or cashew)
1 Tablespoon of maple syrup (adjust to preference)


Step 2 - Next, make fruit purées with your favorite fruits and superfoods...to make a purée, blend together the following ingredients for a short time on a low speed to retain a thick consistency and a few chunks of fruit.
1/3 cup of coconut water
1/3 cup of fresh or frozen fruit, such as berries or mango
Superfood powder (optional)
Step 3 - Finally, make the Popsicle:
Layer the bottom of 2 ounce container with the fruit purée
Fill with the JOI coconut milk mixture
Top with another layer of purée
Colors will blend in for tie die effect!
Freeze overnight, or for 2-3 hours.
Insert popsicle sticks after 1 hour of freezing.
EnJOI your Coconut Fruit popsicles.