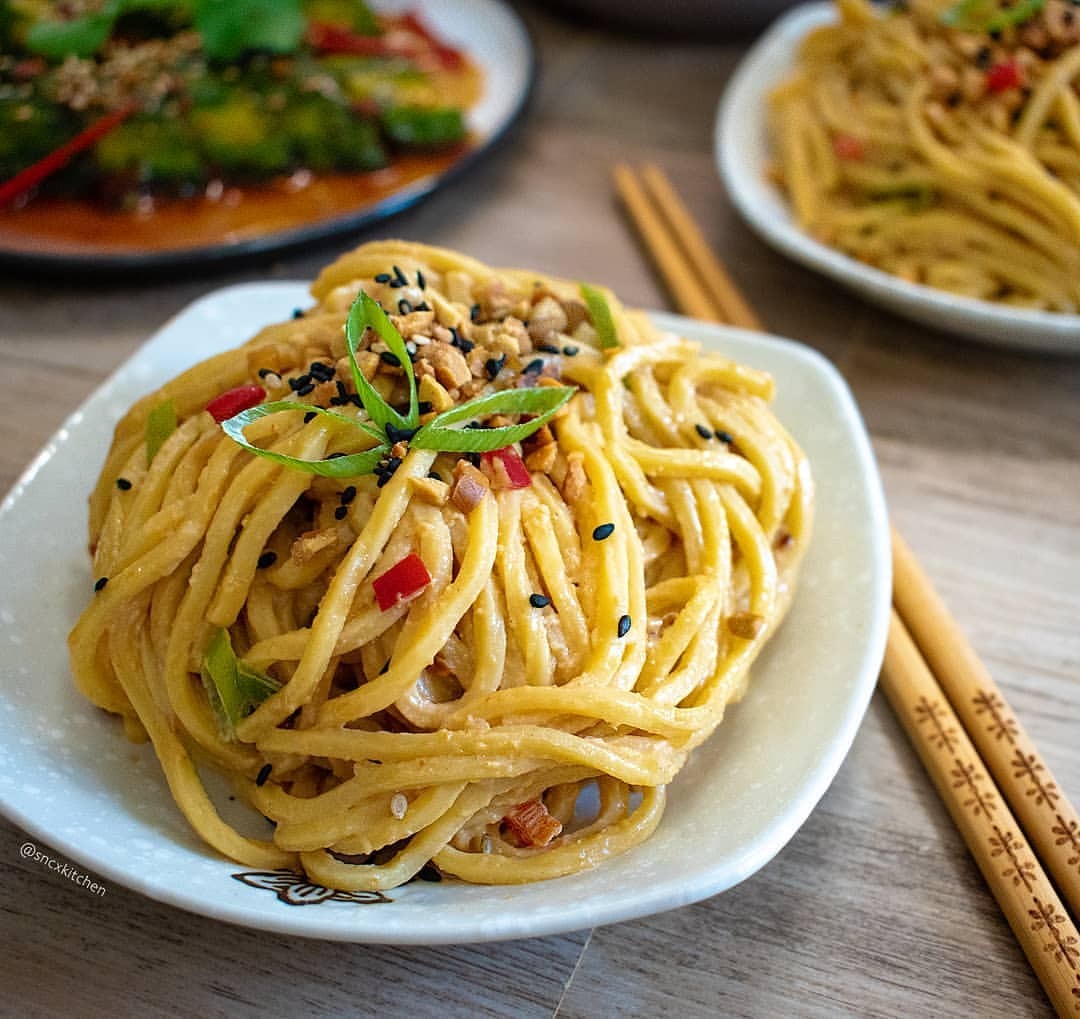 Cold (or Warm) Sesame Noodle Salad
< BACK
Feb 1, 2022| By JOI team
Cold (or Warm) Sesame Noodle Salad
Cashew-Base |&nbspDairy-Free |&nbspDinner |&nbspDressing+Dip |&nbspGluten-Free |&nbspLunch |&nbspNoodles |&nbspRecipe |&nbspsalad |&nbspSauce |&nbspSauces |&nbspSugar-Free |&nbspVegan |&nbspVegetarian |&nbsp
Today, we bring you one of our favorite comfort foods: noodles. Noodles are a symbol of unification, longevity or friendship depending on its roots. This salad recipe is quick and easy and very versatile. Serve it as a side dish or dress it up for a main!
Photo credit: Sharon Rhys (@sncxkitchen)
What is in the tasty sauce?
The sauce for the cold noodles is a little special.
We skip the traditional use of peanut butter for sauces like this and substitute JOI Cashew Plant Base. The mild flavors of our Cashew base does not overpower any of the other ingredients, especially the tahini.  Instead, it allows the flavors to harmonize together for a delicate and delicious afternoon bite. 
No cashew JOI base on your pantry shelf? Substitute for almond JOI base instead!
All the other sauce ingredients are probably already in your pantry.  Or look to the substitutions we've provided.  And whip it up for dinner tonight!
Use this recipe as a "base" or starting point!
This simple recipe lets the sesame flavor of noodles shine.
Not a sesame noodle purist?  Prefer to use this recipe as a starting point or base and jazz it up from there?
Just make a little extra dressing and toss your favorite vegetables and protein together with your noodles.  We suggest:
red cabbage (shredded)
carrots (shredded)
red pepper
green bell pepper
snow peas
avocado (cubed)
edamame (shelled)
celery (thinly sliced)
cucumber cubes
broccoli florets (steamed, small)
cauliflower florets (steamed, small)
mushrooms (roasted or sauteed)
tofu (cooked)
chicken (cooked)
shrimp (cooked)
Cold noodles not your thing?  Serve it these noodles hot instead!

Serve this recipe as a main dish or a side dish. This recipe is customizable to suit your needs. 
Use different noodles if you please
If you think about this recipe as a "pasta salad" you may start to get creative with the noodles you use.
If you're gluten-free, the options available are many these days. Try traditional soba noodles, but check the ingredient list to make sure they are 100% buckwheat. Or try one of the many pastas made from alternate legumes and gluten-free grains, such as rice noodles, quinoa noodles or chickpea noodles.
Or stick with that bag of spaghetti that has been lingering at the bottom of the drawer.
Substitute any shape of pasta if you prefer, as well!
Thank you to our friend Sharon Rhys, a.k.a SNC Experimental Kitchen, a.k.a @sncxkitchen for sharing this lovely recipe.