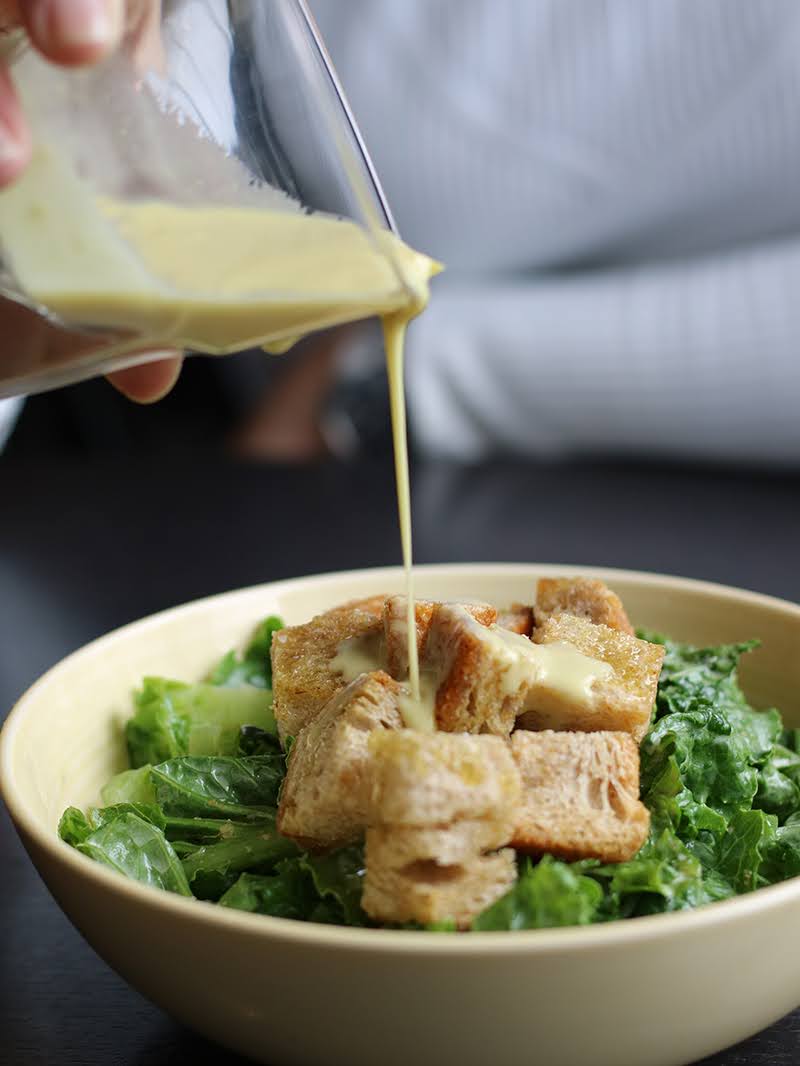 Creamy Vegan Caesar Dressing
May 21, 2020| By JOI team
< BACK
May 21, 2020| By JOI team
Creamy Vegan Caesar Dressing
Almond-Base |&nbspCashew-Base |&nbspDairy-Free |&nbspDressing+Dip |&nbspGluten-free |&nbspRecipe |&nbspsalad |&nbspSugar-Free |&nbspVegan |&nbspVegetarian |&nbsp
Ever have one of those days where you want something light and kind-of-sort-of-a-little-bit healthy but also are really just craving some comfort food? Days like those are prime for a nice, simple Caesar salad—and we've got a vegan Caesar dressing made with JOI Almond or Cashew Base that's perfectly healthy AND indulgent.
The beauty of Caesar salad is that it's a blank slate—a culinary canvas just waiting for you to dress up, spice up, and pack full of nutrients to whatever degree your heart desires. Want to use iceberg lettuce and croutons as a vehicle for dressing? Done. Looking to flavor a victory garden's worth of leafy greens, ripe tomatoes, and roasted root veggies into a hearty meal? Go for it. Top it all off with crispy vegan fried tofu, crunchy baked chickpeas, homemade croutons, or hot red pepper flakes? Do it up. The common denominator here is a truly outstanding creamy Caesar dressing, and we've got you covered.


Ready to make the healthy-ish vegan dressing of your dreams? Or just go to town dipping some crackers or chips? Here's our recipe for Creamy Vegan Caesar Dressing made with JOI:
Looking for more vegan dip ideas that are just the right blend of healthy and indulgent? Try our Creamy Vegan Ranch Dressing or snack-attach worthy French Onion Dip!