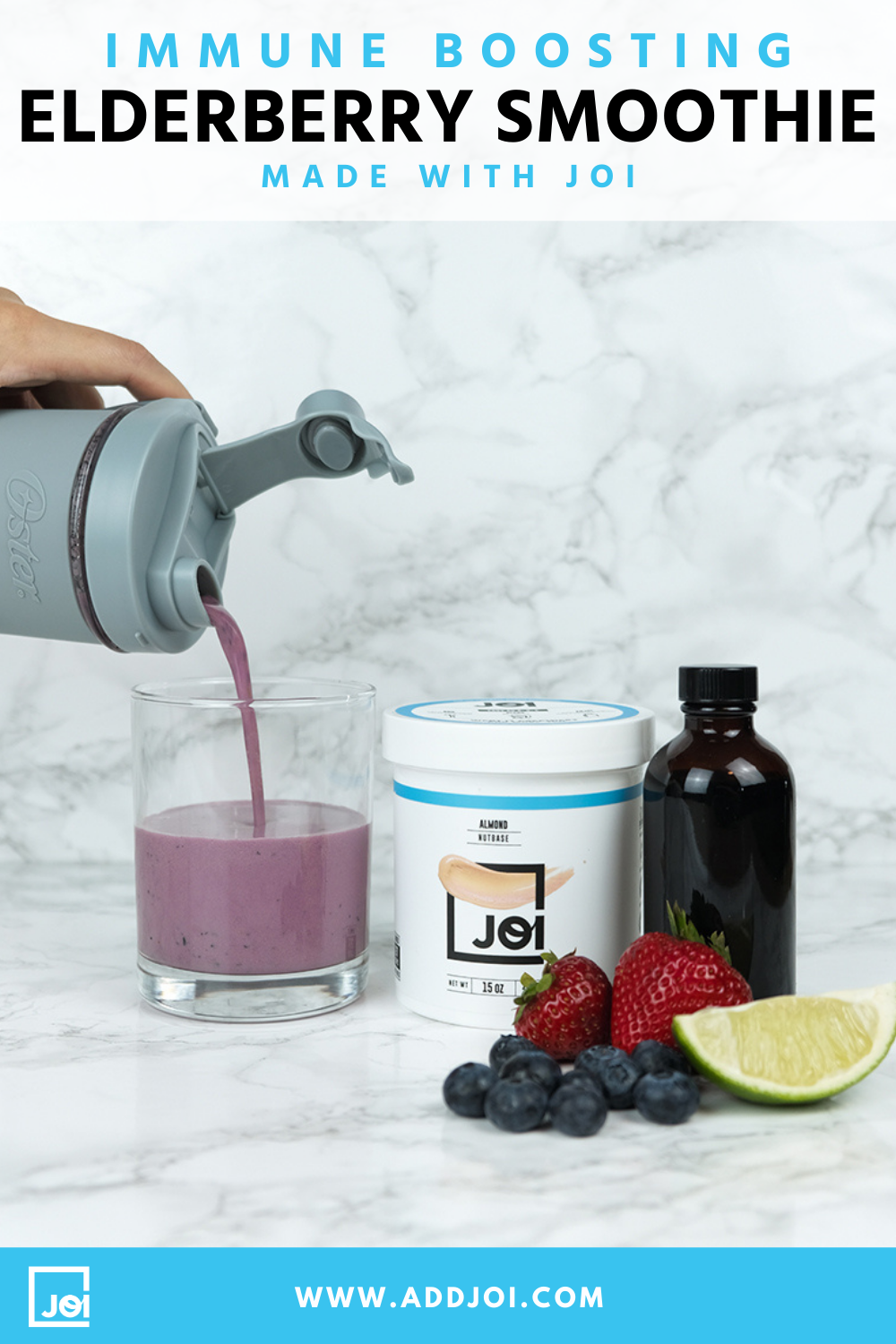 Elderberry Mylk: A Fortifying Fall Drink Made Simple with JOI & Oster Blend Active
Oct 14, 2020| By JOI team
< BACK
Oct 14, 2020| By JOI team
Elderberry Mylk: A Fortifying Fall Drink Made Simple with JOI & Oster Blend Active
Almond-Base |&nbspBeverage |&nbspCashew-Base |&nbspDairy-Free |&nbspHealth+Wellness |&nbspRecipe |&nbspVegan |&nbspVegetarian |&nbsp
This is part of our "On The Go" series with our partner Oster Blend Active portable blenders
It's October, which means it's officially fall and go-time to fortify your body with all the anti-oxidant, immunity-boosting, health-supporting, super-nutrients you can get your hands on before winter's here and we're all truly hunkered down. 
But, it's also not winter yet, which means there are those occasional beautiful days that make you want nothing more than to squeeze a few final minutes out of summer. We've got a drink that'll help you check both of those boxes: Elderberry Milk. 
This powerhouse drink is packed with the sweet (and healthy) taste of warm weather in the form of blueberries, strawberries, and just a twist of lime. But, the real star here is elderberry syrup. This super-food has been recognized for centuries as one of the most powerful natural remedies for those nasty cold-weather colds and flus. Elderberry syrup is also known as an outstanding all-around immune system booster and anti-inflammatory, and can even help manage diabetes. Blend up (in your convenient Oster Blend Active rechargeable portable blender of course) with the healthy fats and nutrients of almond or cashew JOI plant base and you've pretty much got the perfect on-the-go drink to 'winterize' your body.  
Elderberry syrup might sound exotic, but you can easily find it online and at many healthy grocery stores and vitamin shops—personally, we love this gluten-free formula from Nature's Way available on Amazon. Feeling ambitious? Make your own with Detoxinista's Elderberry Syrup recipe that includes a vegan variant. 
Ready to tackle the change of seasons? Here's the recipe for our immune-boosting vegan Elderberry Milk: 
Ingredients:
1 cup (8 oz) of water
1 Tablespoon of JOI plant base (almond or cashew)
Up to 1 Tablespoon elderberry syrup (adjust your quantity; for children use less)
¼ cup blueberries, fresh or frozen
¼ cup strawberries (about 2 medium), quartered, fresh or frozen
Pinch of salt
Squeeze of lime, or more to taste
Optional:  sweetener of choice (honey, maple syrup, agave, etc)
Instructions:
Add water to Blend Active, followed by berries.  

Add remaining ingredients and blend for 2 cycles, or 60 seconds.  

Add ice, if desired, and enJOI!
Yields about 1 ¼ cups (1 serving)
Looking for another simply delicious way to enjoy plant-based milk? Try our Classic Almond Milk!