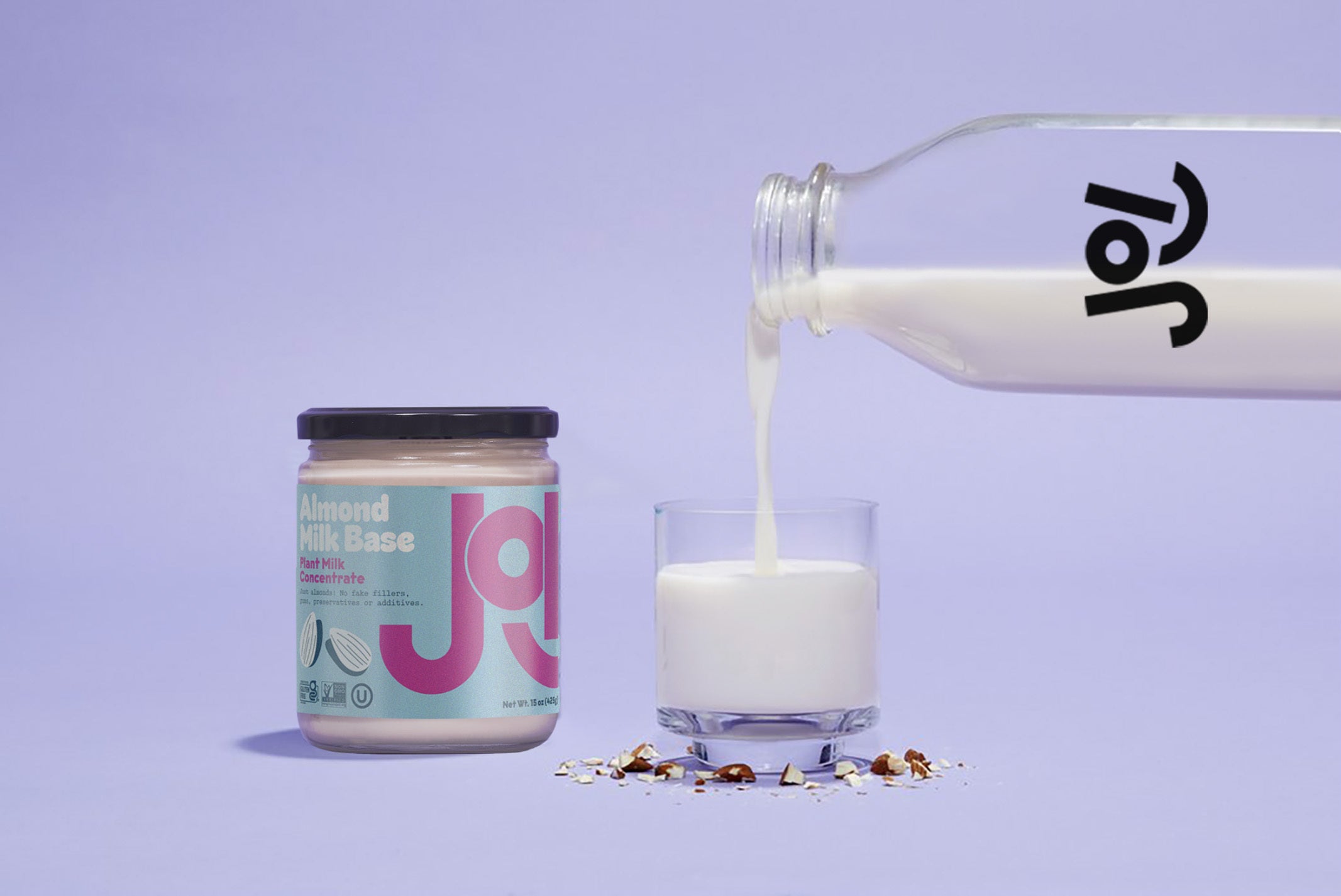 How To Make Almond Milk
Apr 24, 2020| By JOI team
< BACK
Apr 24, 2020| By JOI team
How To Make Almond Milk
Almond Milk |&nbspAlmond-Base |&nbspDairy-Free |&nbspHealth+Wellness |&nbspHow To Make Almond Milk |&nbspPlant Milk |&nbspRecipe |&nbspTips+Tricks |&nbspVegan |&nbspVegetarian |&nbsp
Homemade almond milk is hands-down so much better than grocery store brands. But the process to make it—buying almonds in bulk, overnight soaking, and tedious straining—yeah, that starts to make the grocery store stuff sound ok. 
Good news—you don't have to choose between time and convenience anymore. With JOI 100% Almond Nutbase you can have fresh, delicious, totally customizable homemade almond milk ready to go in under a minute. Just add JOI Almond Base to water, blend for 30 seconds, and voila! You've made creamy, healthy, 100% almond milk.


Sounds too good to be true? Don't worry, it's not. Let us break it down for you...
Making Traditional Homemade Almond Milk Is Time-Consuming 
The draw of making traditional homemade almond milk is that it's fresh and you have total control over the ingredients, starting with the very basics—just almonds and water. But from there, it gets more complicated. First, you need to soak your almonds anywhere from a few hours to a day in order to achieve a creamy texture when blended. After you've cooled your heels for a few minutes blending your soaked almonds and water, you get to strain the mixture so your milk doesn't come out gritty. And good luck finding the right tool for straining—depending on the recipe you follow, everything from nut milk bags to standard kitchen strainers to women's nylons gets suggested. Straining is also going to leave you with a nice batch of leftover almond pulp (read: the almond skins), which can be used for some creative baking, but especially after you've gone through the rest of this process, chances are you're not looking for extra time in the kitchen. And of course, this whole homemade almond milk adventure starts with buying pricey raw almonds—two cups or more (depending on desired creaminess) for every quart of milk.

Straining almond milk through a nut bag is so 2019

5 Reasons Why JOI Makes Homemade Almond Milk Easy, Better, and Affordable

At JOI, we're so on board with the whole-food philosophy behind traditional homemade almond milk. But we also value our time, and we knew there had to be a way to get the same fresh and healthy benefits without all the hassle. With JOI Almond Base, we've taken care of the time-consuming and tedious steps of homemade almond milk—soaking almonds and straining the blended milk—so you can sit back and enjoy nutrient-dense 100% almond milk blended fresh on-demand. Here's why it works:
JOI Almond Base is made from 100% almonds. No additives, no fillers, no stabilizers, no carrageneen, no "natural flavors", just one ingredient—almonds. And all you need to blend it with is water—just like traditional homemade almond milk.


JOI is a base—so you don't have to soak almonds.

With traditional homemade almond milk, soaking is necessary to get the almonds soft enough to blend. Our steam pasteurization and cold milling process takes care of this time-consuming step so JOI Almond Base is ready to use whenever you are. Plus, this process

activates the nuts to unlock their full healthy potential

.


JOI Almond Base ensures smooth, creamy milk consistency. JOI's steam pasteurization process blanches whole almonds to remove their skin, so gritty pulp is never a concern and straining is never necessary with our Almond Base. Plus, almond milk made with JOI froths like a champ.


JOI Almond Base can be blended with sweeteners and add-ins of your choice—or not. Just as with traditional homemade almond milk, the possibilities to make JOI homemade almond milk your own are nearly endless. Add a touch of sweet with vanilla or honey, keep it vegan with a touch of maple syrup, go tropical with a splash of coconut water, indulge with a chocolate milk variation, or enJOI your almond milk in its pure and simple form.
 
JOI makes high-quality homemade almond milk affordable.

We formulated JOI Almond Base with making homemade almond milk in mind (although there are lots of other tasty ways to add some JOI!). That means we worked hard to ensure an affordable product. Using our standard ratio, a quart of homemade almond milk made with JOI costs just $2.86—if you're buying

bulk raw almonds on Amazon

, a quart of traditional homemade almond milk can easily run you $4 or more. 
How To Make Homemade Almond Milk In 30 Seconds 



Making homemade almond milk with JOI 100% Almond Base really is that easy.

Ready to try the easier way of making fresh, healthy, and delicious homemade almond milk? Ditch the soaking tubs and strainers and make the switch to JOI 100% Almond Base today. 
P.S. Did we mention we now have JOI 100% Organic Almond Base and JOI 100% Cashew Base too?