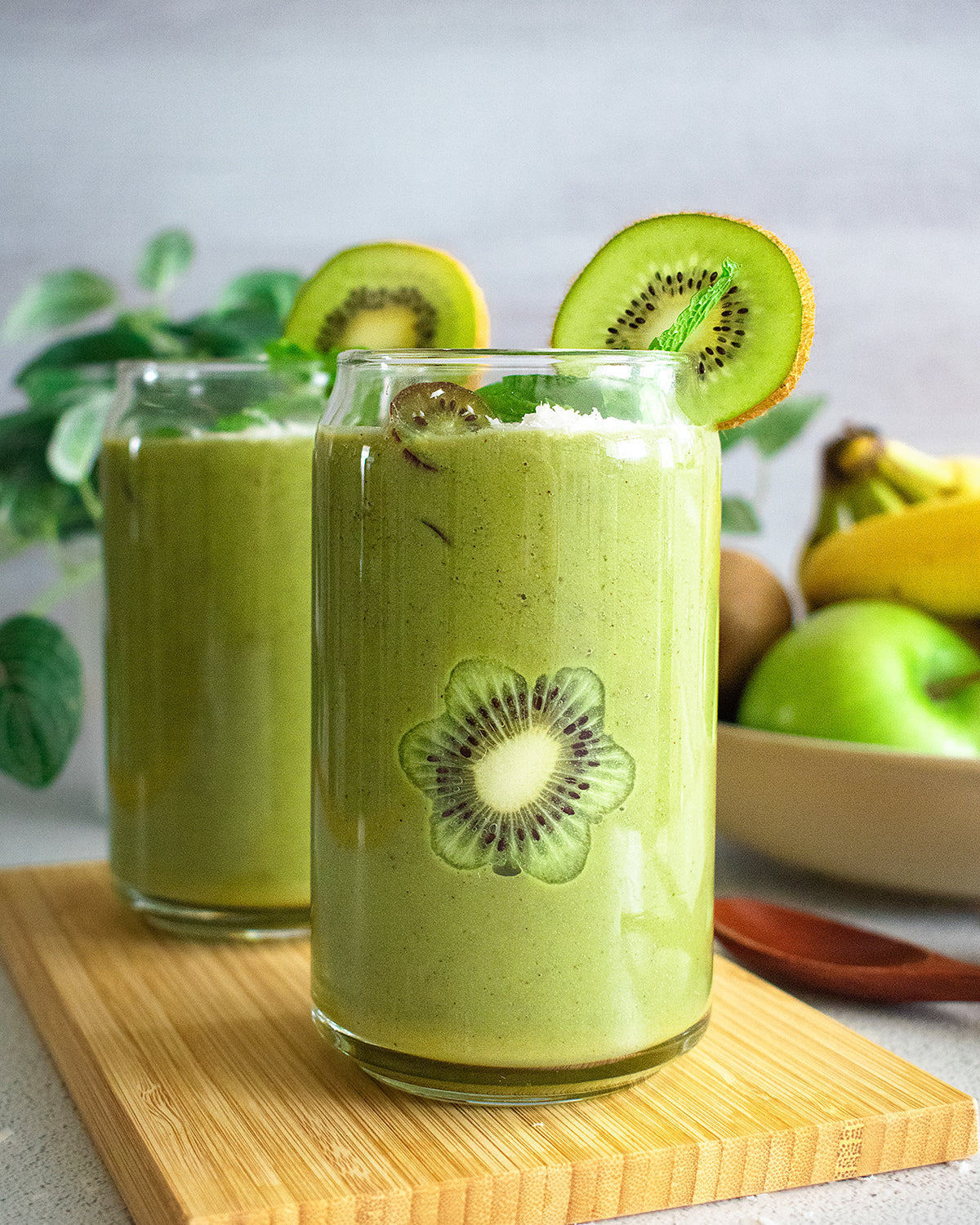 Matcha Green Smoothie: Goodness Made Easy
< BACK
May 5, 2022| By JOI team
Matcha Green Smoothie: Goodness Made Easy
Almond-Base |&nbspBeverage |&nbspBreakfast |&nbspCashew-Base |&nbspCreamer-Base |&nbspDairy-Free |&nbspKeto |&nbspMatcha |&nbspOat-Powder |&nbspRecipe |&nbspSmoothie |&nbspSugar-Free |&nbspVegan |&nbspVegetarian |&nbsp
Smoothies are part of that magical food group: the one that you can enjoy any time of the day, for any meal...from a healthy breakfast to even dessert. This matcha smoothie recipe features a combination of spring fruit, vegetable and herbs for restoration and renewal. Plus that magic dusting of matcha for that extra antioxidant, anti-inflammatory and caffeine boost! Yep, get all the health benefits of matcha in a smoothie instead of a latte!
Start Your Day with an Adaptable Matcha Green Goddess Smoothie
Matcha is a rising force in the world of healthy eating, thanks to its many healthy attributes. So why not kick off your day with matcha, in the form of a nutrient-packed blended drink? Especially if you've grown tired of the matcha latte!
The recipe we use as a baseline is delicious on its own and packed full of vitamins and healthy goodness for you. The tartness of fresh green apple juice combines with the zing of kiwi fruit to make your tastebuds happy. Banana and spinach round out the flavor - and nutrient - profile.
But, the basics of this Matcha Green Goddess Smoothie can be adjusted to your personal taste and nutritional needs. Mix your favorite fruits and vegetables together for the perfect tasting nutritious smoothie.  Don't forget to include protein, fiber and healthy fats for a balanced combination.
Not feeling the kiwi? Why not substitute pineapple or golden berries or another tropical fruit? Opting out of bananas? Try dates or figs for sweetness instead.

How is this Smoothie So Creamy?
The clincher in this smoothie recipe is to use JOI plant milk! The creamy texture of the smoothie cannot be beat when using almond milk or oat milk made with JOI.
Time saving tip: no need to make milk ahead. Just add the JOI plant base and measure of water to your smoothie along with your other ingredients and "make" fresh plant milk as you blend up your smoothie.
With JOI on the shelf, no need to run out for dairy milk that spoils - or to use that coconut milk that is high in saturated fat (& coconut flavor).
Final Matcha Tips:
There are many types of matcha out there...find one that suits your taste buds and your wallet! Yep, ceremonial grade matcha, which is the highest quality, can be especially very expensive.
No need to break the bank when you're making a matcha green tea smoothie, though. Buy a green tea powder that is of high quality, but not necessarily the best, since the flavors will be diluted with the other ingredients. Either way, you're going to love this matcha smoothie!
A final word of advice.  Do wait to add the matcha powder until your smoothie is just about fully blended. Over-mixing these tea leaves can elicit a very bitter taste!
Let's Make the Recipe
Makes two servings.
Tips: 
Apple juice - especially juice made from freshly pressed Granny Smith apples if you can find it - complements this recipe. The tartness balances out the sweetness from the bananas and protein powder.
For a thicker consistency, use more frozen fruit and add chia seeds.