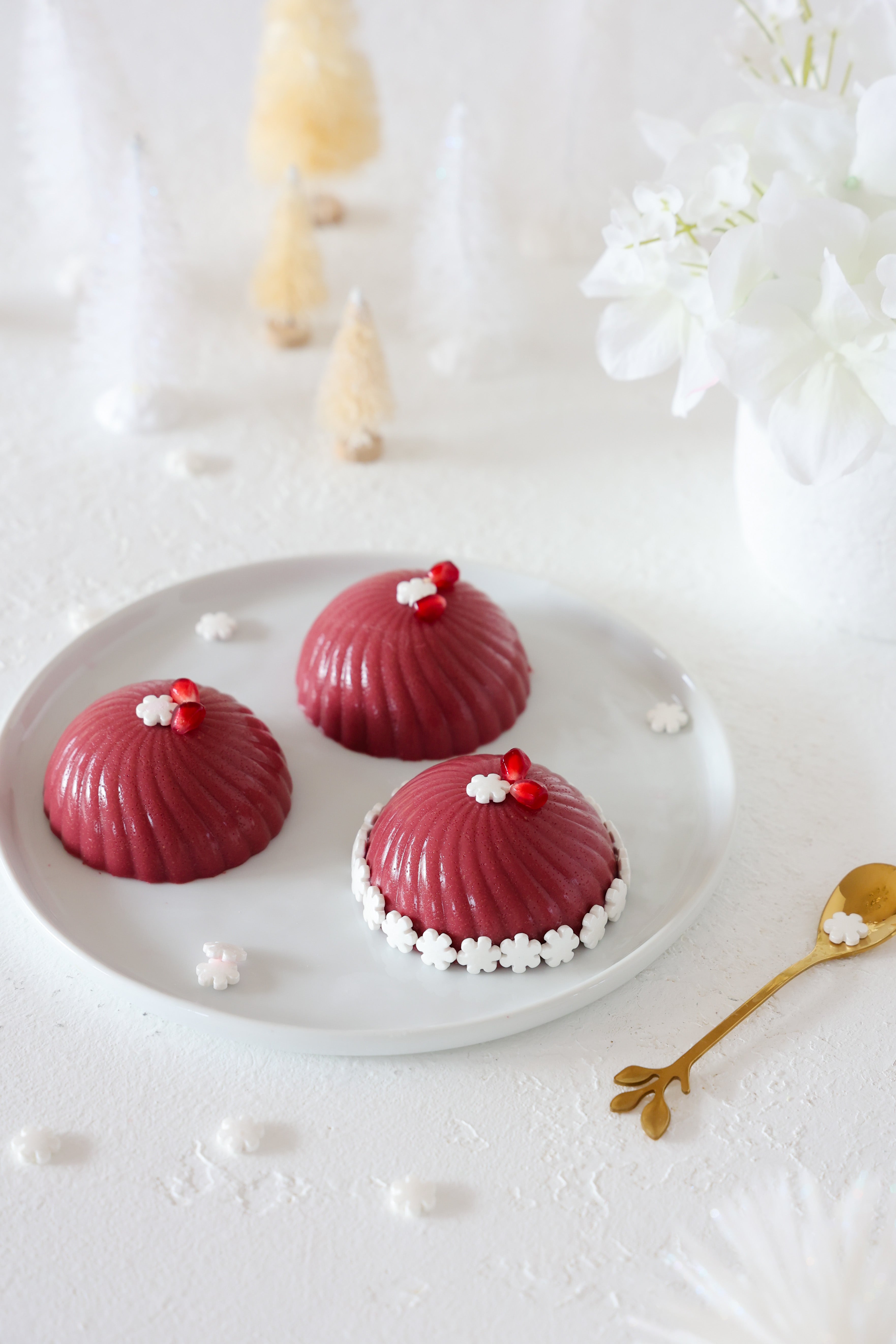 Pomegranate Panna Cotta (Dairy-Free, Vegan)
Jan 31, 2023| By JOI team
< BACK
Jan 31, 2023| By JOI team
Pomegranate Panna Cotta (Dairy-Free, Vegan)
Almond-Base |&nbspBrunch |&nbspCashew-Base |&nbspCreamer-Base |&nbspDairy-Free |&nbspDessert |&nbspVegan |&nbsp
Are you looking for a healthy and delicious dessert that you can enjoy without feeling guilty? Look no further! Today we're sharing with you a recipe for pomegranate-cashew panna cotta that's not only tasty, but also vegan and gluten-free. This panna cotta is a bomb of flavors. SO silky delicious thanks to the wonderful & super creamy JOI Cashew Milk Base. 
What is Panna Cotta and When Do I Serve It?
Panna cotta is a classic Italian dessert that's typically made with heavy cream, sugar, and gelatin. However, with our pomegranate-cashew panna cotta recipe, we've swapped out the heavy cream for JOI cashew milk and used maple syrup instead of sugar to make it a healthier option.
Panna cotta is a versatile dessert that can be served at various occasions. It's a great option for a dinner party, as it can be made ahead of time and refrigerated until ready to serve.
It's also perfect for a special occasion such as a birthday, anniversary or holiday celebration. For these fancier occasions, consider sprinkling pomegranate seeds over the vegan panna cotta for a more finished look. We used decorative flowers for a contrast in color.
If you're hosting a brunch, panna cotta is a great option as it can be served alongside fresh fruit, making it a light and refreshing option.
Did you know you panna cotta can be "dressed up" or "dressed down" depending on the occasion? Serve it in a simple glass cup for a casual gathering. Or serve it in a fancy dessert dish for a more formal wow factor.
Bottom line: regardless of when and how you serve it, panna cotta is sure to impress your guests with its creamy and delicious flavor.
Is This Recipe Dairy-Free and Vegan?
The key to making this recipe dairy-free and vegan, while still nailing the consistency and texture, is JOI Cashew Milk Concentrate.  It replaces the cream. And avoids using coconut milk or coconut cream, which impart a distinctive flavor that detracts.
In this recipe, we've combined the cashew milk with pomegranate juice, maple syrup, cornstarch, and agar agar powder to create a smooth and creamy panna cotta. When you add the pomegranate juice, you get that great pop of color! And it also contributes a tangy flavor that complements the sweetness of the maple syrup.
No JOI cashew milk?  No problem.  Use JOI almond or hazelnut concentrates instead!
What is the Hardest Part of Making Panna Cotta?
This dessert recipe doesn't require stirring constantly by the stove. Nor making pomegranate jelly topping that is better suited for a high school chemistry class lab.
The hardest part is this: letting the finished product cool slightly. And then chilling it! Because trust us, you're going to want to dig in ASAP!
Recipe for Pomegranate Panna Cotta
Here's how you can make this delicious pomegranate-cashew panna cotta at home:
Are you convinced? We are. This panna cotta is a healthy and delicious plant based dessert recipe that's also easy to make. The combination of cashew milk and pomegranate juice creates a creamy and tangy flavor that's sure to impress. The best part? All you need is a sauce pan. Plus, you won't feel guilty indulging in this sweet vegan dessert.