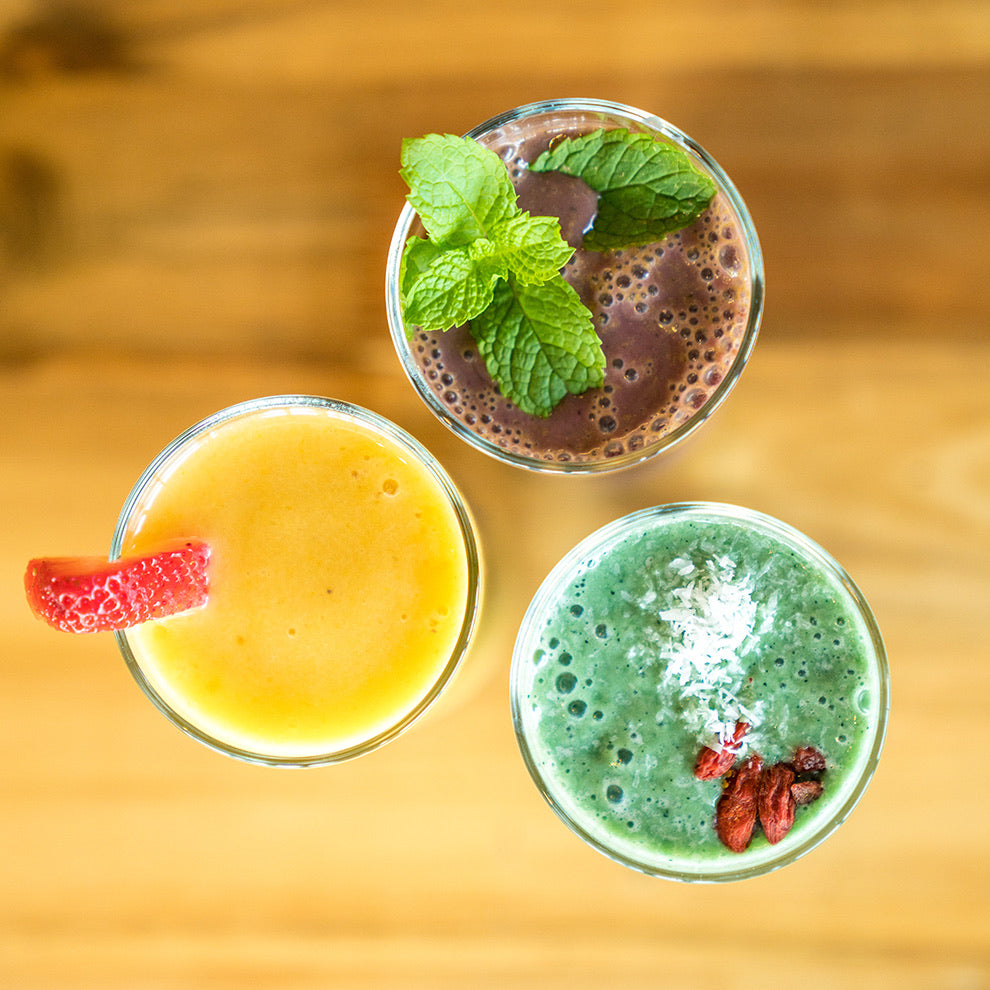 Best Smoothie Recipes
Jan 16, 2020| By JOI team
< BACK
Jan 16, 2020| By JOI team
Best Smoothie Recipes
Almond-Base |&nbspCashew-Base |&nbspCreamer-Base |&nbspDairy-Free |&nbspKeto |&nbspOat-Powder |&nbspRecipe |&nbspSugar-Free |&nbspVegan |&nbspVegetarian |&nbsp
What do you think of when you think "smoothie"?  We think of a delicious, convenient, and nutritious cup of health!  Some say you should "eat the rainbow"...we say, why not drink it?
Whether you're new to smoothies or swear by them, we think you'll love these JOI staple smoothie recipes, and our tips and tricks for turning yourself into your own creative smoothie chef.  
HOW TO BUILD A SMOOTHIE
Choose your liquid
We at JOI are partial to plant milk as the liquid of choice for our smoothies, but you could really use whatever you like or have in your fridge...or tap!  Water is a perfectly good vehicle for blending up those frozen chunks!  Other options include coconut water, coconut milk, fresh citrus juice or even mixing in a bit of yogurt (plus water) for creaminess.  Watch out for those fruit juices though - often they can be sugar bombs!  Read your labels.
If you've got JOI in your pantry, you don't even need to make a batch of milk in advance.  Simply add JOI base and water directly to your blender bowl together with your other smoothie ingredients, and "make" homemade plant milk as you blend up your smoothie!  Plus, JOI bases more nutrition than the processed, boxed milks you can buy at the grocery store...think protein, fiber and healthy fats.  Hold the gums and sugars, please!
Choose your fruits and veggies
Whether you're looking to use up some fresh fruit that's looking a little grim, or you have an arsenal of frozen fruits and vegetables ready to go in your freezer, the possibilities are endless when it comes to smoothies.  The way we see it, it boils down to this:  what are you in the mood for today?  Berries?  Tropical fruit?  Chocolate?  Mint?  Creamsicle?  Pumpkin spice or carrot "cake" inspired smoothies?  Or perhaps a savory and satisfying green smoothie light on the sweetness factor.
From there, start being creative!  Try experimenting with fruits like dragonfruit, pitaya, guava, papaya, passionfruit, mango, mamey or melon.  Or choose based on what's fresh at the farmer's market.  
Get in those veggies also!  Kale, swiss chard, lettuce, and spinach all work well and "stay in the background" when it comes to flavor.  Just avoid bitter greens such as arugula or escarole unless you are into that flavor profile.  We also freeze "non traditional" vegetables for our smoothies, such as raw avocado, zucchini or yellow squash, cooked sweet potato, carrots or cauliflower.  They add creaminess and nutrition to your frosty concoction.
Make sure it's cold
Keep a stock of frozen fruits and vegetables in your freezer for your smoothies.  But don't let that stop you!  If you've got fresh (not frozen), just add in ice to your blender bowl.  Or serve your smoothie over ice instead.
Add-ins and Toppings
There are so many "blend ins" or "add ons" that can rocket charge your smoothie, adding nutritional boosts...or just some extra flavor or crunch.  Some of our go-to's are:
protein powder
nuts
white beans (cooked)
chia seeds or basil seeds
flax seeds
hemp seeds
coconut
oatmeal (cooked or pre-soaked)
millet, quinoa or amaranth (cooked)
cacao nibs
superfood powders such as cacao, turmeric, goji, blue majik
spices such as ginger, vanilla, sea salt or cinnamon.  
Why use add-ins and toppings?  In every smoothie, having a balance of protein, fiber and healthy fats will up your smoothie game and leave you feeling nourished and satisfied while fueling your body.  #smoothieGOALS.
Smoothie Tricks
If you want to make a creamy, thick smoothie that is light on ice or bananas, up the level of natural thickeners, such as chia or basil seeds, or cooked oatmeal or frozen cauliflower. 
If you have leftover smoothie, pour it into popsicle molds or ice cube trays for later use.
Want to make a smoothie bowl instead?  Hold back on the liquid you use, which will make your smoothie extra-thick.  Then have fun with toppings!  
The Recipes
Now that we've covered the smoothie basics, let's get blending!  We think these are the best healthy smoothie recipes for any time of day, any time of year. They're healthy, delicious and perfect for before the gym, after a spin session, for a snack or even as your lunch. Packed with super foods and of course made with JOI, you'll want to bottle these up all week long. 
BERRY SMOOTHIE
We don't like to be fake, which is why we're not even gonna pretend to be humble about how divine this Berry Smoothie is. Recommended for a pre-weekend energy boost and/or a post-weekend, um... detox ;) 
Ingredients: 
8 ounces of water
2 Tablespoons of JOI almond, cashew or oat plant base
1 pitted date (large medjool date or replace with 1 Tablespoon of Just Date Syrup)
4 ounces frozen bananas
3 ounces frozen strawberries
2 ounces frozen raspberries
1 ounce frozen cauliflower (or substitute frozen zucchini)
Pinch of salt
Bonus: give this a protein punch with a scoop of 22 Days Nutrition protein powder
How it's made:
STEP 1: Add all ingredients to the blender
STEP 2: Blend until smooth and serve straight up or on ice
STEP 3: EnJOI
KALELICIOUS SMOOTHIE
It's sometimes difficult to get in your daily servings of leafy greens. Especially if you're in the playground set. But not so anymore, once you start blending spinach, kale, or swiss chard into your smoothie! Market it as "Popeye Juice" and everyone will be getting a nutrient-packed kickoff to their day, no matter what their age!
Ingredients: 
8 ounces water
1 Tablespoon JOI almond, cashew or oat plant base
4 ounces frozen bananas
1 cup Lacinato Kale (or substitute spinach or swiss chard (stems removed))
3 leaves fresh mint
1 ounce fresh ginger
1 1/2 ounces frozen blueberries
1 Tablespoon maple syrup, agave, honey or date syrup (or substitute one large pitted date)
3 Tablespoons of your favorite plain yogurt (optional)
1 cup ice
Pinch of sea salt
How it's made:
STEP 1: Add all ingredients to the blender
STEP 2: Blend until smooth.
STEP 3: EnJOI
MANGO MADNESS
The French call it le goûter (pronounced "lay goo-tay"):  the mid-afternoon snack that will keep you going until dinner. Our answer:  this Mango-Coconut smoothie!  It's the perfect way to keep you going post-lunch.  So, why not try a smoothie instead of that third cup of coffee at 3pm?   You might be surprised at how much better you feel.  And, serve it to the kids for the best after school snack!
Ingredients: 
8 ounces of water
1 Tablespoon of JOI almond, cashew or oat plant base
4 ounces frozen mango
4 ounces frozen bananas
1 ounce cauliflower (or substitute frozen zucchini)
1 Tablespoon chia seeds, hemp seeds, flax seeds or basil seeds
Pinch of sea salt
Toasted Coconut
Sprig of fresh mint
How it's made:
STEP 1: Add the water, JOI, mango, banana, cauliflower, seeds and salt to the blender
STEP 2: Blend until smooth and serve straight up or on ice
STEP 3: Garnish with toasted coconut and mint sprig