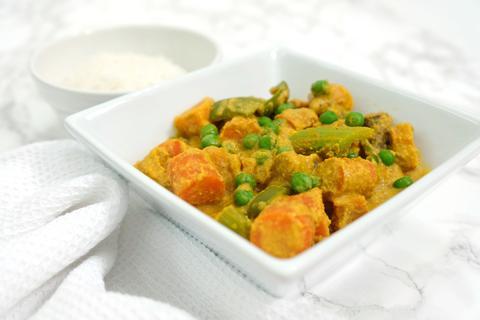 This Gluten-Free Vegan Korma is the Ultimate Healthy Comfort Food
Nov 12, 2019| By JOI team
< BACK
Nov 12, 2019| By JOI team
This Gluten-Free Vegan Korma is the Ultimate Healthy Comfort Food
Almond-Base |&nbspCashew-Base |&nbspCreamer-Base |&nbspDairy-Free |&nbspDinner |&nbspKeto |&nbspOat-Powder |&nbspRecipe |&nbspSugar-Free |&nbspVegan |&nbspVegetarian |&nbsp
We're in Miami, so we don't really know what 'cold' is, but we've heard rumors lots of you are encountering those first truly chilly, winter-is-coming days of the year. That means warm, soothing comfort food needs to be on the menu. And, what says warm and soothing better than a rich, flavorful curry?
Even better, how about a homemade, deeply comforting gluten-free vegan curry packed with healthful veggies and sustainably sourced spices?
Hungry yet? Yeah, so are we.
Get in the kitchen and give this Vegetable Korma a try. Start with a custom curry powder blend made with top-quality spices from our friends at Burlap & Barrel (yes, it's okay to brag that you made your own curry powder) then move on to a Korma sauce made with JOI 100% almond nutbase, aromatics and veggies. It's a simple, crowd-pleasing way to manage even the crispest of fall nights (or cap off a day at the beach—the need for comfort food knows no bounds). Feel free to add or substitute veggies based on what needs to get used up in your fridge!  Sweet potatoes, broccoli, cauliflower, celery...anything will love to swim in this delicious sauce.
Ready to cozy up in the kitchen and make this super-comforting Vegetable Korma yourself? Lucky you, we're celebrating teaming up with Burlap & Barrel with a sweet deal—order your JOI + Burlap & Barrel kit today!