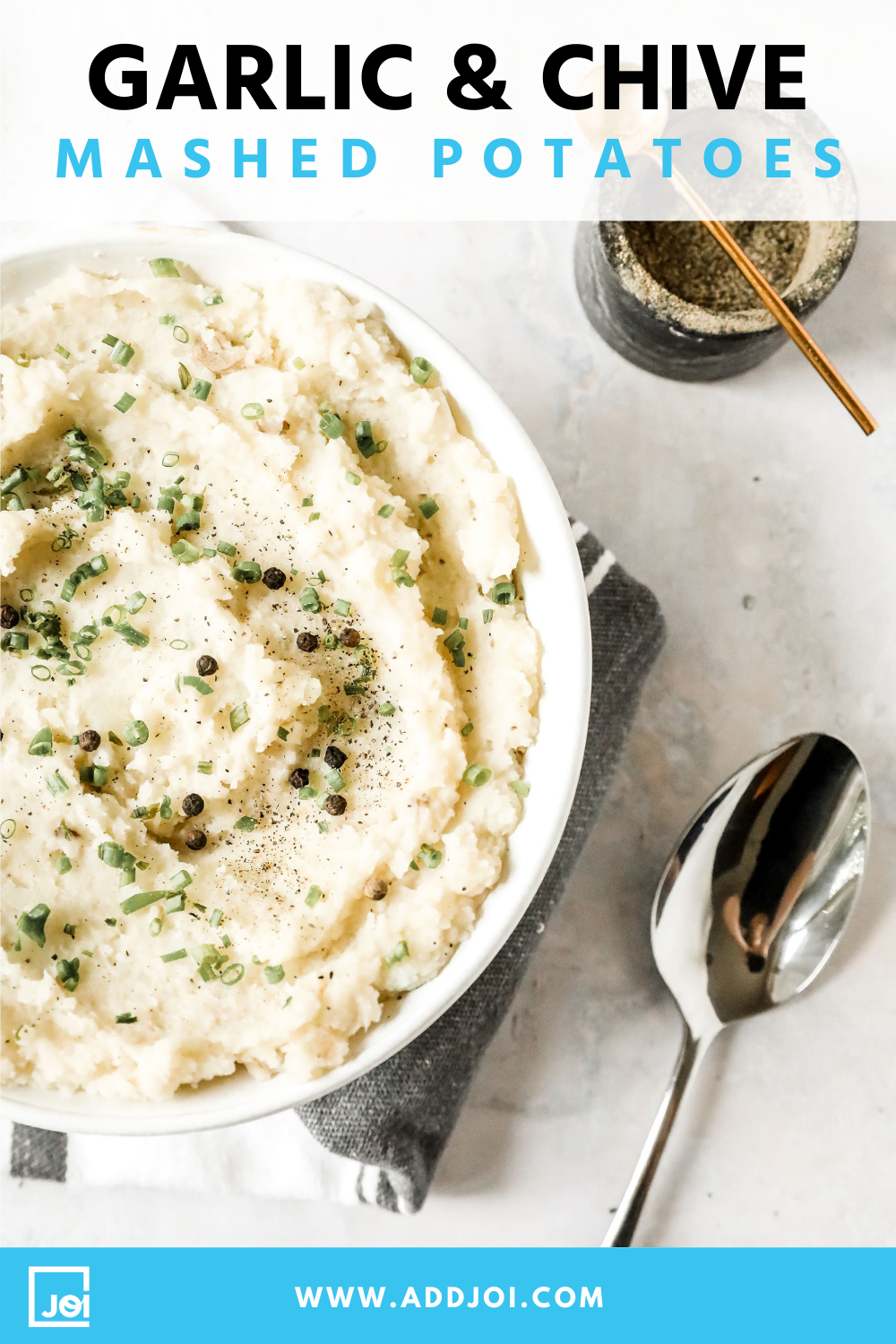 Vegan & Gluten Free Garlic Chive Mashed Potatoes
< BACK
Nov 6, 2020| By JOI team
Vegan & Gluten Free Garlic Chive Mashed Potatoes
Almond-Base |&nbspCashew-Base |&nbspDairy-Free |&nbspDinner |&nbspGluten-Free |&nbspLunch |&nbspRecipe |&nbspSnack |&nbspSugar-Free |&nbspVegan |&nbspVegetarian |&nbsp
It's not a true holiday dinner (or any dinner, come to think of it) without a side of creamy, dreamy mashed potatoes! A classic side dish that is delicious and comforting, mashed potatoes can sometimes be loaded with dairy. However these creamy garlic chive mashed potatoes are loaded with JOI!

JOI takes the place of butter and cream in a traditional mashed potato recipe to create the best vegan mashed potatoes you've ever had. JOI has a unique quality in that it can bring the richness in texture while staying light in flavor, the perfect combo with the potatoes. 
Add in some garlic and chives and you've got yourself an easy meal prep idea, weeknight dinner, or an incredible holiday side dish! 
Yields 6-8 servings
Ingredients:
5 yukon gold potatoes, peeled 
1 tablespoon salt
½ cup JOI almond or cashew plant base
1 tablespoon garlic powder
3 tablespoons finely chopped chives for topping
How It's Made
Add potatoes and salt to a large pot and cover with water. 

Bring to a boil and continue to boil for 30 minutes or until potatoes are fork tender.

Transfer them to a mixing bowl and add in the JOI. 

Using a masher, combine the potatoes (and riced cauliflower if using, see note below) and JOI.

Stir in ½ the chives as well as the garlic powder. Season with salt and pepper to taste.

Top with remaining chives and extra cracked black pepper. 
Next time, try substituting a portion of the potatoes with an equal measure of riced cauliflower for a lighter version of this delicious side dish.