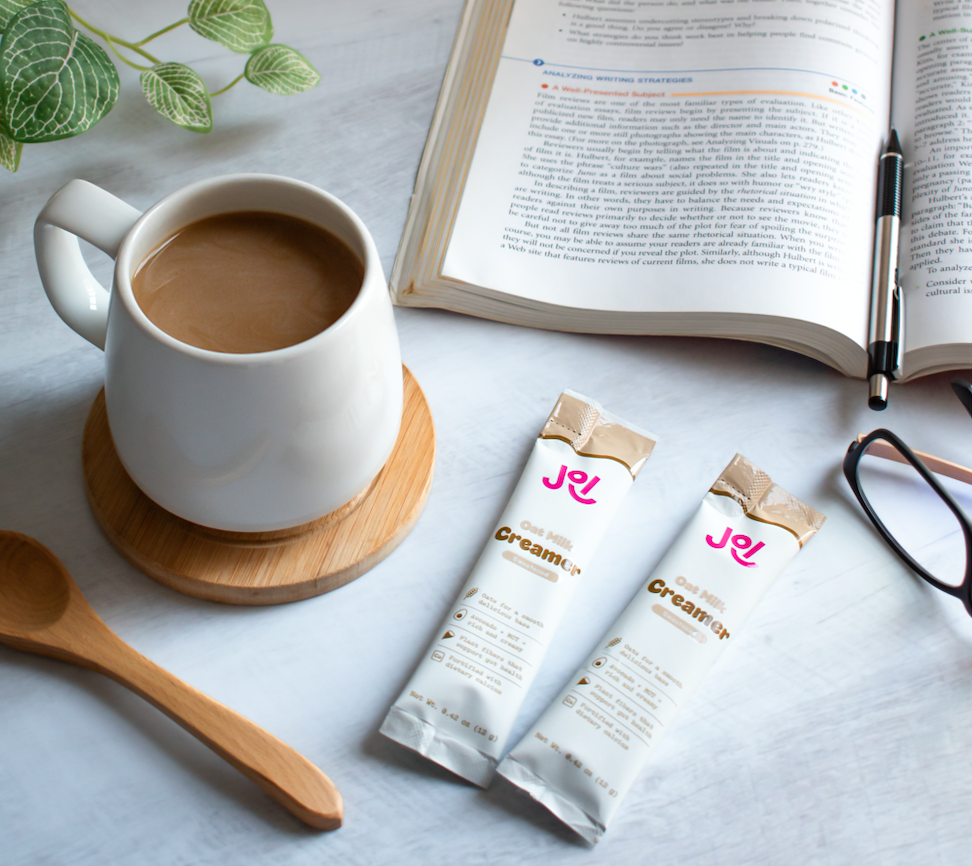 A Coffee Creamer Without Compromise & Better for Your Gut
Jul 21, 2023| By JOI team
< BACK
Jul 21, 2023| By JOI team
A Coffee Creamer Without Compromise & Better for Your Gut
Monica Auslander Moreno, registered dietitian, breaks down the health benefits of  JOI's oat milk creamer, made with better-for-you ingredients than the "coffee whiteners" you shouldn't keep pouring into your morning joe.
Creamer Choices: Embrace the Good, Ditch the Bad!
Good morning to all of the people of the world who appreciate a creamy, frothy, plant-based, gluten-free, glyphosate-free, organic oat creamer in your coffee in a nifty travel-friendly packet. 
Un-good morning to the people who think that an old school on-the-go coffee creamer laden with nefarious ingredients that seem more suitable to science experiments  – like corn syrup solids, vegetable oil, micellar casein, mono and diglycerides, dipotassium phosphate, and carrageenan –  is an acceptable product for human consumption.
Meet your new morning (or anytime) mate — for a cafe OAT lait, without the lait, and without the villainous chemicals in other coffee creamers. JOI Oat Creamer froths like a dreamy cloud in less than twenty seconds into your hot or icy brew of choice and then subsequently befriends your belly. 
Gut-Friendly Creamer Solutions: A Closer Look at Digestive Health
As a registered dietitian, nearly all of our clientele suffer from the modern ailment of some degree of gastrointestinal issues. Whether it's reflux, IBS, bloat, or other unpleasant digestive symptoms – many of these symptoms can be linked to the food, and food-like substances (traditional creamers) we regularly consume. Many folks think salad is a savior, but we often need to take a closer look at often overlooked products we consume – like bizarre creamers laced with chemicals that are contributing to belly burdens. Traditional creamers can cause a fair amount of tummy tumult – their concoction of inflammatory oils, fillers, emulsifiers, preservatives, sweeteners, gums, thickeners, and other agents of gastrointestinal destruction are often overlooked but warrant an alternative that provides creaminess without gut health compromise. 
Oats, Prebiotics and Probiotics
JOI's gluten-free oats are a potent source of prebiotic fibers. Prebiotic fibers are nourishment for probiotic organisms that reside in your gut – collectively known as the microbiome. Think of probiotics and the microbiome at large as functional party guests for your body – they have a hand in your body's immunity, digestion, mental health, weight, inflammation, and bowel motility. While many of us have heard whispers of praise about these probiotics, few people are providing appropriate catering for these probiotic party guests – like oats.
As if oats weren't glorious enough for our guts, they also contain a unique fiber called beta-glucan, which can help support and optimize blood lipid levels by optimizing bile acid excretion, which is part of metabolizing and appropriately utilizing cholesterol. Blood lipids, like cholesterol, are something we like to keep at happy levels to lower risk of cardiovascular disease. 
VIP Fats & Plant-Based Belly Boosters
We can also help optimize lipid levels by consuming healthy fats that support cardiovascular health and fight inflammation at a cellular level, like monounsaturated fats and medium-chain triglycerides, which are essentially like VIP fats that bypass some liver metabolism and get to be used straightaway for energy. JOI Oat creamer has ingeniously emulsified our trusty oats with avocado oil and MCT oil to provide a creamy mouthfeel without a health compromise.  The creamers of yesteryear look on sheepishly as they are bogged down by oils like soy oil, which are linked to inflammatory processes in the body, and carrageenan, linked to gut disorders.
They also use cheap emulsifiers, gums, artificial flavors, artificial sweeteners, and fillers that can disrupt your metabolism and microbiome –  and deeply enrage the probiotic community residing in there. JOI Oat Creamer diffuses the tension by also providing a proprietary plant-based blend of cassava fiber and citrus fruit pectin for ideal texture and to support gastrointestinal digestion and once again, feed the probiotic critters the fiber they love and deserve. 
Sweeten with Simplicity: Organic Cane Sugar vs. The Fake Stuff
More plants, fewer problems. While crummy creamers doctor up their drops with non-nutritive sweeteners that can disrupt the microbiome, muddle metabolism, and cause untoward gastrointestinal effects (looking at you, erythritol), JOI Oat creamer keeps it simple with organic cane sugar. Cane sugar is… drum roll… a plant. And while overconsumption isn't ideal, the teeny three grams per packet is far more preferable, and en-JOI-able, than sucralose, acesulfame potassium, aspartame, erythritol, and other non-nutritive sweeteners, some of which the World Health Organization is now investigating as possibly carcinogenic. 
A cup of coffee shouldn't taste like candy, anyways. JOI Oat honors the simplicity and science of carefully curated ingredients in a practical powder packet that support gut health, and support leaving the antique creamers with extraterrestrial ingredients that puncture and spill all over your bag in the past. They're brewing up other flavors, too – without the artificial flavors that can break your 'biome. If you're worried that the damage is done – there is research to show that breaking bad 'biomes is possible, over time, with intentional intake of prebiotics and probiotics.   
Crafting Creaminess with Health Consciousness
Part of the recipe for living JOI-ously involves choosing food products that elevate your eating and drinking experiences. A cup (or, let's be realistic for some of us…) or a vat of coffee, cacao, or tea should be complemented by a consciously curated roster of ingredients resulting in a carefully crafted creamer that is fun AND functional  – sans cream, and sans the soulless damaging ingredients in other less enlightened creamers. JOI Oat Creamer harnesses the concept of a creamy and dreamy healthy synergy of rockstar ingredients designed to delight your belly and brain with a lightly sweetened symphony of potent oats, avocado oil, MCT oil, fruit and vegetable fibers and calcium to stack your days (and nights) with health and vibrancy.
Monica Auslander Moreno, MS, RDN is the lead dietitian and owner of
Essence Nutrition
. She has worked in a hospital setting with children and adults, and now also works in a home setting with a lot of very demanding children and adults she married/birthed.