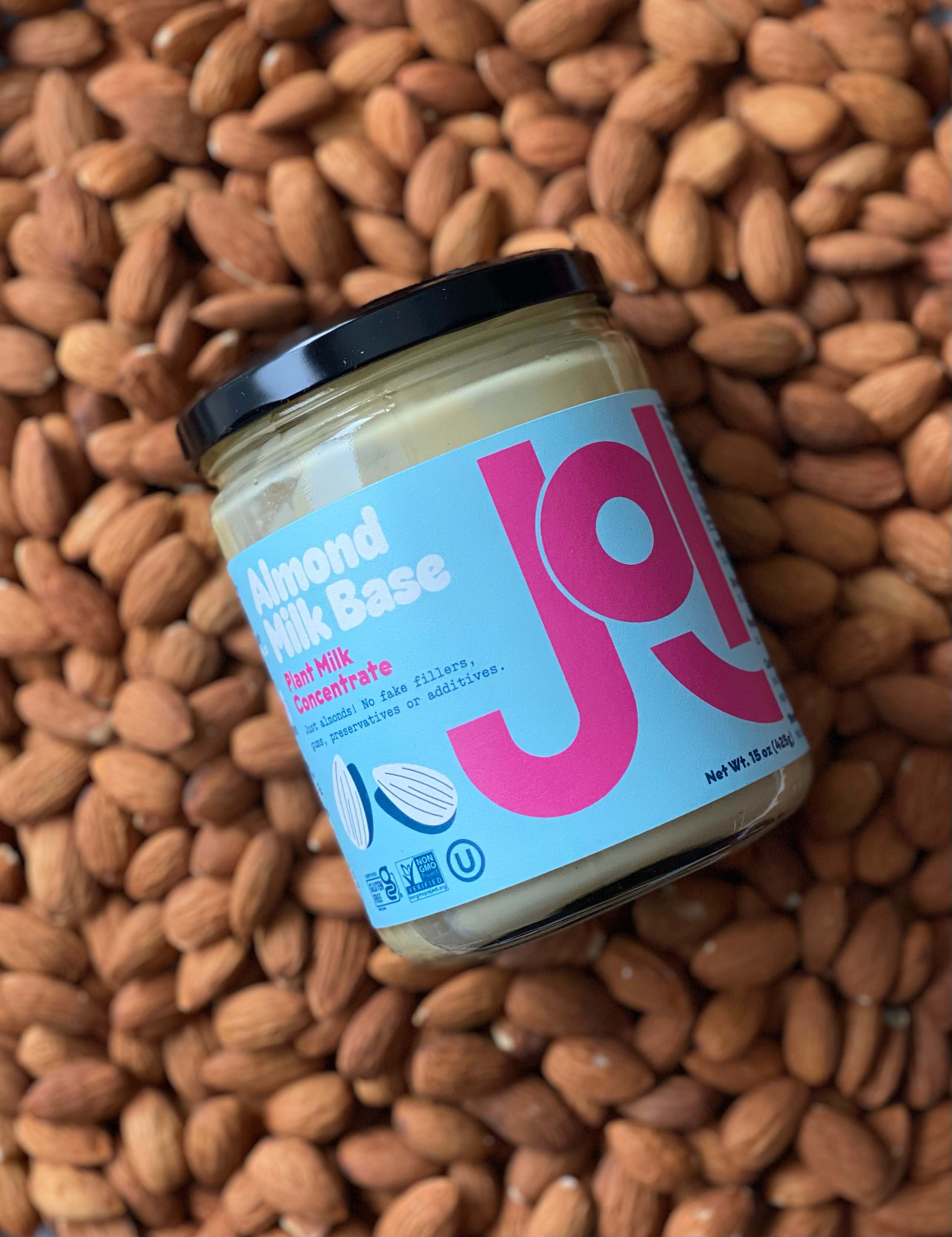 All Hail the Almond
Feb 16, 2021| By JOI team
< BACK
Feb 16, 2021| By JOI team
All Hail the Almond
Almond-Base |&nbspCashew-Base |&nbspCreamer-Base |&nbspDairy-Free |&nbspKeto |&nbspOat-Powder |&nbspRecipe |&nbspSugar-Free |&nbspVegan |&nbspVegetarian |&nbsp

Today is National Almond Day and we're here to Hail The Mighty Almond
All Hail The Mighty Almond
Make it butter. Pasta. Flour. Oil. paste. JOI. Mah little croissant. Make it fashion. Nested into chocolate. Slivered onto green beans. Almonds are as chameleonic as I am, trying to camouflage and avoid talking to neighbors on my street during COVID when they spot me attempting to wheelbarrow a giant recycling bin across a lawn (just a mom tryna reduce, reuse, and recycle out here…)

Almonds are ancient. We've found evidence of them in Mesalmondpotamia, er Mesopotamia. Thankfully, they've made their way westward and joined JOI as the OG nut base we've all come to know and.. En-joi.  

In the pantry -- almond flour can be used for a higher protein, more nutrient dense option for flour. It's also suitable for those with Celiac's disease when avoiding gluten is vital. Almonds have a sweety, nutty (obv) flavor; and almond extract can lift recipes and even tea/coffee with subtle sweetness that doesn't jostle other flavors. Slivered almonds nest nicely onto salads, sprinkled onto savory pasta and vegetable dishes, swim gracefully in baked goods, yogurt parfaits, and of course -- can be "milked" to perfection in products like JOI and ground into a "butter"-like consistency for spreads / stuffed into a flaky croissant (and, yes, croissants can be made with totally plant-based ingredients).


In the clinic, they're well-rounded (literally...their shape...) and filled with Vitamin E (an antioxidant vitamin that can protect cells from oxidative stress and inflammation as well as potentially mediate cellular activity against cancer), magnesium (crucial for muscle contraction and heart health), MUFAS (monounsaturated fatty acids -- healthy fats that promote brain and heart health), protein, potassium (good for blood pressure), calcium (no BONES about it), and iron (do you even lift almonds, bro?). Twenty almonds contain as much calcium as ¼ cup of milk so you can chew your way towards healthy bone density and heart health.

Beauty is on the inside, but pores are also, you know, visible. Almonds' Vitamin E is an antioxidant which may help reduce skin inflammation, and using reconstituted JOI or almond oil  on your face and or lips may leave them silky like almonds' Silk Road historical origins. 

The oil helps relieve itching and dryness and it can ease inflammation and rashes. It also helps repair dry and chapped lips. 

Today, we salute you, little oblong ovule. You can observe almond day every day by concocting your own JOI-ous
All Hail the Almond Horchata:
Rinse 1 cup cooked brown rice in a colander
Blend rice, ¼ cup Original Almond JOI
2, cinnamon sticks, and 4 cups of water in a blender until smooth (about 1 minute). 
Pour the mixture into a container and soak for at least eight hours. Strain the mixture using a cheesecloth. Add in 2 cups of unsweetened almond milk,  1 tsp vanilla, and ⅓ cup date or maple syrup. Top with cinnamon.