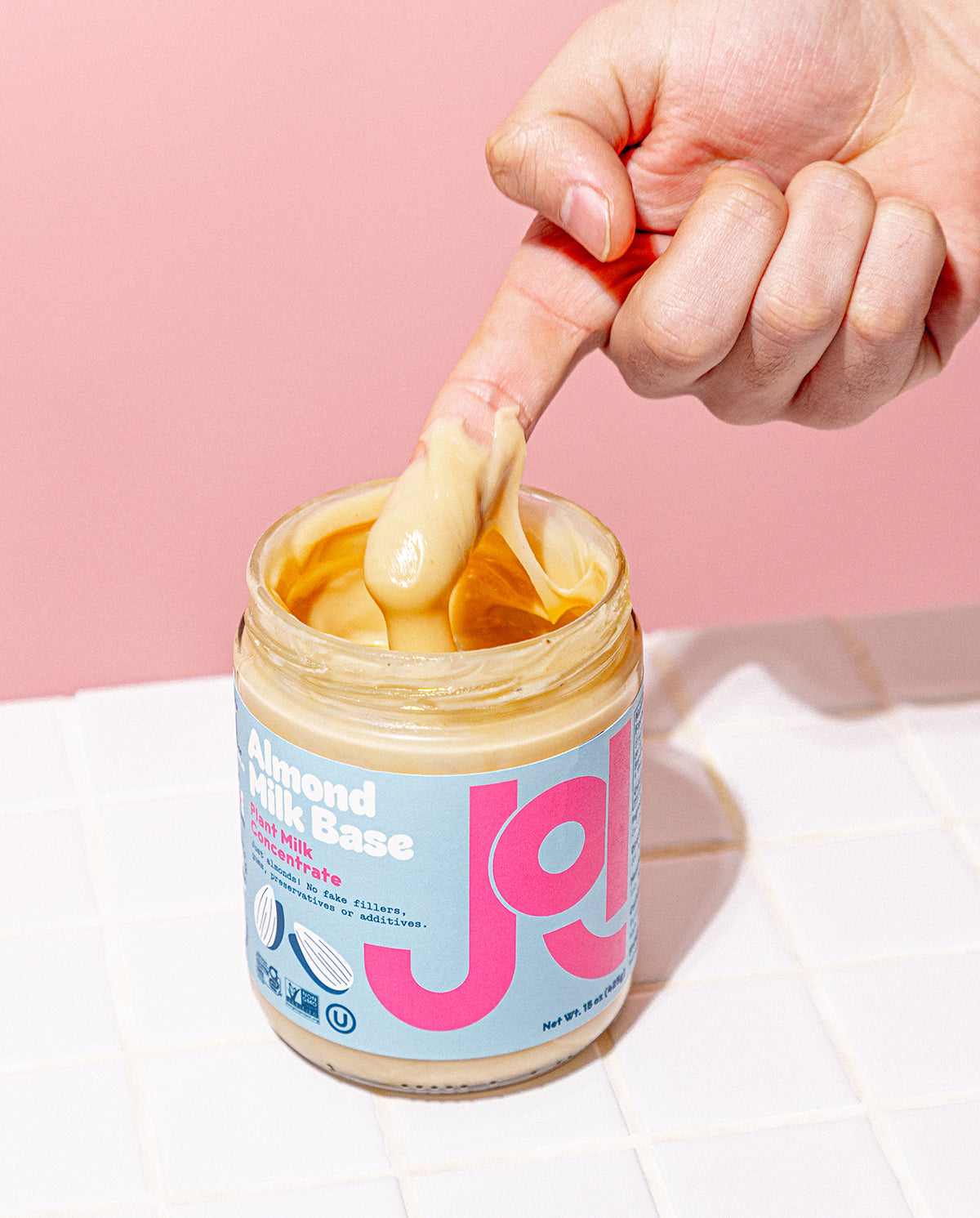 JOI vs. Other Plant Milk Concentrates
< BACK
Jul 1, 2021| By JOI team
JOI vs. Other Plant Milk Concentrates
Almond-Base |&nbspCashew-Base |&nbspCreamer-Base |&nbspDairy-Free |&nbspKeto |&nbspOat-Powder |&nbspRecipe |&nbspSugar-Free |&nbspVegan |&nbspVegetarian |&nbsp
What may have seemed like a fad initially, plant-based is here to stay. The plant-based milk market has seen a steady increase in demand over the last few years with revenues expected to reach just north of $21 billion by 2024. Plant milk is an excellent alternative to dairy, however, there's one superstar alternative that truly outshines in the non-dairy milk ecosystem: plant milk concentrates.
What exactly is a plant milk concentrate? Read on for more information and why you should feel good about making the switch to concentrates today.
Compare and Concentrate: Better for the Environment?
.
First, let's talk about environmental impact. In general, the term "plant-based" conjures up positive emotions and green pastures. This isn't always the case. Some companies use a tactic called "greenwashing" in which products are marketed or branded as "eco-friendly" but in reality are not. The deceptive nature is meant to lull consumers into a false sense of security that what they're buying is better for the environment.
For example, many of the plant-based milk products on the market are packaged in something called a Tetra Pak. We've all seen them. The boxy, slightly waxy, cartons hold anything from soup to coconut water, to milk. The problem is that this packaging is marketed as more eco-friendly than its plastic, milk jug counterpart. In reality, this isn't necessarily true, and that's the dirty secret!
Tetra Paks are made from a combination of paper, plastic, and aluminum. That means that they can be recycled to a degree. However, many recycling centers don't offer recycling services for Tetra Paks due to the lengthy and expensive process required to recycle them.
One popular boxed milk brand raked in $800 million in sales in 2020. That's a lot of cartons that will most likely end up in a landfill. Not great. In contrast, one 15 ounce jar of JOI yields up to 7 quarts of milk, and one 8 ounce pail of JOI yields up to 60 quarts of milk!  That's A LOT of cartons you are "saving" from the landfill.  
Not only that, our jars are made from glass, which means they are endlessly reusable and recyclable. Check out some ways JOI customers are re-using their containers here. When you're making batches of JOI milk at home, store them in your favorite reusable container - a jar or pitcher you already have works great! 

Here at JOI, we are working everyday toward how our products can offer even more green solutions for your pantry. We recently launched our instant oat milk powder concentrate, which offers a fantastic alternative because it is sold in a pouch made from post-consumer recycled material. Utilizing PCR allows us to reduce our carbon footprint, lessen our impact on landfills, and meet our overall sustainability goals, without relying on the consumer to recycle or compost the package after use. While it's no small feat, we're on a mission to eliminate the need for Tetra Paks.
In addition to reducing packaging waste, using plant milk concentrates improve your carbon footprint. That's because you eliminate the need to purchase cartons of water-based plant milks (most are 98% water as a matter of fact) that are being shipped cross-country in refrigerated trucks to your local grocery store shelf. Pure concentrates are much more efficient to ship than liquids, and that means less trucks on the highways burning fossil fuels. 
Comparing Plant Milk Concentrates
.
With the meteoric rise in plant-based products, the competition and endless options can be hard to sort through. At JOI, we believe that transparency is key. If you're new to concentrates or living dairy-free or vegan, below is a quick and easy-to-reference list of plant milk concentrates from various market competitors.
Good Mylk Co
.
Offers recyclable packaging

Offers products made with one - four ingredients

Shelf life lists 6 months - must be stored frozen

Available via multiple online retailers

Frozen concentrates ship with dry ice

Almond Milk costs 45 cents per ounce when prepared
Modest Mylk
.
Offers glass packaging

Offers products made with one to six ingredients

Shelf life lists one year

Available via multiple online retailers

Almond milk costs about 8 cents per ounce when prepared if using a tablespoon of base per cup of water
Daily Harvest
.
Offered recyclable packaging

Offers products made with one to three ingredients

Shelf life lists 6 months - must be stored frozen

Ships in bulky packaging with dry ice

Only available via their subscription programs

Almond milk costs 12-14 cents per ounce once prepared
JOI
.
Offers PCR and 100% reusable & recyclable packaging

Offers almond, cashew, hemp and oat products made with one ingredient

Shelf life between 12 to 18 months (depending on flavor)

Products are shelf stable at room temperature

Available on addjoi.com, Amazon and Thrive Market

Almond milk costs 7 cents per ounce
A Stable Choice.
Never run out of plant milk again! JOI concentrates have between a 12 and 18-month shelf life. No more running to the store in the morning because you forgot that you ran out of milk for your coffee or cereal. Just pull out the concentrate of your choice from your pantry and whip up what you need in just 30 seconds.
With such a long shelf life (no freezer, no refrigeration required), you can also say goodbye to food waste! Rid yourself of the guilty conscience that comes with throwing out a half-used carton of milk that's spoiled before you could drink it all. With JOI, make as much or as little as you need, whenever you need it. 
Customizable and Clean
.
Using a shelf-stable concentrate gives you total food freedom. You control the creaminess, the flavor, and the sweetness of your milk. Blend JOI plus water right in the blender if you're making a smoothie. Make it extra creamy with a splash of vanilla if you're using it as a creamer. Add a pinch of salt to round out the flavors. The possibilities are endless!  
And by using concentrates that contain just one ingredient, you know you are drinking whole food, plant-based milk. No ingredients you can't pronounce, like additives, gums, thickeners or sweeteners.
Versatility in the Kitchen
.
Don't stop at making milk with JOI concentrates - we believe that JOI is the Swiss army knife of your kitchen, so versatile that it meets all your plant-based cooking needs. Want to make a soup creamy without adding cream or butter? Just add a scoop of JOI! Want to make a dairy-free sauce for pasta? Just add JOI! Want to add richness to your baked goods without adding oil, or make the most delicious frozen desserts? You guessed it: just add JOI! Check out our recipe blog for inspiration and ideas.
Nut Milk Concentrates: Choose JOI
.
So, we've talked about the sustainability efforts all the way to the clean label ingredients of JOI products, but there's one more positive item to note. The price!
At JOI, we offer a competitive price for products you can feel good about buying. Our plant milk concentrates come out to less than $1.00 per serving, and you can subscribe and save even more.
JOI products are available to all communities nationwide. You can find them on our website here, as well as Thrive Market and Amazon.com.
JOI makes it easy for you to feel happy with your choice. Why not check us out today?
Let's Refresh
.
Each concentrated base is made with 100% plants which translates to zero water waste. Alongside that, the concentrated nature of our products means less packaging waste, less food waste, and a reduced carbon footprint.
We'd say that's a sustainability win and nothing tastes quite as sweet as helping out our planet while helping our health.
The concentrated nature of the vegan milk product also means each milk can be customized to your ideal consistency. Some store-bought milk products utilize additives and thickeners to obtain or mimic a creamier consistency.
At JOI, we use zero additives and no added sugars or thickeners. Just clean delicious milk from plant bases you can customize to your liking. Also, JOI milk (once prepared) contains more protein, fiber and healthy fats than the boxed nut milks at the store (which amount to 98% water with a bit of nuts, gums and sugars sprinkled on top).
A dairy-free option every vegan can feel good about drinking.
With JOI plant milk, you can be sure of what's in the product you're buying and know you're getting a quality product to boot.