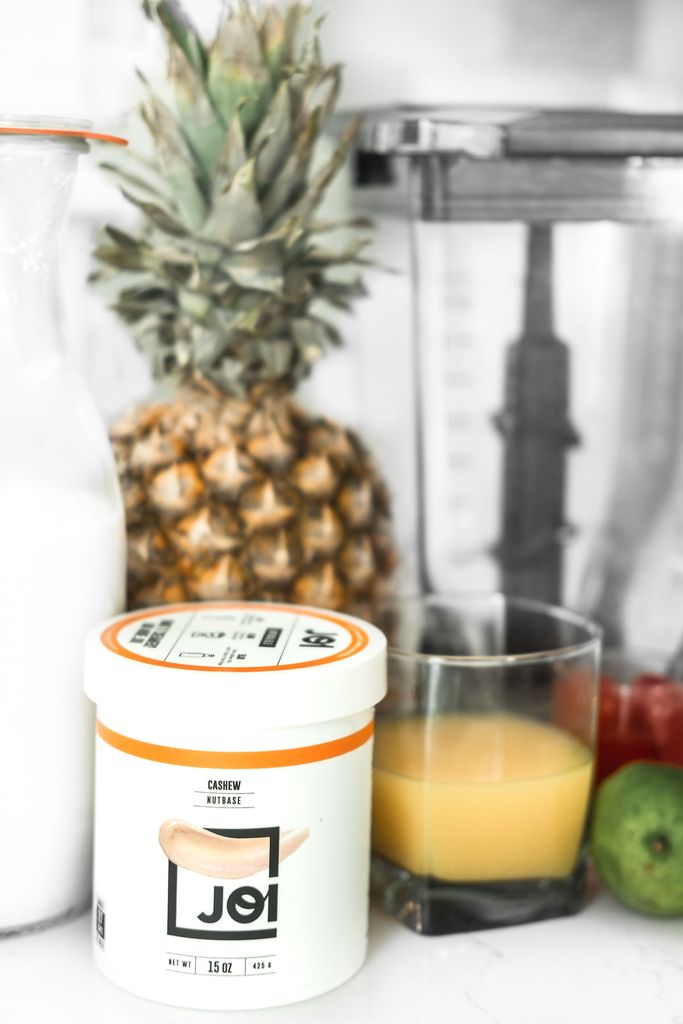 Healthier Piña Colada (Vegan, Dairy-Free)
May 26, 2023| By JOI team
< BACK
May 26, 2023| By JOI team
Healthier Piña Colada (Vegan, Dairy-Free)
Beverage |&nbspCashew-Base |&nbspDairy-Free |&nbspDessert |&nbspRecipe |&nbspVegan |&nbspVegetarian |&nbsp
The Summer season just officially started and what better way to celebrate than with a sweet, cool, healthier Piña Colada recipe?! One of the most loved summer cocktails, this sweet pineapple and coconut flavored blended drink is getting a plant-based upgrade!  You'll feel like you're on a tropical vacation. Swap out the traditional cream of coconut or coconut cream base, and cut back on refined sugars to make a better-for-you, still dreamy drink! 
Ingredients, Part One:  The Cashew and Coconut Swap
To lighten up this drink, we are swapping out the traditional coconut base with some cashew base.  A typical piña colada leans heavily on a cream of coconut or coconut cream base, but with that comes the risk of consuming too much saturated fat.
The solution?  Replace most of the coconut with cashew base.  JOI cashew base is made of 100% cashews, which are rich in unsaturated fats.  Unlike saturated fats, unsaturated fats are linked to a lower risk of premature death and heart disease.  But you can just as easily use JOI almond base or oat milk powder if you prefer that to cashew!
Even though we're using JOI plant base to give the colada its signature creamy texture, you can't have a piña colada without a splash of coconut flavor. So for that tropical coconut flavor we'll use coconut rum!   Such a great idea, we think.
Do you prefer a virgin piña colada a/k/a a refreshing mocktail?  Leave out the rum and enjoy.  How about a colada smoothie to mix up your breakfast routine or add some tropical flavor to your afternoon?  Use frozen pineapple chunks and frozen banana instead of rum for a nutritional boost.
Ingredients, Part Two:  Sweetness Factor
We've all had a piña colada that makes our teeth ache because it's so sweet!  Not to mention the sugar crash afterward.
 
To avoid both of those, and for a lighter version of this summer favorite, we're making a few changes to the classic recipe when it comes to the sweetness factor.  Instead of added sugar we're using agave nectar, or substitute maple syrup or honey if you prefer.
 
For more fresh tropical flavor, of course we're using fresh pineapple juice (or trying substituting frozen pineapple), plus a splash of orange juice (or lime juice) to balance out all the sweetness and give that perfect piña colada finish!
Ingredients, Part Three:  The Toppings
we think you can enjoy this piña colada just how it is, perhaps you're feeling festive and want to dress it up!  Whipped cream is always a fun topper, and there are plenty of vegan options available these days at the grocery store, or for a splurge make your own coconut whip.  Add some wedges of lime or lemon or fresh orange slices to the side of your glass, and top it all with a paper umbrella.  You'll feel transported to a beach or pool in an instant!
How to Make it?
This recipe is so easy, you'll be making them all summer long.  Just keep that blender on your kitchen counter!  Simply add all the ingredients (other than your toppings) to a blender and blend until smooth and creamy.   You will be pleasantly surprised by how luscious this pina colada is with just a few simple, whole ingredients.  Enjoy as-is, or make it fancy with toppings.  Can't wait until happy hour?  Skip the coconut rum (or white rum) and add some frozen banana for a delicious breakfast smoothie. 
Other Drink Ideas
Don't stop at piña coladas.  We at JOI have dreamed up a variety of drinks, both with and without booze.  For another cocktail idea, try the Dirty Chai Martini.  For a coffee fix, check out our Frappuccino recipes or the Dalgona Whipped Coffee.  And for more smoothie ideas, here's a terrific list.