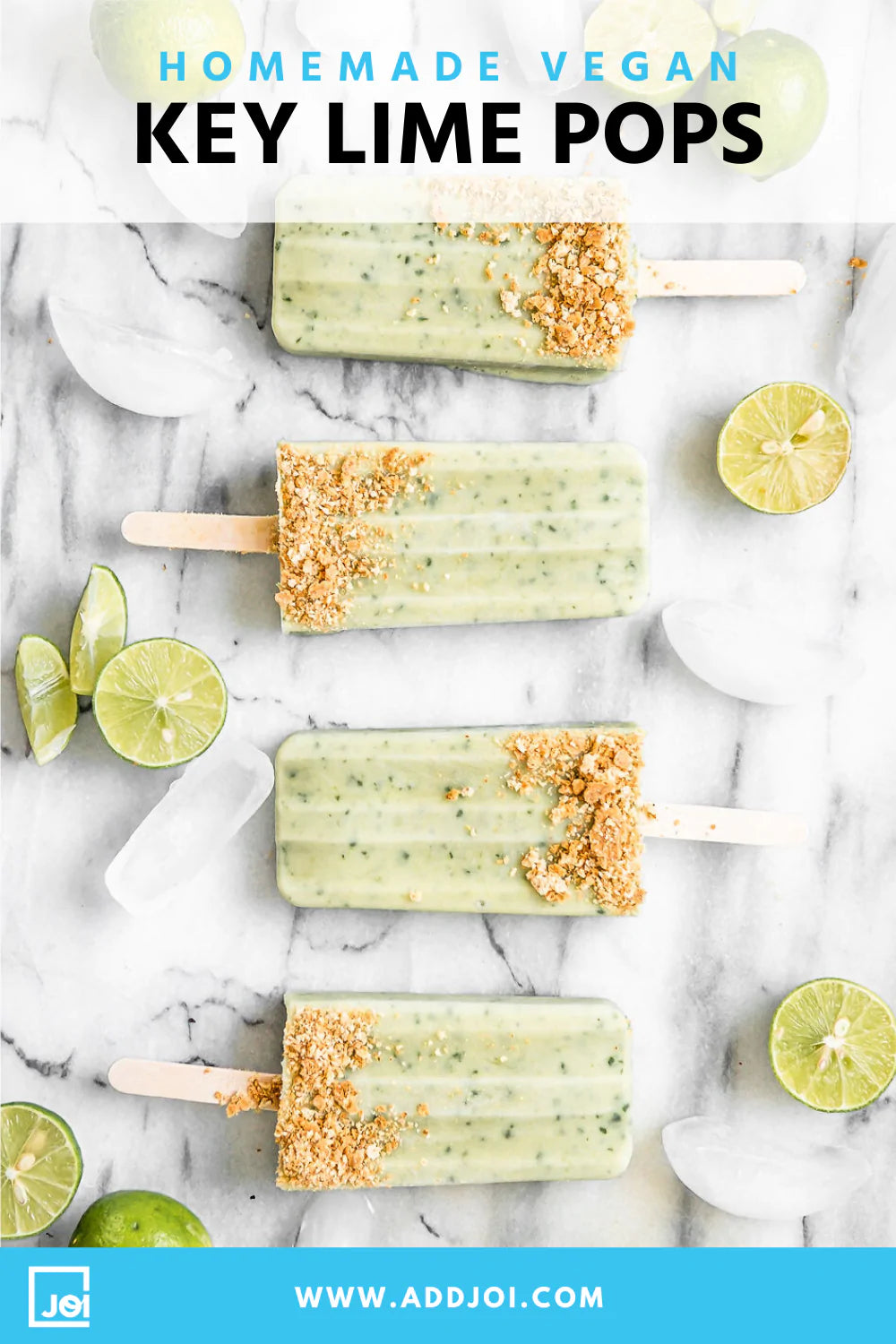 Key Lime Popsicles (Vegan, Dairy-Free)
Jul 13, 2023| By JOI team
< BACK
Jul 13, 2023| By JOI team
Key Lime Popsicles (Vegan, Dairy-Free)
Almond-Base |&nbspCashew-Base |&nbspCreamer-Base |&nbspDairy-Free |&nbspDessert |&nbspKeto |&nbspOat-Powder |&nbspRecipe |&nbspSnack |&nbspVegan |&nbspVegetarian |&nbsp
Summer is in full swing and if you're like us, we're constantly searching for our next sweet treat! Something bright and refreshing yet still indulgent. This dairy-free treat checks all of those boxes! Key Lime Pops using JOI plant base is the perfect way to cool down without sacrificing the "indulgent dessert experience".
What Ingredients are in the Recipe?
Made with avocado, JOI milk concentrate, and key limes, this popsicle is a very healthy treat. By using 2 tablespoons of JOI we've made this extra thick and creamy. Combine that with bright green avocado and some key lime juice & zest, it tastes exactly like a frozen key lime pie.
Here's the full ingredient rundown for your shopping list:
1 avocado
6 key limes, zested and juiced
2 tablespoons JOI milk concentrate Almond, Cashew, Oat or Hemp
3 tablespoons Agave syrup or sweetener of choice, such as maple syrup
pinch of sea salt
spinach, fresh or frozen, optional
graham cracker crumbs, optional
How To Make It
Combine all ingredients (except graham cracker crumbs) in a blender and blend on high speed for 2 minutes.
If you like, add a handful of fresh or frozen spinach for extra veggies and a brighter green color!
Pour the mixture into popsicle molds and freeze the for a minimum of 4 hours.  If you would like to make "ice cream" instead of popsicles, pour the mixture into a loaf pan instead of popsicle molds.  Freeze at least 2 hours for a soft service ice cream texture, or longer if you like a more traditional ice cream texture. 
For a little extra pizazz we've taken crumbled up graham crackers and dusted the pops with that garnish. It enhances the key lime pie flavor and adds great texture. Make them by blitzing a couple of graham cracker sheets in a food processor or high speed blender. 
What if I don't have a popsicle mold?
If you can't get your hands on a popsicle mold you can definitely use this as a no-churn ice cream as well. By blending it with avocado, it remains creamy and doesn't get ice crystals so it's a great dairy free ice cream option this Summer!
What other ice cream can I make with JOI?
Looking for more vegan summer treats made with JOI. Check out our no-churn blackberry ice cream and vegan coconut pops.  Even more ice cream recipes on the JOI recipe blog!
Recipe created and written by Sara Ayesh of White Kitchen Red Wine