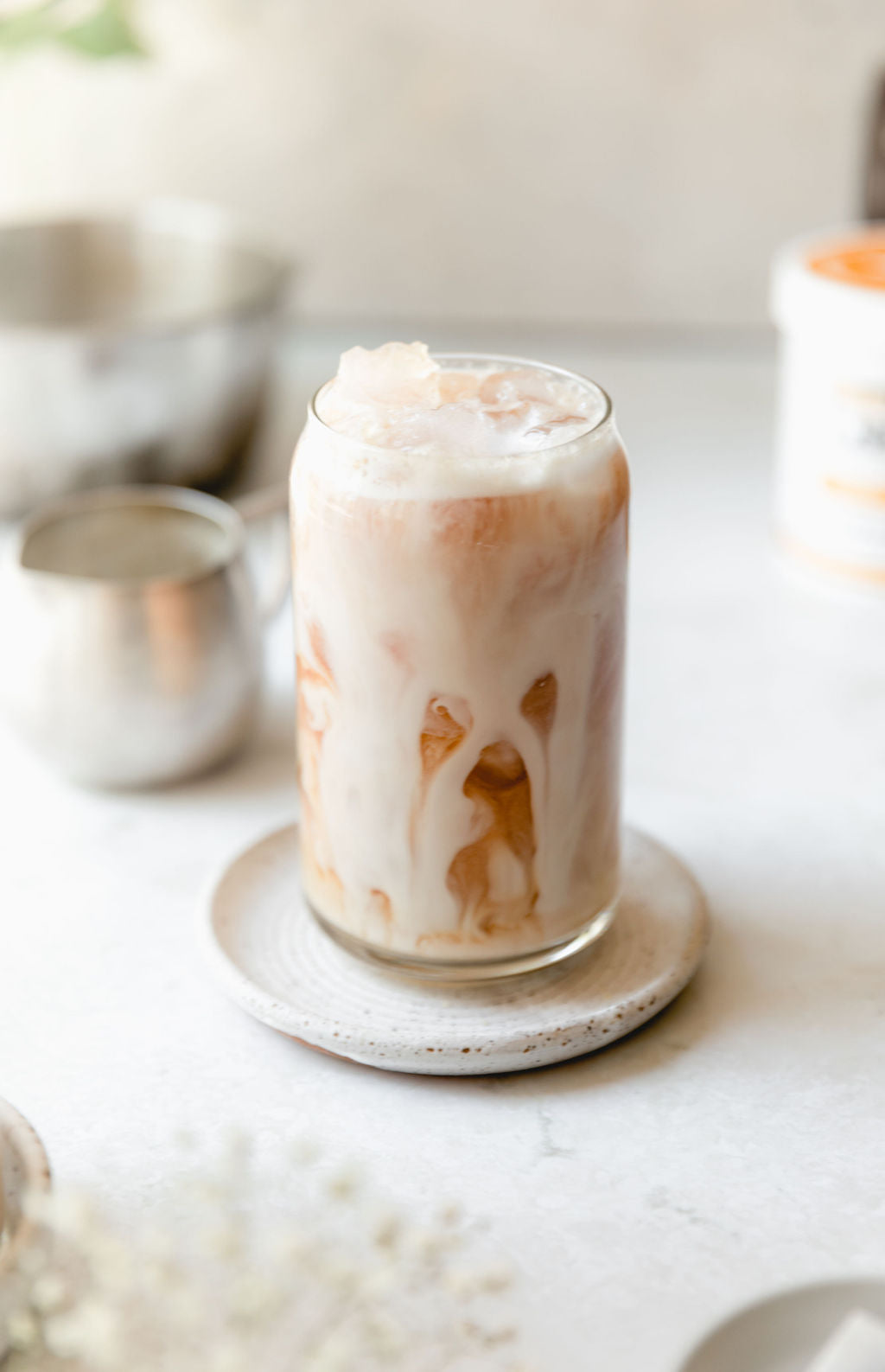 Iced English Breakfast Tea Latte
< BACK
Feb 9, 2023| By JOI team
Iced English Breakfast Tea Latte
Almond-Base |&nbspCashew-Base |&nbspCreamer-Base |&nbspDairy-Free |&nbspKeto |&nbspLatte |&nbspOat-Powder |&nbspRecipe |&nbspSugar-Free |&nbspTea |&nbspVegan |&nbspVegetarian |&nbsp
An iced English Breakfast or Earl Grey tea is a wonderful way to wake up in the morning! A black tea blend pairs beautifully with a sweet JOI creamer made right at home. Bitter notes in the black tea balance out the creamy milk with a slight sweetness of honey and vanilla. 
How to Make Homemade Creamer
Making your own plant-based creamer at home is deceptively easy with JOI!  No more soaking and straining nuts.  No messy nutbags. No more food waste.  We've taken the work out of it.  Just blend your favorite JOI plant milk concentrate with water.  You're almost done!
If you fancy, sweeten the creamer with vanilla extract and a drizzle of honey or sweetener of choice.  We also add a pinch of salt. Enjoy! 
(Pssssst! Looking for a shortcut? Just use JOI oat creamer to make your milk.  It dissolves into water and is already lightly sweetened.)
Why an Iced Tea Latte?
Black tea has a kick of caffeine that is perfect to pair with breakfast or as an afternoon pick-me-up.
Pour it all over ice and it just might become your favorite warm weather drink!
Because sometimes even we get tired of iced coffee and iced matcha.  Mix up your routine with this iced tea latte!
How Can I Customize the Recipe?
Does playing with your recipes bring you JOI?  We get that.  So here are some ideas:
Swap coffee or your favorite tea for English Breakfast

Serve this drink hot instead

Add a quarter teaspoon of almond extract

Substitute honey with date syrup, agave or maple syrup.
EnJOI!