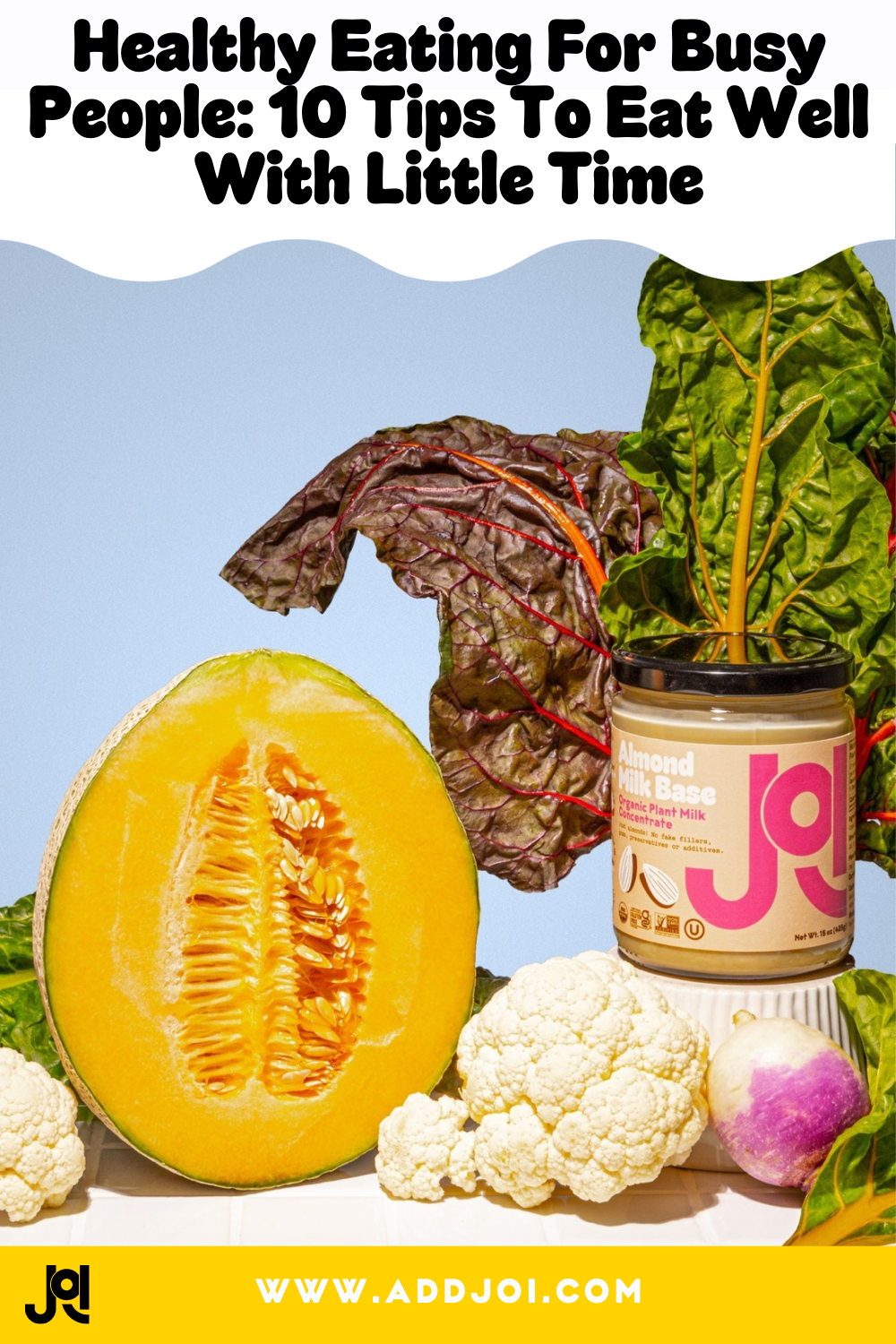 Healthy Eating For Busy People: 10 Tips To Eat Well With Little Time
May 12, 2023| By JOI team
< BACK
May 12, 2023| By JOI team
Healthy Eating For Busy People: 10 Tips To Eat Well With Little Time
Almond-Base |&nbspCashew-Base |&nbspCreamer-Base |&nbspDairy-Free |&nbspKeto |&nbspOat-Powder |&nbspRecipe |&nbspSugar-Free |&nbspVegan |&nbspVegetarian |&nbsp
I get it, we're all busy. Whether you're working, studying or taking care of the kiddos, time is scarce and valuable. You may feel like healthy eating is out of the question because you simply don't have the time (or mental capacity) to cook elaborate meals. If you can relate, read on!
There's a big misconception that healthy eating requires a lot of time and work, but this is far from the truth. Here are 10 ways to get on track with healthy eating:
1. SHOP BEYOND THE PRODUCE AISLE
Fresh fruits and vegetables are great tasting and very nutritious. But guess what? Frozen fruits and veggies are just as nutritious, more affordable, and longer lasting. They are harvested at the peak of their nutrition and kept frozen, which preserves the nutrients quite well. 
When grocery shopping, get your fresh produce, but also stock up on frozen fruits and veggies for a time-saving option. Add frozen fruits to smoothies, yogurt or oatmeal bowls. Sauté or microwave frozen vegetables for a quick side dish option or add it into stir-fries. 
2.  STOCK UP ON MINIMUM-PREP FOODS
Canned proteins are nutritious and time saving. Plus, they're less perishable. Opt for canned legumes (black beans, kidney beans, chickpeas) and rinse the contents with plenty of water to remove excess salt.

Quick cooking whole grains, such as brown rice and quinoa, can be found in shelf-stable, microwavable pouches or frozen "steam-in-bag" options.

Pre-washed salad kits, pre-cut or shredded vegetables are a must on your grocery shopping list. These are quick and easy options to boost your veggie intake.
3.  CHOP AND WASH

Chop and wash fresh produce as soon as you get home with your groceries. This saves you a few extra steps in the cooking process or when snacking. Do this with onions, celery, cucumbers, berries, cherries, pineapple, etc. Use chopped vegetables for cooking or snacking with a dip. Pre-washed and chopped fruits make for a great quick snack throughout the day. Make sure to dry the produce well to prevent spoilage. 
4.  PREP AND FREEZE
Whenever you do find some time for cooking, take advantage of it. Cook a large batch and stash extras in the freezer (just defrost and heat it up for an easy meal "next time.") 
Freezer-friendly meals include soups and stews, pasta, chili, curries, veggie lasagna.  But don't forget about freezing muffins, which make for a great on-the-go breakfast! 
Check out these delicious recipes made with JOI that freeze and re-heat beautifully: Easy Roasted Carrot Soup, Breakfast Chocolate Oatmeal Muffins Curried Chickpea Stew, Veggie Lasagna and Butternut Squash & Spinach Stuffed Shells. 
5. DON'T BE AFRAID OF STORE-BOUGHT MEALS
In a perfect world, we would all sit down to eat our meals without distractions. But guess what, some people have to eat on-the-go or while at work. This is why the fast food drive-thru is always poppin'. Well, we have a much healthier solution – store-bought meals.
Sandwiches and wraps make for perfect eat-while-you-walk meals. Pre-made soups and salads can be consumed quickly during your lunch break. The hot bar at grocery stores offers several healthy options such as steamed greens, roasted vegetables, lean proteins, beans and salads. 
6. PUT SNACKS TOGETHER INTO A MEAL
Sometimes people get so overwhelmed with making a "meal" that they decide to skip it altogether. That's a no-no. If you only have a few minutes in between work calls, it's better to put together healthy snacks that can make it a meal, rather than not eating at all. 
Stock up on chopped veggies, hummus, dips (especially when they're #madewithJOI!), fresh fruits, whole grain crackers, nuts and nut butters. Then just put them together for an easy, healthy meal. 
Aim for a variety of foods to ensure you are getting sources of protein, carbs and healthy fats. 
7. HAVE "GO-TO" MEALS
Meal planning and prepping is great, but it is not always an option. And frankly, it can get quite repetitive eating the same meals over the course of a few days. 
One solution? Have a few quick healthy recipes that you know by heart so you can prepare food in just 15-20 minutes. This can be truly life-saving when you are pressed for time. 
Rice bowls, salads, wraps and soups are perfect go-to meals. They require little time – assuming you had the ingredients on hand. This is why stocking your pantry and freezer is important!

8.  OVERNIGHT YOUR BREAKFAST
Are you the breakfast-skipper type? Would you rather get a few minutes of sleep before you have to run out the door? 
In that case, prepping your breakfast the day before can be a great strategy to, you know, make sure you eat. Overnight oats are packed with nutrition and very filling. Hard boiled eggs, yogurt parfait, tofu scramble and breakfast muffins can also be made the night before. 
Another great option is to combine your smoothie ingredients into a sealable bag, freeze it, and then just throw your frozen goodies in the blender with your JOI in the morning.
9. DON'T FORGET THE SNACKS
Keys? Check. Wallet? Check. Snacks? Check. If you're an on-the-go type of person, you should always keep healthy snacks in your bag, car or even at the office. That way you can rely on a nutritious option while going about your day. 
Choose nutritious snacks such as 
nuts, 

seeds, 

fresh veggies with a bean dip, 

whole grain crackers with hummus, 

fruits with nut butter, 

rice cakes with a spread, 

yogurt with homemade

Cashew Turmeric Granola

 

homemade bars such as these delicious

Apple Almond Bars

.
10.  NO SHAME IN MEAL
DELIVERIES
There are many health-conscious meal delivery services out there. Some include pre-chopped ingredients with a recipe under 30 minutes, while others send out meals that are ready to eat. The only downside is that they are usually quite pricey. 
These services can be a helpful way to consume nutrient-rich meals while limiting the time spent in the kitchen. If you know you are heading into a busy week, it's a good idea to have your meals delivered to ensure you nourish your body rather than rely on 'junk' foods or skip meals altogether. 
Bottom Line
Being busy should not get in the way of being healthy. If you don't have time or energy for cooking, there are many things you can do to ensure you eat nutritiously. However, it's important that you, busy bee, make some time for planning before the start of a hectic week, and at a minimum, stock up on the groceries (pro tip: get them delivered). 
Whether you decide to prep ahead of time, supplement with minimum-prep foods or even a meal delivery service, there are always ways to stay healthy even if you're short on time.  You got this!
About Carolina Schneider MS, RD (@carolinathegreenrd):
Carolina Schneider, MS, RD (@CarolinaTheGreenRD) is a registered dietitian and writer specializing in plant-based nutrition. She is the founder of Hungry for Plants, a company dedicated to offering nutrition consulting services to health and wellness brands, primarily in the plant-based food and beverage space. Carolina believes in eating better, not less. Her favorite JOI recipe is the Cashew Coconut Curry.