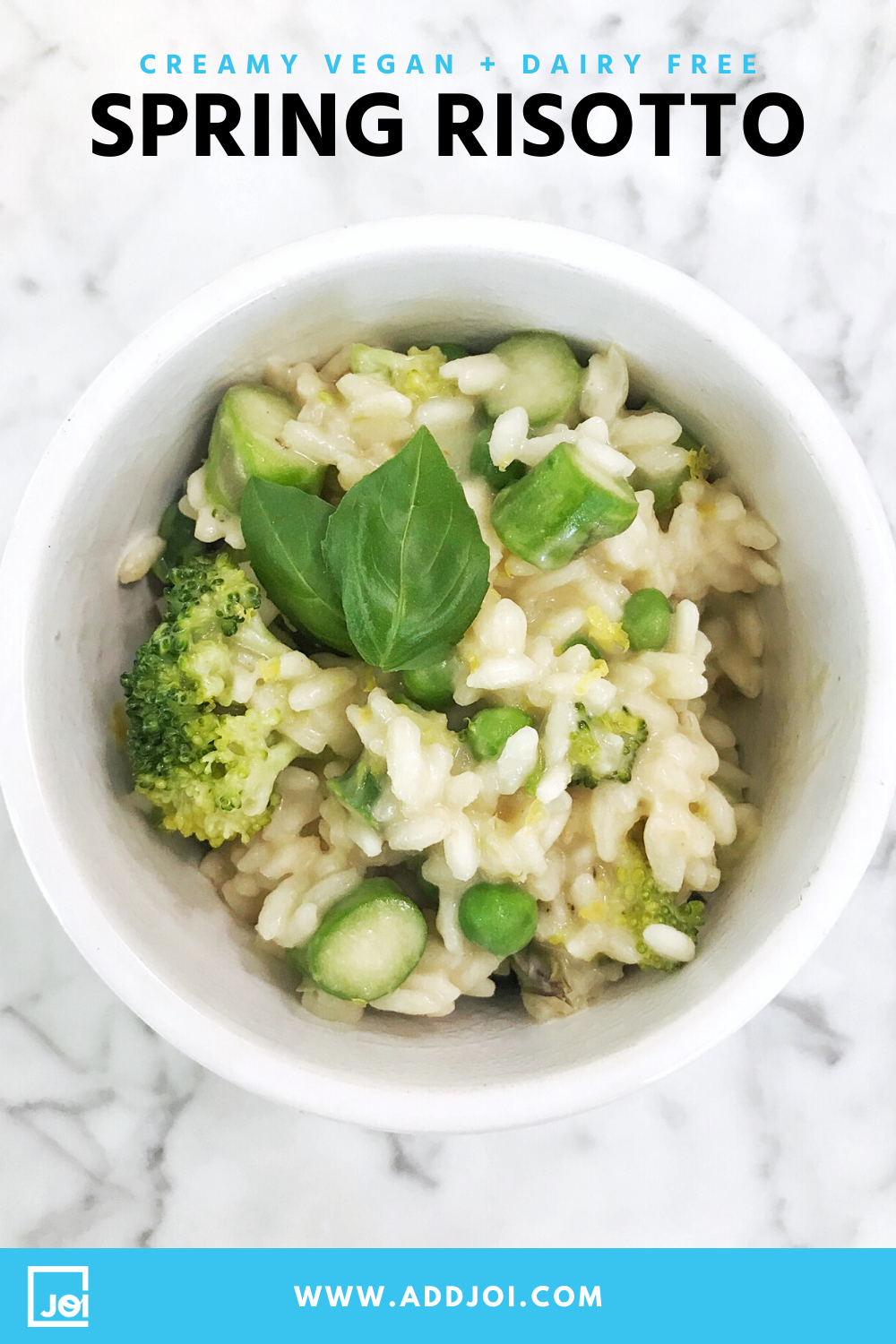 Creamy Spring Risotto (Vegan, Dairy-Free)
Apr 24, 2020| By JOI team
< BACK
Apr 24, 2020| By JOI team
Creamy Spring Risotto (Vegan, Dairy-Free)
Almond-Base |&nbspCashew-Base |&nbspDairy-Free |&nbspDinner |&nbspGluten-Free |&nbspLunch |&nbspRecipe |&nbspSugar-Free |&nbspVegan |&nbspVegetarian |&nbsp
There's no time like the present to take your culinary skills to the next level. Looking for your next challenge? Try our veggie-packed, vegan-friendly recipe for Creamy Spring Risotto!  
Risotto Can be Easy and Delicious
Risotto is one of those dishes that comes with a certain fear factor for many at-home chefs. It's indulgent, a touch fancy, and kind of high maintenance.
It's also delicious, and once you get the basic technique down (and mentally prepare for some stovetop babysitting), it's not actually difficult to prepare.  Just follow our step-by-step instructions below.  Take a peek - not that hard, right?
Basically, this Springtime Risotto is a perfect way to stretch out the dinner-cooking process on a long afternoon and reward yourself with something special on the table when all is said and done. Plus, you get the casual foodie satisfaction of adding another fine-dining favorite to your list of specialties (thank us later).
The Recipe
Ready to get gourmet? Here's our recipe for Spring Risotto.

Makes 4 servings

Ingredients:
3 Tablespoons olive oil
1 Tablespoon butter (dairy or plant-based)
½ onion (small), chopped
2 cloves garlic, thinly sliced
1 ½ cups arborio rice
2 ½ cups JOI almond milk or cashew milk (instructions below)
2 ½ cups broth or stock (vegetable stock or chicken stock if not vegan)
1 cup (heaping) broccoli florets (or substitute artichoke hearts)
1 cup asparagus, cut into 1" pieces
½ cup peas
Instructions: 
Prepare almond milk or cashew milk by blending 2 ¼ cups water with 4 heaping tablespoons of JOI almond or cashew plant base. Leave at room temperature.

Heat olive oil and butter in a large saucepan or wide pot over medium heat. (Pro tip—trust us and use a pot! A shallow pan will not work as well.)

Add onion, season with salt and pepper and cook until the onion is softened, about 2-3 minutes. Add garlic and cook for another minute.

Add rice and stir so that the grains are covered with the butter and oil mixture.

Combine milk and broth, and add 1/3 cup of this liquid to the rice.  Stir and simmer uncovered until all liquid is absorbed, about 3 minutes.

Continue adding 1/3 cup of the milk and broth mixture to the rice, stirring until the liquid is absorbed. 

When approximately 2/3 of the liquid has been added and absorbed by the rice (this should take about 20 minutes), add the broccoli and asparagus to the risotto. Continue adding liquid as described in step 6 until the rice is cooked through but still firm (approximately 10 more minutes). Note that depending on your rice, up to a cup of additional liquid (either plant milk made with JOI milk, broth, or a combination, as you prefer) may be required to finish cooking the rice.

When the rice is ready, stir in the peas. Add more salt and pepper to taste, if necessary.

For best taste, serve immediately!
Other Project Recipes
Looking for more cooking projects inspired by JOI? This gluten-free, vegan korma is the ultimate healthy comfort food! 
Or double down on project cooking this weekend and make ice cream for dessert with that risotto!