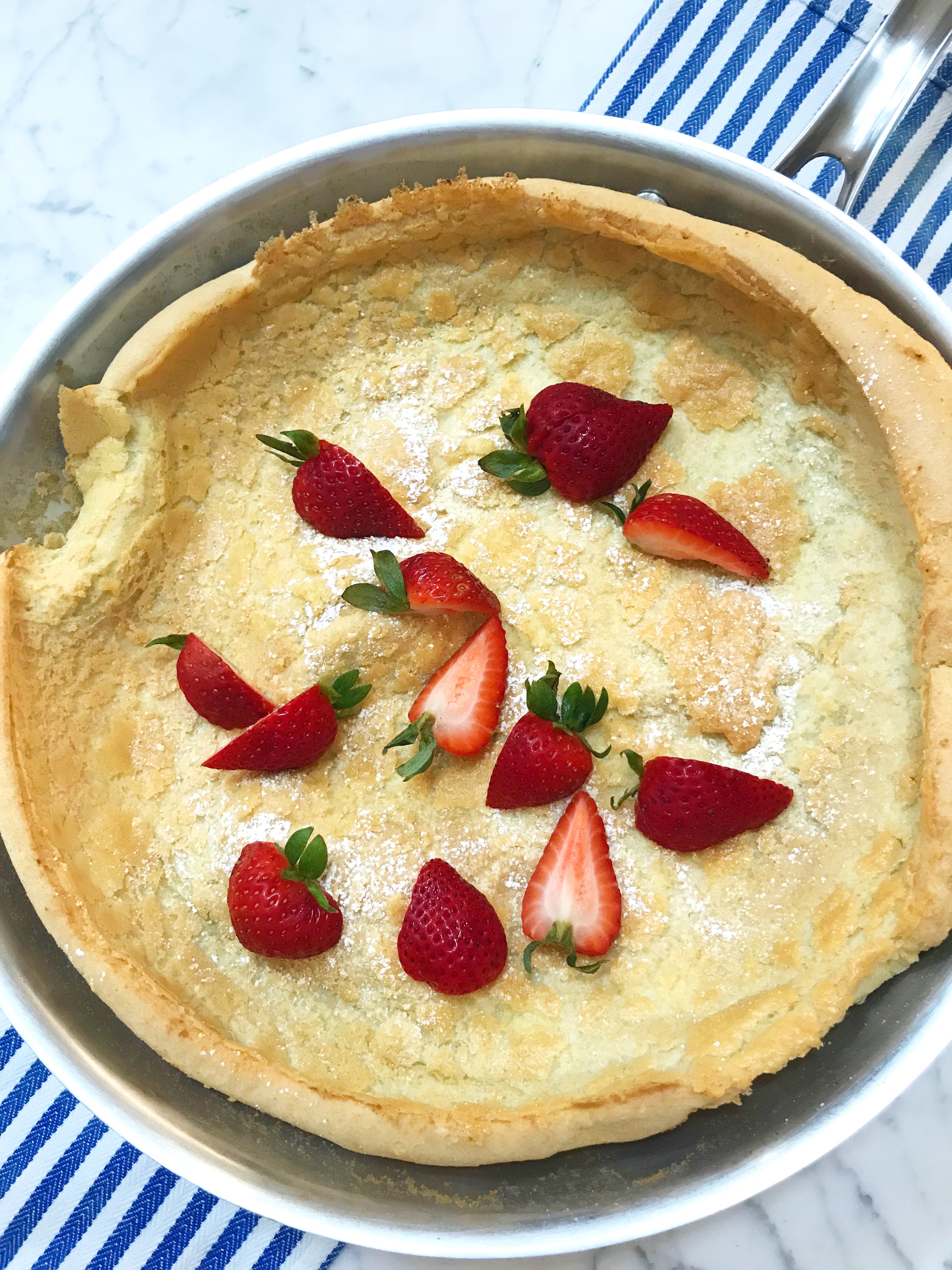 Dairy-Free Lemon Dutch Baby
Jun 30, 2021| By JOI team
< BACK
Jun 30, 2021| By JOI team
Dairy-Free Lemon Dutch Baby
Almond-Base |&nbspCashew-Base |&nbspCreamer-Base |&nbspDairy-Free |&nbspKeto |&nbspOat-Powder |&nbspRecipe |&nbspSugar-Free |&nbspVegan |&nbspVegetarian |&nbsp
Is it really the weekend if you don't brunch?
There's something extra special about a homemade brunch—you get all the indulgence factors of going out, without changing out of your PJ's. Plus, brunch is a fabulously forgiving meal to cook (especially when that first cup of coffee is still sinking in). That's why we love this sweet and savory dairy-free Lemon Dutch Baby made with JOI. Even better, our version made with JOI Almond nutbase is dairy-free out of the gate, and can easily be made vegan with an egg substitute.  
If you haven't gotten the memo about Dutch baby pancakes yet (are you even following foodie accounts on Instagram?), get ready for a treat. Baked instead of fried, these pancakes are somewhere between a crepe, a popover, and a party trick. Simply blend up your ingredients for an ultra-light and fluffy batter, pour that into a hot greased skillet, pop it all in the oven, and then get ready for the magic to begin. Your Dutch baby will quickly puff up in the oven and turn an irresistible golden brown around the edges as the batter pulls away from the pre-heated skillet. Once it's out of the oven the pillowy middle will collapse, leaving a perfect hollow to serve your Dutch baby dressed up with toppings of your choice. Personally, we love berries sprinkled with powdered sugar and a squeeze of lemon for a just-sweet-enough (and highly photogenic) finish. 



Ready to up your weekend brunch game without sacrificing time to sleep in? Here's the recipe for our Lemon Dutch Baby made with JOI.

Looking for more healthy baked treats made with JOI to add to your brunch rotation? Give our Glazed Lemon Poppy Scones a try!