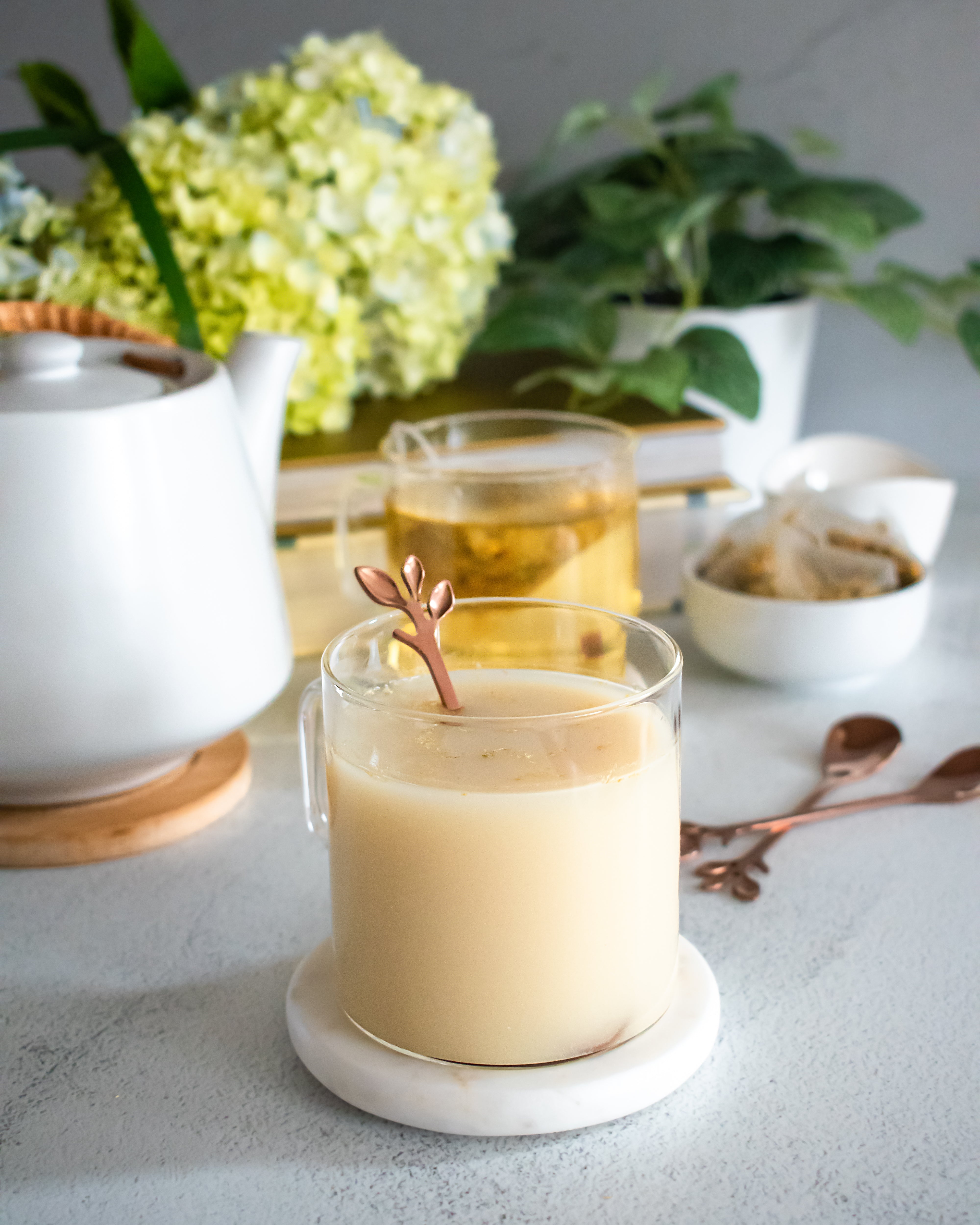 Soothing Chamomile Tea with Milk (Non-Dairy, Caffeine-Free)
Jan 26, 2023| By JOI team
< BACK
Jan 26, 2023| By JOI team
Soothing Chamomile Tea with Milk (Non-Dairy, Caffeine-Free)
Sometimes we need a warm drink to relax before bed, to help get us through a cold or to sip and just zone out. This caffeine free chamomile tea with warm milk does the trick. We take traditional chamomile tea and add a creamy, plant-based milk (JOI!) to create a comforting and delicious beverage.
What is Chamomile?
To make this herbal tea, dried chamomile flowers are steeped in water. Chamomile is a tried and true ancient remedy for various ailments. It is known for its calming and soothing properties, making it a great choice for those who suffer from insomnia or anxiety.
The health benefits of chamomile have been touted for centuries. And now, recent studies are indicating that that there may be some science backing the use of chamomile to boost health. Although further studies are required, early testing shows that chamomile can help improve certain cardiovascular conditions, stimulate the immune system and even provide some protection against cancer. 
How Do I Make Chamomile Tea with Milk?
This recipe could not be more simple. Simply steep dried chamomile flowers or a chamomile tea bag in a mug of hot water. Add sweetener, if using, and JOI instant oat milk powder. Stir, and voilá!
If you want to get fancy, use a milk frother to whip up a foam head. Then top with a little ground cinnamon or nutmeg and extra chamomile flowers.
How Can I Customize This Recipe?
Adjusting the ingredients to make this recipe exactly what suits you is quite simple.
Using honey and cinnamon are classic additions. And you can't go wrong with a classic. If you prefer a sweeter drink, add more honey or a different sweetener.
If a honey chamomile tea latte does not appeal, use agave or sugar or skip sweetener entirely!
Not a fan of oat milk? Make some JOI almond milk, hemp milk or cashew milk instead. We also love the hazelnut creamer splashed into this tea. Be sure that you gently heat the milk before adding it to your mug if you like it piping hot.
Caffeine is your fuel? Substitute any black, green or white tea for the chamomile.
For a deeper flavor, steep the chamomile flowers or tea bag for a little longer than 5 mins.
Here's the Recipe:
Give it a try and enjoy the benefits of chamomile tea with a plant-based, creamy twist.
What Other Hot Tea Lattes Can I Make?
Everyone needs a menu of delicious hot drinks they can whip up at home. Because running out for one can get really expensive. So here are some ideas to try as you hone your barista skills:
Skip the ice and serve this English Breakfast Latte hot instead.
This Chai Tea Latte is layered with warming spices flavors.
Matcha Latte has become a staple - try this Vanilla version.