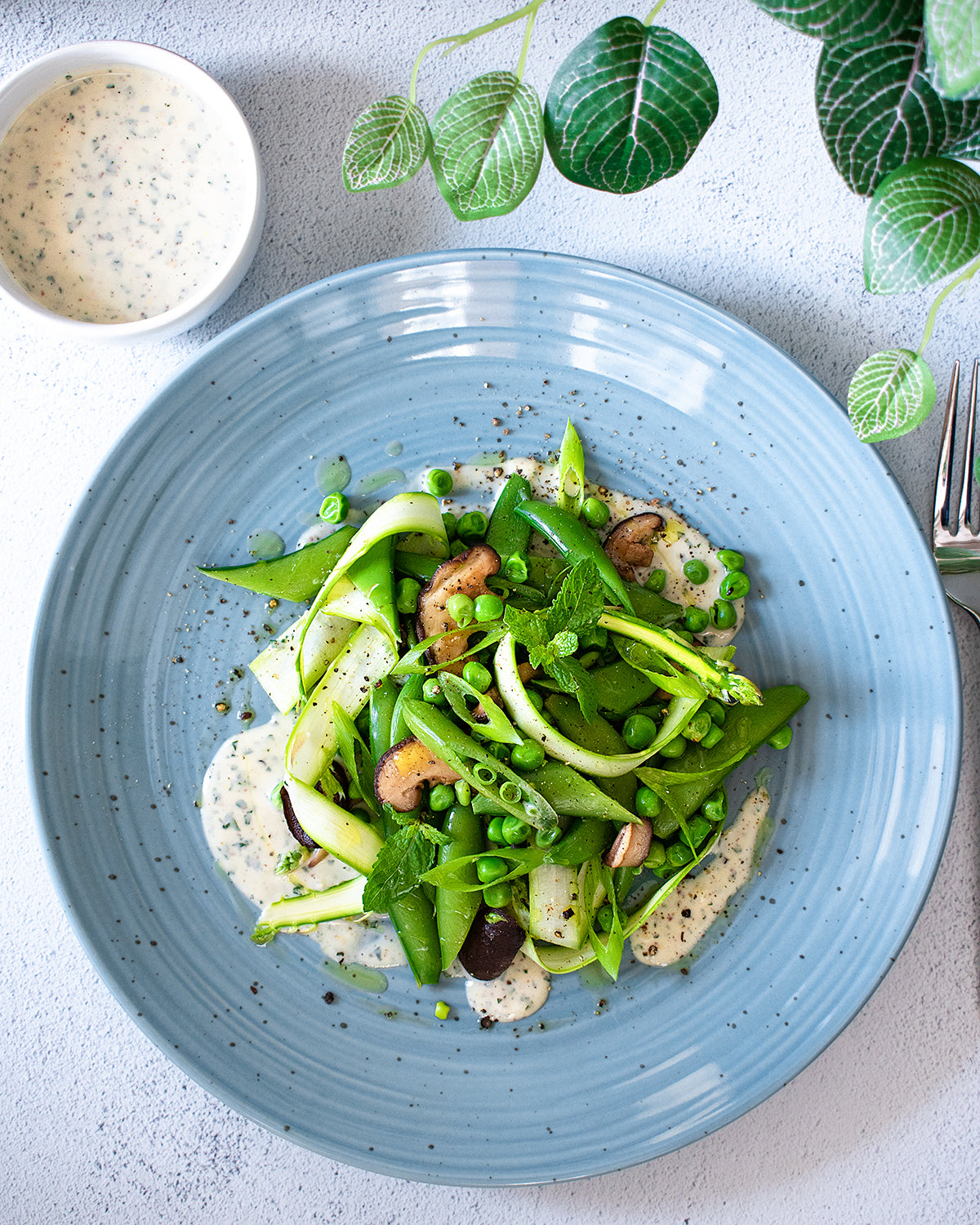 Spring Peas and Mushrooms with Mint Dressing
Apr 28, 2022| By JOI team
< BACK
Apr 28, 2022| By JOI team
Spring Peas and Mushrooms with Mint Dressing
Almond-Base |&nbspCashew-Base |&nbspCreamer-Base |&nbspDairy-Free |&nbspDressing+Dip |&nbspKeto |&nbspOat-Powder |&nbspRecipe |&nbspsalad |&nbspSugar-Free |&nbspVegan |&nbspVegetarian |&nbsp
This recipe features spring produce like sugar snap peas, garden peas, asparagus and scallion. This vegetable dish is so versatile it can be a side dish or the base of a main course, and is infinitely adaptable for whatever produce is at hand.  Topped with a creamy and nutty mint dressing, you can't go wrong.
What Recipe Features Spring Produce?
This one!! The greenest of bases is made of two kinds of peas - snap peas and shelled peas - and asparagus. Add in whatever mushrooms you prefer, or that you find fresh locally, to round out the grassy base with some earthy vegetable meatiness.
Top with fresh, bright green scallions and finish with the mint dressing. This creamy sauce brings together all the flavors of the dish and adds extra flavor and freshness.
This will be your go-to side dish recipe when you want fresh peas and sauteed mushrooms to be the star!

How Can I Adapt This Recipe?
This recipe is quite versatile. Use whatever fresh vegetables you find at the market...or in your produce bin. Summer squash can be cubed and added, or try some baby greens. Any type of mushroom can be used. Onions and garlic can be sauteed in to add even more depth of flavor. Or try adding a splash of soy sauce and topping with fresh mint if you don't have time to make a dressing.
But if you do....The dressing also can be used to top grilled vegetables or on a crunchy salad or slaw. If you're not a fan of mint, substitute another fresh herb, such as tarragon or cilantro.
Want to serve this as a main dish instead of a side dish?  Why not add in some protein, such as tofu or an egg or chicken or shrimp?  Or toss it with pasta for a veggie-heavy pasta with a creamy sauce?  Or build a grain bowl with your favorite grain, the vegetable mixture, some crunch (cucumber, seeds) and top it off with the dressing.