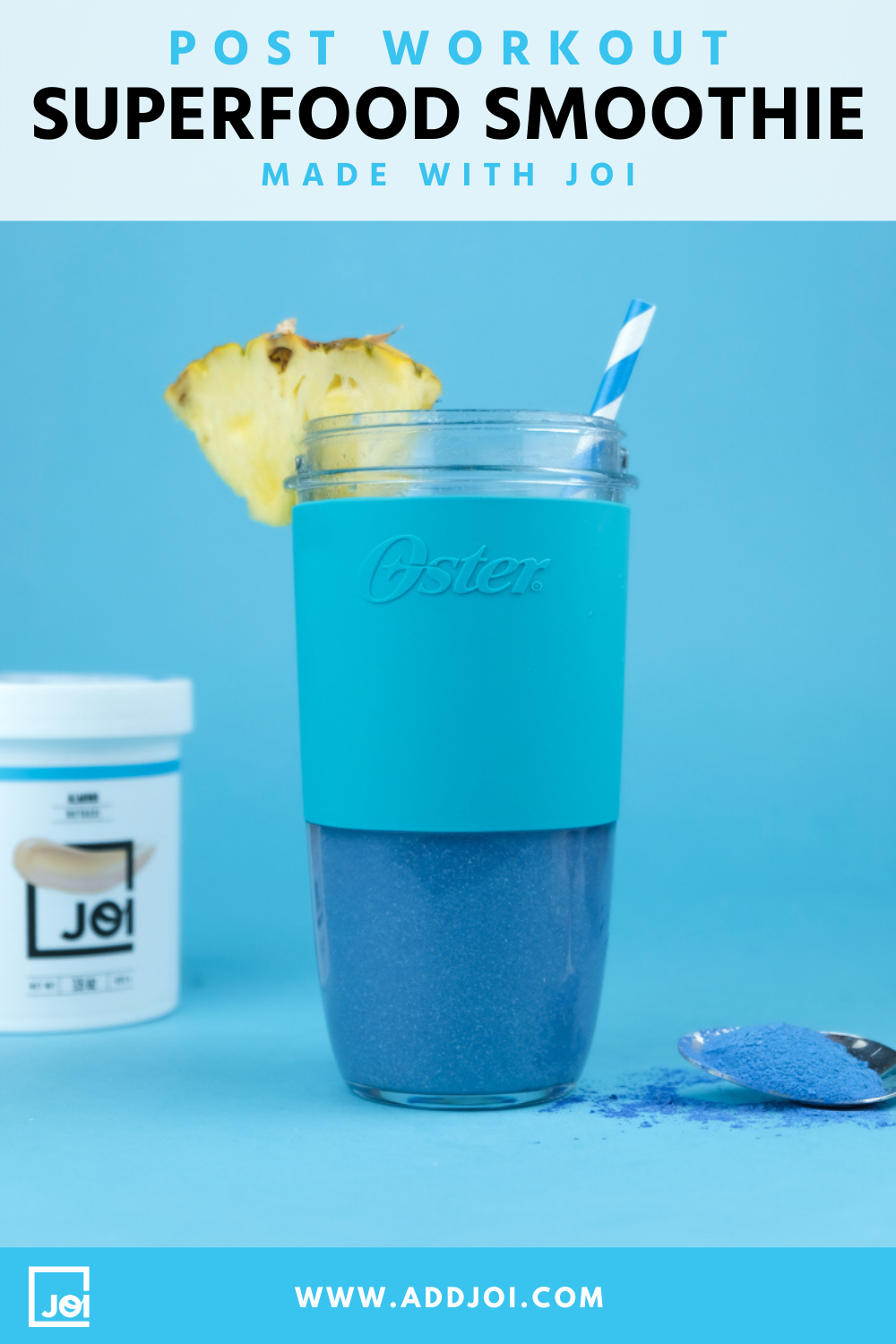 This Superfood Smoothie Made with JOI and Blended with Oster Takes the Hard Work Out of Healthy Eating
Oct 21, 2020| By JOI team
< BACK
Oct 21, 2020| By JOI team
This Superfood Smoothie Made with JOI and Blended with Oster Takes the Hard Work Out of Healthy Eating
Almond-Base |&nbspBeverage |&nbspCashew-Base |&nbspCreamer-Base |&nbspDairy-Free |&nbspGluten-Free |&nbspKeto |&nbspOat-Powder |&nbspRecipe |&nbspSnack |&nbspSugar-Free |&nbspVegan |&nbspVegetarian |&nbsp
This is part of our "On The Go" series with our partner Oster Blend Active portable blenders
Eating healthy is hard, right? Wrong. 
Smoothies are a SUPER simple way to seriously up your nutrition—especially when you've got a convenient single-serve blender and a few power-house ingredients on hand. 
Case in point: our Superfood Wellness Smoothie made with coconut water, JOI, and blue spirulina-algae powder. 
Yes, we are telling you to make a smoothie with algae, aka the stuff that grosses you out at the beach, but when it comes to healthy eating, have we steered you wrong yet? So, hear us out. 
Blue spirulina is a detox-darling that can help remove heavy metals and toxins from your system, promote healthy gut bacteria, and thanks to a hefty dose of protein and b-vitamins, aid in weight less and boost energy. It's also a powerful anti-oxidant and anti-inflammatory that supports heart health, helps control blood sugar, and has anti-cancer properties—Healthline recognizes it as quite possibly the most nutritious food on Earth. A little goes a long way too. Just a teaspoon of this heavy-hitter is all you need for this supercharged smoothie. Even better? Blue spirulina doesn't have that fishy taste it's close cousin green spirulina has a nasty reputation for. You can find lots of high quality options on Amazon, like this 100% Blue Spirulina Powder from Brilliant Superfoods.
Deciding on your blue spirulina powder of choice is hands-down the hardest step to making this smoothie. We're HUGE fans of Oster's Blend Active Rechargeable Portable Blender because it makes whipping up this smoothie (or any of our other favorites) ridiculously easy. Just add the ingredients directly into the blender, and with one touch and a few seconds, you've got a superfood drink you can't help but feel good about it. 
Time to ditch the excuses—here's the recipe for our easy and delicious Superfood Wellness Smoothie.
Ingredients:
1 cup (8 oz) coconut water
1 Tablespoon JOI Almond, Cashew, Oat or Creamer
1 oz banana (about ¼ of a banana)
1 oz pineapple (about 3-4 chunks)
1 teaspoon blue spirulina-algae powder
Pinch of salt
Instructions:
Add all ingredients in the Blend Active blender and blend for one cycle (or 30 seconds).  

Add ice and enJOI!
Need another option for your daily immunity boost? Elderberry Mylk is just what you've been after.