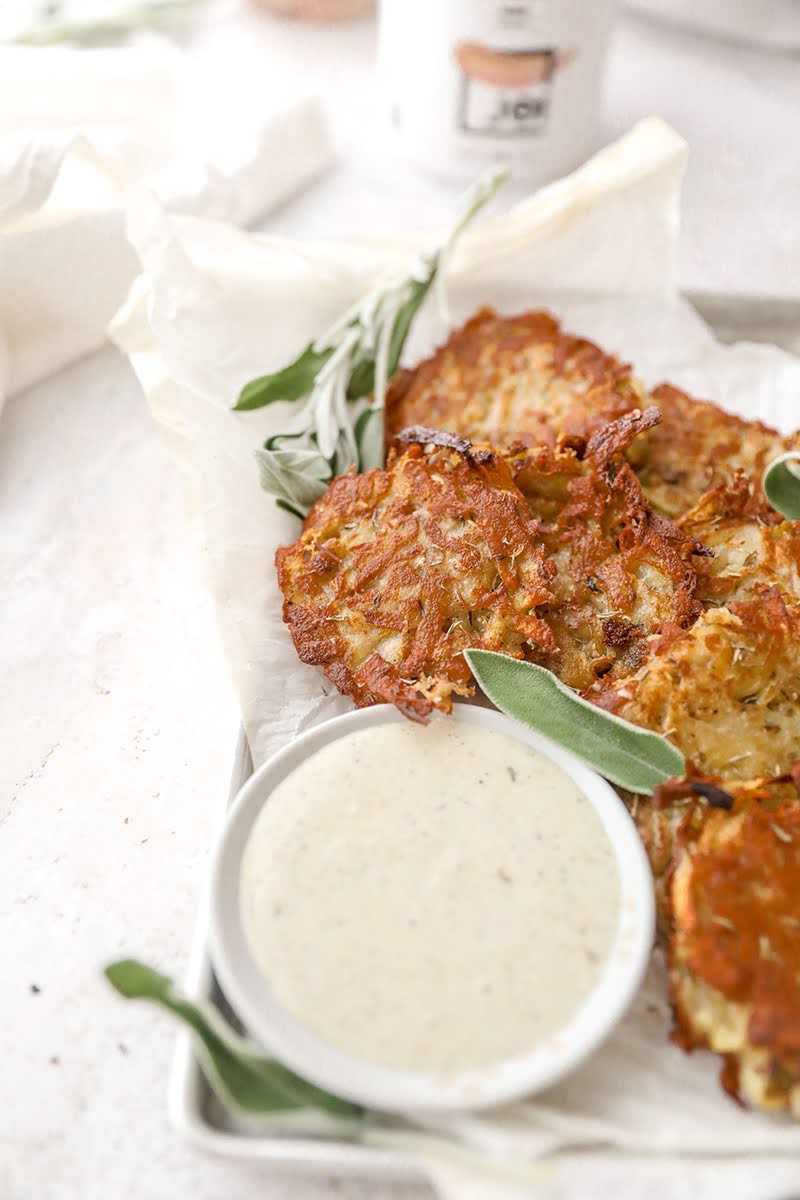 Crispy Potato Pancakes with Creamy Dip (Dairy-Free!)
May 27, 2022| By JOI team
< BACK
May 27, 2022| By JOI team
Crispy Potato Pancakes with Creamy Dip (Dairy-Free!)
Almond-Base |&nbspCashew-Base |&nbspDairy-Free |&nbspDinner |&nbspDressing+Dip |&nbspHoliday |&nbspLunch |&nbspRecipe |&nbspSnack |&nbspSugar-Free |&nbspVegan |&nbspVegetarian |&nbsp
The next best thing to french fries would have to be these shredded potato cakes (a/k/a "latkes")! Shredded potato seasoned with herbs are pretty perfect. But we're talking "next level" when and dipped in an easy sage and garlic aioli. Now you're talking potato perfection.
What are Potato Pancakes (or: Latkes)?
Potato Pancakes are simply a mixture of shredded potato and seasonings, bound together and fried in oil.
In the Jewish culture, they're known as "latkes". These are a traditional food served during Hanukkah. Fried foods are customary during this holiday period to commemorate the miracle of the cruse of oil. What better way to celebrate an abundance of oil than to fry a lot of food in oil?! Start with potatoes....and end your meal with jelly donuts! (Perhaps some salad in between?!)
Although the savory versions of potato pancakes are the most common, try making a sweet version as well. Shred some sweet potatoes (a nutritional powerhouse!) and season with cinnamon, nutmeg and ginger for a delightful spin on a classic! Dust with powdered sugar for an extra kick of sweet.
What are Potato Pancakes Eaten With?
Of course, we love "latkes" straight up and hot out of the pan with some extra salt sprinkled on top.
But, you can also eat potato pancakes with a number of toppings or dips.
Applesauce and sour cream are both widely used to top or dip latkes. Perhaps a bit of smoked salmon and dill is more your style? Feeling fancy? Go for the caviar topper.
Want to make it a meal? top with a fried egg oor tofu.
Make it "fresh" with a bruschetta-style topping.
We've concocted an absolutely delicious dip to mix things up. This dairy-free, vegan dip whips up in no time. Plus, it's bursting with flavor: garlic and sage are a perfect complement to the fried potatoes. We like to squeeze a little lemon juice too!
Why is this Recipe Different?
Our latkes are held together with a pinch of flour and a scoop of JOI. Typically, an egg flour combination would hold things together. But we've taken a vegan route, binding provided thanks to JOI plant base.
The potatoes are lightly seasoned with salt and dried thyme for flavor instead of traditional shredded potatoes.  But we've provided that option if you want to go classic. 
Fry them up in a bit of oil in a searing hot cast iron pan to finish them off until golden brown and crispy.  So easy, right?
The sauce is a crowd pleaser on its own.  Make extra and use it for all your dipping needs, or top grilled or roasted veggies with this creamy sauce. Lots of garlic and fresh sage are blended until smooth and creamy with JOI and a splash of water. Serve the potato cakes dipped in the garlic sage sauce and enjoy! 
Let's Make the Recipe!
[[ recipeID=recipe-8kjwykt9a, title=Vegan Latkes with Sage Garlic Sauce For The Win This Hanukkah (or any time of year) ]]
What to Serve Alongside the Latkes?
Sure, latkes are great as an appetizer or a side dish. But perhaps you want them to be the star of your plate? These crispy treats are filling enough to stand in for a protein. Make them the "main attraction", and serve some delicious salad and vegetables along side. We love these Tarragon-Stuffed Mushrooms or these Roasted Carrots.
But once you've tried them, you won't stop there. Breakfast, lunch and snack time...the possibilities are endless!