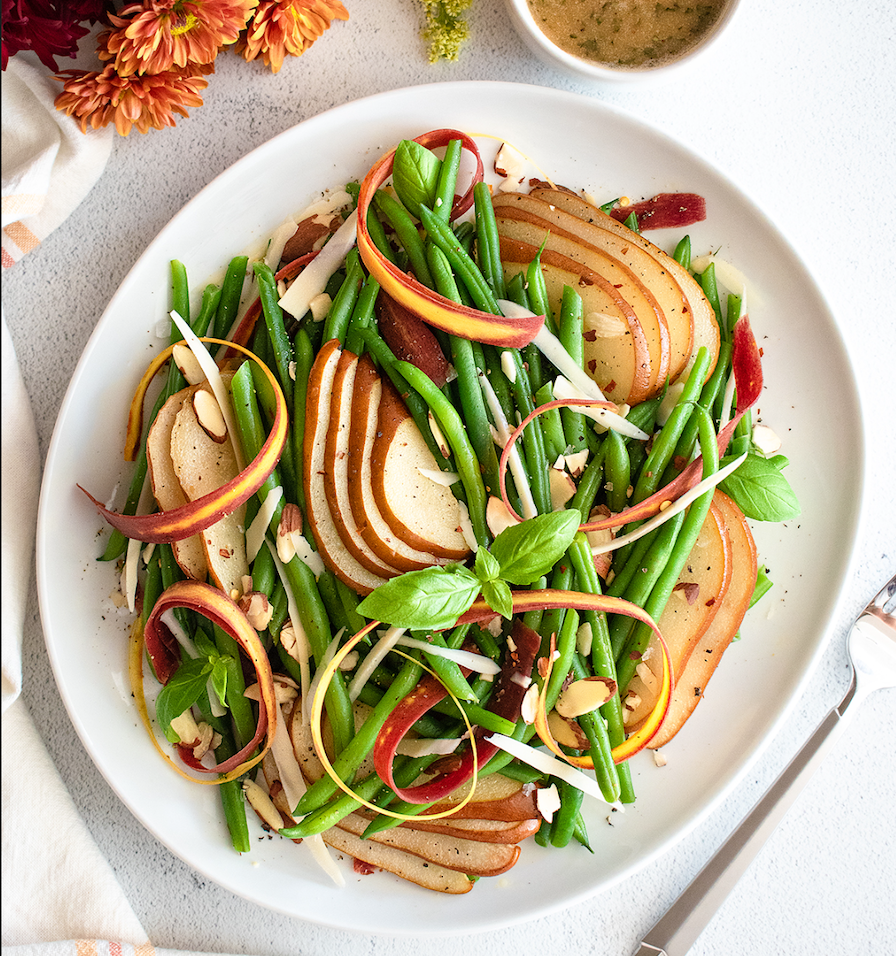 Green Bean Thanksgiving Recipe (Salad or Side Dish)
Nov 16, 2022| By JOI team
< BACK
Nov 16, 2022| By JOI team
Green Bean Thanksgiving Recipe (Salad or Side Dish)
Almond-Base |&nbspCashew-Base |&nbspDairy-Free |&nbspDinner |&nbspDressing+Dip |&nbspGluten-free |&nbspHealth+Wellness |&nbspHoliday |&nbspLunch |&nbspRecipe |&nbspsalad |&nbspVegan |&nbspVegetarian |&nbsp
This is a delicious alternative to the usual green bean casseroles or sauteed green bean side dishes. It's festive and made for holiday menus and get-togethers. The maple sage dressing complements the flavors of sweet bosc pears, nutty green beans and the slightly peppery purple carrots. It's so good, you'll want to make it year-round. 
Ingredients in Green Bean Salad?
We've kept things pretty basic with this recipe. We're showcasing green beans (blanched), pear (roasted), carrot (raw) and some extras as you wish: sliced almonds, parmesan (vegan or regular) and basil.
Of course, you can tweak things to your taste. Here are some ideas:
Use sugar snap peas or snow peas instead of green beans.
Roast or sautee the green beans if you prefer.
Substitute pear with roasted apple or fresh pomegranate. Or peaches or plums if those are in season.
Use cooked carrot instead.
Swap any nut or seed for the sliced almonds. Pecans or walnuts or pumpkin seeds, perhaps?
Skip the basil or substitute with fresh parsley instead.
Use feta instead of parmesan for a similar salty cheese finish.
Sprinkle a little sea salt flakes (fleur de sel) over the salad right before serving. This finishing salt adds depth, flavor, texture and a touch of elegance
For those who love a touch of spiciness, garnish the salad with a little red pepper flakes.
How do I make the Maple Salad Dressing?
Like most salad dressings, pulling together this Maple Sage Dressing simply requires whisking (or shaking or blending) together a few ingredients. The dressing really brings together the simple building blocks of this salad:
maple syrup (well it IS called "maple" dressing after all!; but you can substitute honey or date syrup or agave if you like)
JOI almond (or cashew) milk concentrate, for creaminess and thickness
white balsamic vinegar and stone ground mustard for an acidic kick (anyone who's heard of Samin Nosrat will be familiar with the idea of adding acid to most every dish for balance!)
garlic clove for bite
sage leaves for earthy flavor
salt and pepper and extra virgin olive oil
The result is a sweet, creamy yet punchy dressing with the interesting hit of sage. Make extras and use it over roasted vegetables!
By the way, did you know you can make and freeze certain salad dressings? Yep, make extras and freeze, or make ahead and freeze! (Thanks for the tip, Pamela Salzman!)
How do I serve this Green Bean Salad?
Serve this salad cold or room temperature! The great part is that you can make the components ahead, so you're not taking up valuable oven space the day of your event!
Serve it as a side dish for a Thanksgiving side alternative to hot green beans. Or serve it as a main dish either topped with your favorite protein, or alongside a bowl of soup. This salad is hearty enough to serve as an anchor for lunch or dinner.
What other side dishes can I serve along green beans?
Looking to round out your festive menu? Look no further than these delicious, hearty side dishes:
Brussels sprouts with creamy honey mustard