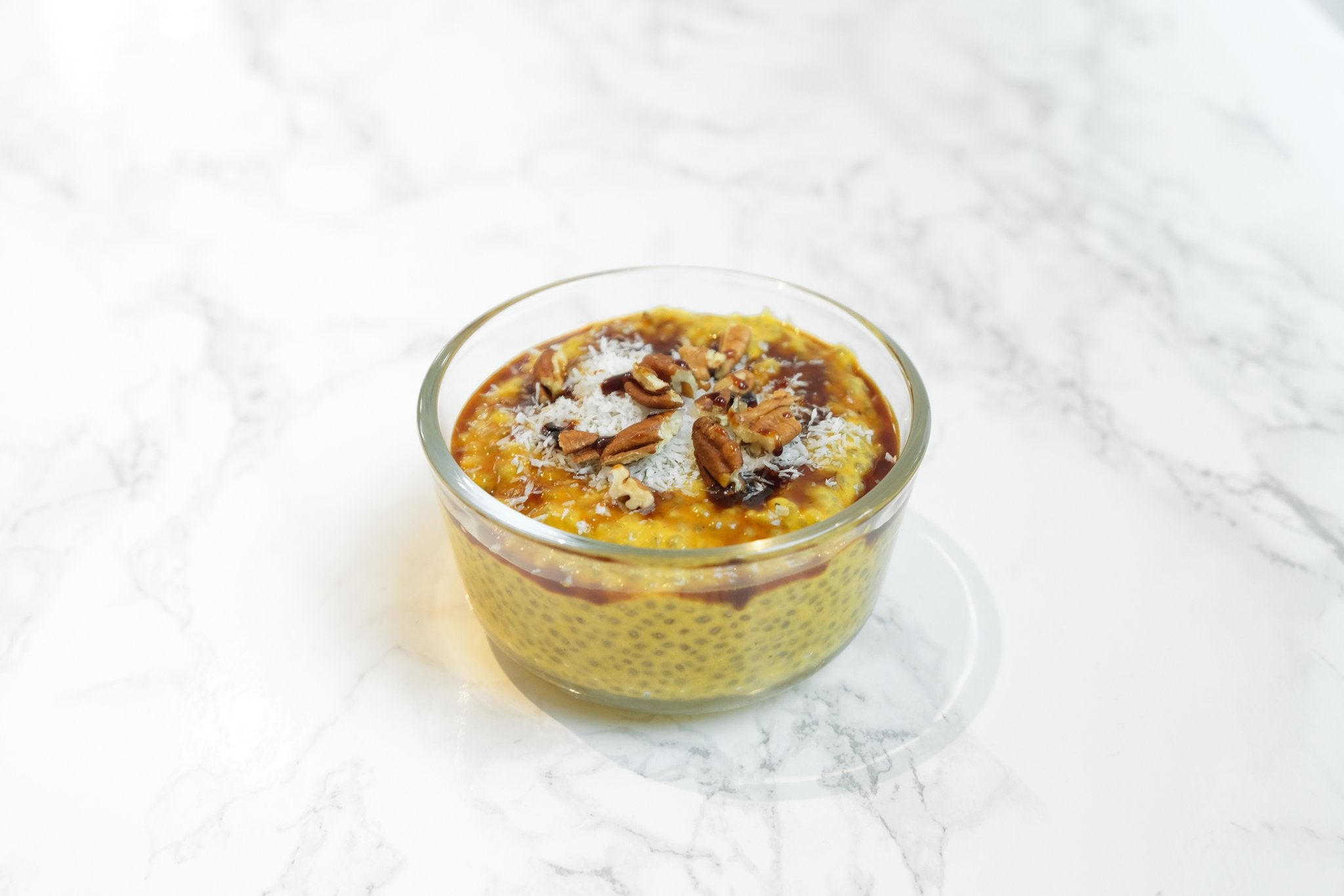 Easy Pumpkin Chia Pudding (Dairy-Free, Vegan)
Oct 28, 2021| By JOI team
< BACK
Oct 28, 2021| By JOI team
Easy Pumpkin Chia Pudding (Dairy-Free, Vegan)
Almond-Base |&nbspBreakfast |&nbspBrunch |&nbspCashew-Base |&nbspChia |&nbspCreamer-Base |&nbspDairy-Free |&nbspDessert |&nbspKeto |&nbspOat-Powder |&nbspPudding |&nbspPumpkin Pie |&nbspRecipe |&nbspSnack |&nbspSugar-Free |&nbspVegan |&nbspVegetarian |&nbsp
Do you ever find yourself wanting dessert for breakfast? Or, breakfast for dessert? Yeah, we've been there too. So, step away from the box of sugary cereal, because we've got a better alternative. No matter what time of day it is or what meal you're technically supposed to be eating, our Pumpkin Chia Pudding satisfies that unique craving for something a little indulgent, a little comforting, and just-sweet-enough. 
Why You'll Love This Flavor!
Our Pumpkin Chia Pudding combines classic pumpkin pie flavors (let's hear it for pumpkin spice!), pureed pumpkin (or sweet potato) and JOI milk concentrate to create a creamy-but-good-for-you pudding.  It's got all the delicious flavor of pumpkin pie or pumpkin spice lattes packed into a nutritious, better-for-you treat.  A guilt-free breakfast, snack or dessert perfect for the Fall season!  Let's be real:  you can never have too many pumpkin recipes.  Or pumpkin spice recipes.  
Here's the kicker—we've replaced standard ground cinnamon with Burlap & Barrel Cinnamon Verum. Trust us, this stuff is life changing. Top it all off with granola, toasted pecans or shredded coconut (or all three) and you've got the perfect healthy-ish vegan treat for 7am, 10pm, or any time in between.
Feeling indulgent?  Crown your pumpkin chia pudding with your favorite whipped cream!  We love making coconut whipped.  Dessert is served.
OK.  I'm sold (pumpkin spice, duh!).  But:  what is chia pudding anyway? 
Well, chances are you know what "pudding" is.  And we're talking about the U.S. version of "pudding" (not the synonym for "dessert" that's used in the U.K.!)  So, you know...the classic silky smooth, thick, sweet treat that comes in a rainbow of flavors.  Yeah, pudding.

Chia pudding gets to that same end goal:  a rich, thick, sweet treat that you can customize to whatever flavor your heart desires!  Make it smooth by blending the chia seeds in with all the other ingredients, or add some texture by keeping them whole.
Although your traditional pudding can be served hot or cold, chia pudding is usually served cold.
And why is chia pudding more healthy?
First, chia pudding is more healthy than traditional because it uses JOI plant milk.  JOI almond milk contains six times more nutritional punch than your leading store-bought almond milk.  Think protein, fiber and healthy fat! 
Second, chia pudding achieves its thick consistency with the help of chia seeds, a superfood packed with nutritional benefits.  They plump up, absorbing the milk and turning your mixture into a thick, creamy, well....pudding. 
Finally, what's NOT in this recipe makes it more healthy.  Hold the eggs and cream.  And no added sugar, thank you!  We suggest using maple syrup, date syrup, agave or honey instead.
Want to pack an extra nutritional punch?  Turn your pumpkin chia pudding into overnight oats!  Just replace a portion of the chia seeds with rolled oats.  
Not Feeling Pumpkin Spice-y?
We hear you.  Feel free to make it your own, no matter what your mood!
Feeling "plain"?  Make this a "vanilla" version by omitting the pumpkin and spices and upping the vanilla extract factor.
Feeling minty?  Skip the spices and pumpkin and add a 1/4 teaspoon of peppermint extract.  
Chocolate your thing?  Replace the pumpkin puree, nutmeg, ginger, cloves and allspice with 2 tablespoons of cocoa powder.  But keep the cinnamon for a "Mexican chocolate" experience.  You could even add a little cayenne pepper if you want a kick!
For a lemon twist, use the plain vanilla formula and add the zest of a lemon and a squeeze of fresh juice.
You get the idea.  Using the base formula, you can take this recipe wherever the seasons inspire you to go!