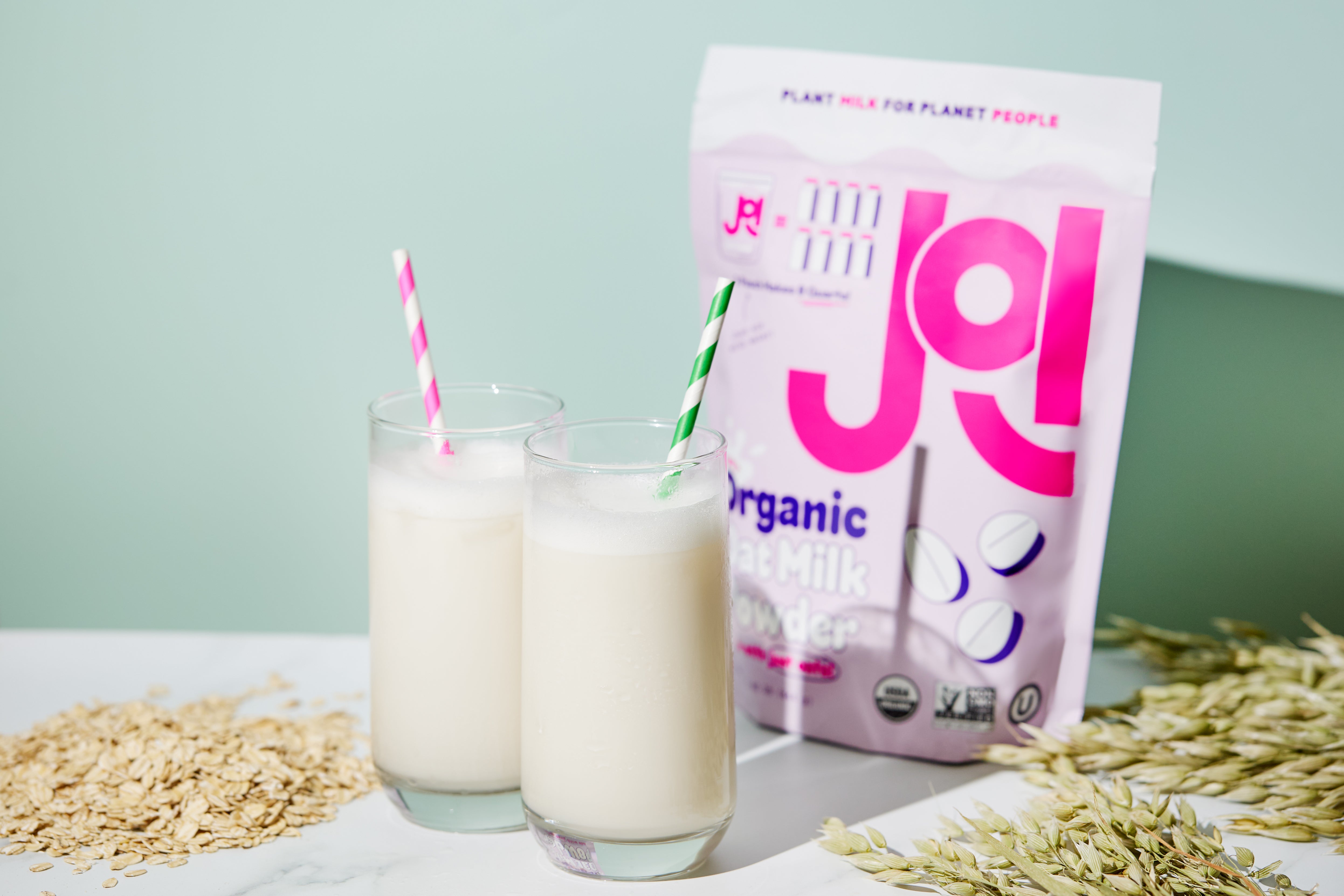 JOI's Instant Oat Milk Powder Now in PCR Packaging
Jan 17, 2023| By JOI team
< BACK
Jan 17, 2023| By JOI team
JOI's Instant Oat Milk Powder Now in PCR Packaging
Oat-Powder |&nbspSustainability |&nbsp
We're all trying to make small changes to be more eco-friendly. For us at JOI, those changes start with our packaging. Trying to find a waste-reduction solution to all those milk cartons filling up our landfuls is what motivated co-founder Izzy to start JOI!
Here's the inside scoop about our new oat milk packaging and why it's changing!
Why Did We Consider New Packaging?  The Background.
If you've been following our story for a while, you may have noticed that we've changed our packaging quite a few times. All in the search for the most sustainable (yet functional) solution possible.
A few months ago, we launched our Organic Oat Milk Powder in a compostable pouch.  This was a first in the plant milk industry, and something we were all very excited about.
After a few months, however, we received complaints about crinkly, ripped pouches upon delivery. And bags that wouldn't seal properly after opening.
Unfortunately, compostable packaging is quite fragile with a short shelf life. While we are still excited by the prospect of compostable packaging, we need something much more durable and efficient at protecting our oat milk powder.
What is PCR Packaging?
With the launch of our new and improved INSTANT oat milk powder, we're proud to introduce our new pouches.  They're made from post-consumer recycled material (also known as PCR).
PCR is made from items that consumers recycle every day, like:
aluminum,
cardboard boxes,
paper, and
plastic bottles.
Typically, these materials first are collected by local recycling programs.  Then they're shipped to recycling facilities to be sorted (by material type) into bales. The materials sorted by bales are then purchased by a processor.  They melt (or grind) the materials into small pellets, and then mold them into new items.
The "new" PCR material can then be used for a variety of finished products, including packaging.
What is the Benefit of Using PCR Packaging?
A main benefit of utilizing PCR for our packaging is that it has the same quality as regular, single-use, flexible packaging.  Put differently, it offers the same level of protection, barrier performance, and strength, as regular plastic film.
This ensures that our customers receive fresh untainted oat powder.  And that the oat powder has the longest shelf possible, even after opening. 
The best part of using PCR packaging is that we can offer a larger pouch with double the amount of product inside!  That means even less carbon emissions from shipping and more cartons saved from landfills. 
How Does PCR Measure Up versus Other Sustainable Options?
Speaking of sustainability, recyclable and compostable materials are more common thought of as eco-friendly options.  Hint:  ditch those tetra paks - most aren't recyclable.
However, PCR has an advantage over those.  That's because PCR packaging does not rely on the customer to take action to recycle or compost properly.
This allows us at JOI to
reduce our carbon footprint,
lessen our impact on landfills, and
meet our overall sustainability goals in a more proactive way,
thereby putting less of the burden on our customers.
The Bottom Line Regarding JOI & Sustainable Packaging:
As always, the team at JOI is extremely motived to find the most sustainable and feasible solutions possible for all aspects of the business.  And we're excited to share this new and improved product with you.
As a company driven by customer experience and feedback, we look forward to hearing your thoughts. Let us know what you think in the comments!