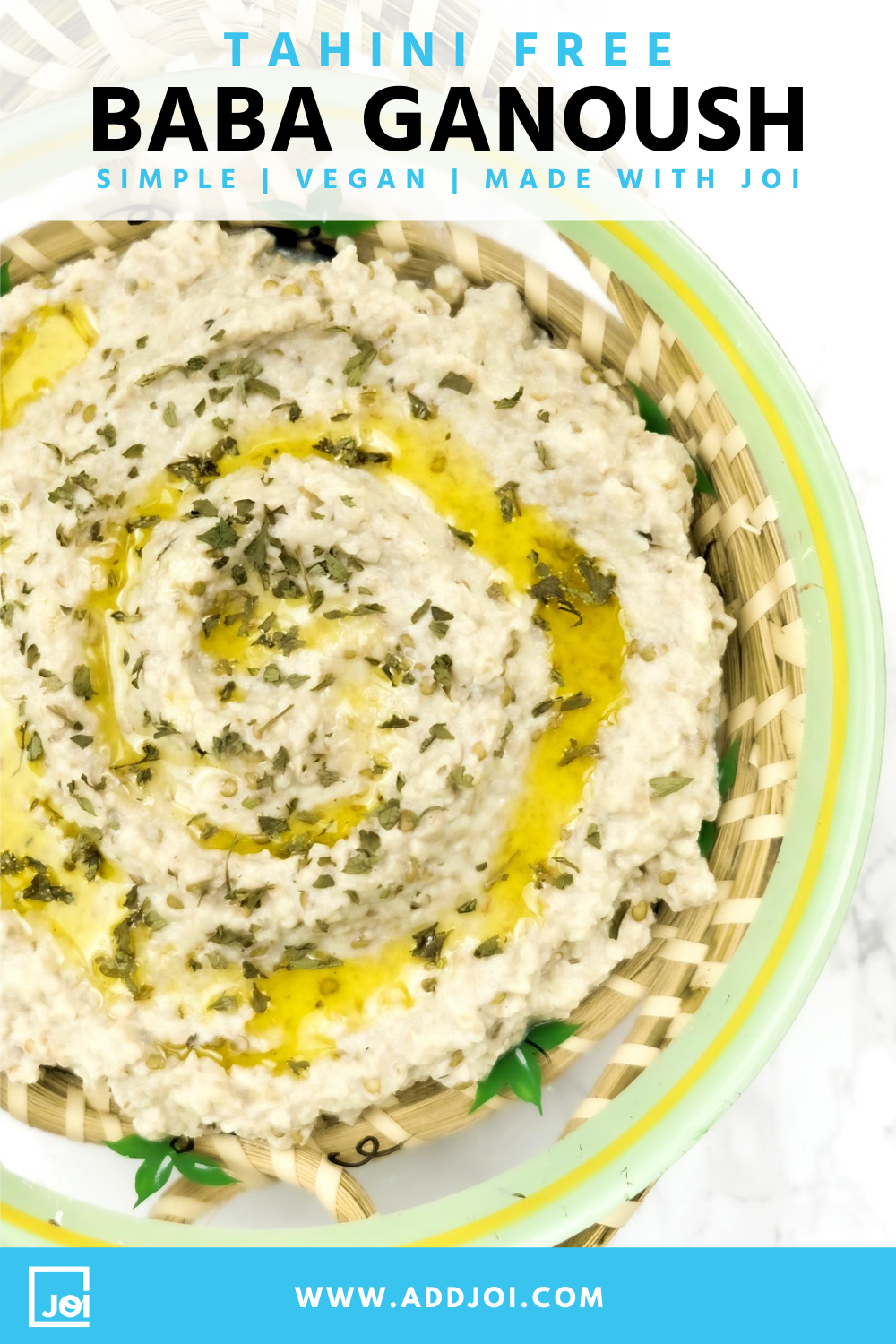 Baba Ganoush: A Creamy Dip You'll Love More than Hummus 
Aug 10, 2022| By JOI team
< BACK
Aug 10, 2022| By JOI team
Baba Ganoush: A Creamy Dip You'll Love More than Hummus 
Almond-Base |&nbspCashew-Base |&nbspDairy-Free |&nbspDinner |&nbspDressing+Dip |&nbspGluten-Free |&nbspKeto |&nbspLunch |&nbspRecipe |&nbspSnack |&nbspSugar-Free |&nbspVegan |&nbspVegetarian |&nbsp
Are you in need of a seriously delicious dip that is also seriously healthy?  Put baba ganoush on your "Cook This!" list.  Smoky eggplant, spices and the creaminess JOI adds makes it a nutritious, mouth-watering addition to your dip repertoire.
What is Baba Ganoush?
Think of baba ganoush as a cooler cousin of hummus—same basic concept, but with a different flavor, and a less mainstream vibe.  
Like hummus, baba ganoush is a vegan's snacking dream, made with simple meat- and dairy-free ingredients that are dense with nutrients. 
The difference is that roasted eggplant forms the base for baba ganoush while chick peas are the backbone of hummus. The roasted eggplant lends this eggplant dip a slightly sweeter, smokier flavor, and a lower fat and calorie count than hummus. Plus it can be easier on the tummy than hard-to-digest chickpeas.
And in this variation, we've swapped out the traditional tahini for protein-packed, whole-food JOI plant base to make for an extra creamy finished product.

Is Baba Ganoush Easy to Make?
Yes, baba ganoush is easy to make. Just muster the patience to let your eggplant roast for 30 minutes!  The eggplant flesh needs to be quite soft; you can just discard the skins.
And from there all you need to do is blend the eggplant with:
JOI almond or cashew base (or a JOI and tahini mix),
some olive oil,
a few squeezes of lemon, and
whatever seasonings your heart desires.
How Do I Serve Baba Ganoush?
Serve with fresh pita bread, fresh sliced veggies (we love red pepper wedges or cucumber slices), a handful of hearty crackers or pita bread, or spread on toasted baguette slices to really impress your guests. We're confident you won't be going back to store-bought hummus anytime soon.
What Are Some Variations for this Recipe?
Grill the eggplant instead of roasting it for an even more smoky flavor

Swap a portion of the JOI nut base for a tablespoon of tahini...if you're a fan of its strong flavor and bitter edge

Substitute smoked paprika instead of chili powder for a smokier dip, or urfa chili or silk chili for more depth of flavor coupled with spicy notes

Sprinkle the dip with za'tar or sumac for a distinctively Middle East concept

Instead of a serving in a bowl, spread the baba ganoush on a flat plate and top with herbs, chopped tomatoes or other veggie, seeds or even some ground lamb.
Here's the recipe for healthy and hearty Baba Ganoush:
Looking for more inspiration to round out the appetizer tray at your next dinner party? Give our Healthy and Indulgent Vegan French Onion Dip a try!