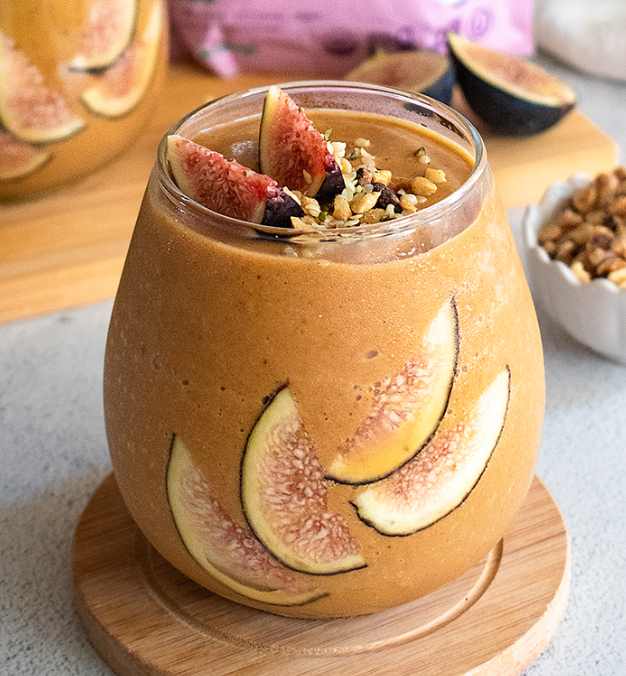 Creamy Pumpkin Smoothie (Vegan! With Figs!)
Sep 29, 2022| By JOI team
< BACK
Sep 29, 2022| By JOI team
Creamy Pumpkin Smoothie (Vegan! With Figs!)
Almond-Base |&nbspBeverage |&nbspBreakfast |&nbspCashew-Base |&nbspCreamer-Base |&nbspDairy-Free |&nbspDessert |&nbspOat-Powder |&nbspVegan |&nbsp
This creamy smoothie showcases the best of pumpkin, figs and warm fall spices (pumpkin pie spice, we're looking at you!) as autumn (and football season) kicks off. But it's so good you'll be sipping it on repeat all year long. Pumpkin is always in season around here.
Love Pumpkin?
Why yes, we do. The nutritional benefits alone have us falling in love. And that lush orange color (thanks carotenoids (a/k/a Vitamin A for your body)) makes for a beautiful presentation. They do say we "eat with our eyes"!
Now, here's a trick for this delicious treat: freeze your pumpkin puree! We've all had that recipe that calls for less than an entire can of pumpkin puree. Instead of tossing the remainder, or getting frustrated that you can't use up the last portion, freeze it in an ice cube tray or bag. Next time you whip up this smoothie treat, you'll be grabbing for your frozen bits instead of popping open a new can.
What Ingredients are in this Smoothie?
Think of this smoothie as a fall fruit and dessert "harvest", frozen in a glass. Here's the ingredient lineup:
pumpkin puree (Hint: don't use pumpkin pie filling...use canned pumpkin puree or make your own. Here's a simple method we like from Pamela Salzman), or substitute sweet potato puree
figs
banana
JOI almond, cashew, hemp or oat milk concentrate
hemp seeds (or substitute chia seeds or your favorite protein powder)
lemon juice
spices: cinnamon, nutmeg, ginger, cloves (or substitute your favorite store-bought pumpkin spice blend)
optional: splash of vanilla extract 
What's NOT in this recipe? Dairy milk, plain greek yogurt (or vanilla yogurt), coconut milk, added sweeteners (not even maple syrup!).  That's right, we're keeping this plant based, added sugar free AND dairy free. But you still get all that wonderful creamy smoothie taste thanks to the addition of JOI milk concentrates. And the natural sweetness from the banana and figs!
When do We Drink our Pumpkin Smoothie?
Frozen hot chocolate, move over. This frozen "pumpkin pie smoothie" is the new kid on the block.
Whether it's an afternoon snack or dessert, this smoothie recipe will delight.
And, of course, if you like dessert vibes with your morning coffee, try it as a breakfast smoothie.
We think it's always pumpkin smoothie o'clock.
Is this Easy to Make?
Why yes, this recipe is easy as (pumpkin) pie! Just take all your fruits and veggies out of the freezer and put them into the blender: frozen banana, fig and pumpkin puree. Place all the other ingredients in the blender and blend until oh-so smooth.
Pour into serving glasses. Feeling fancy? Top with your favorite ground roasted nuts, granola and/or more sliced figs.
What Other Pumpkin Recipes Are We Making?
For breakfast, our favorite is Pumpkin Spice Chia Pudding. With our coffee we're pouring Pumpkin Date Creamer (another great way to use up those last bits of pumpkin puree).
The best pasta sauce is the Vegan Pumpkin Alfredo. And if you're "rounding" out your day with pumpkin dessert, try your hand at this No-Bake Pumpkin Spice Pie.