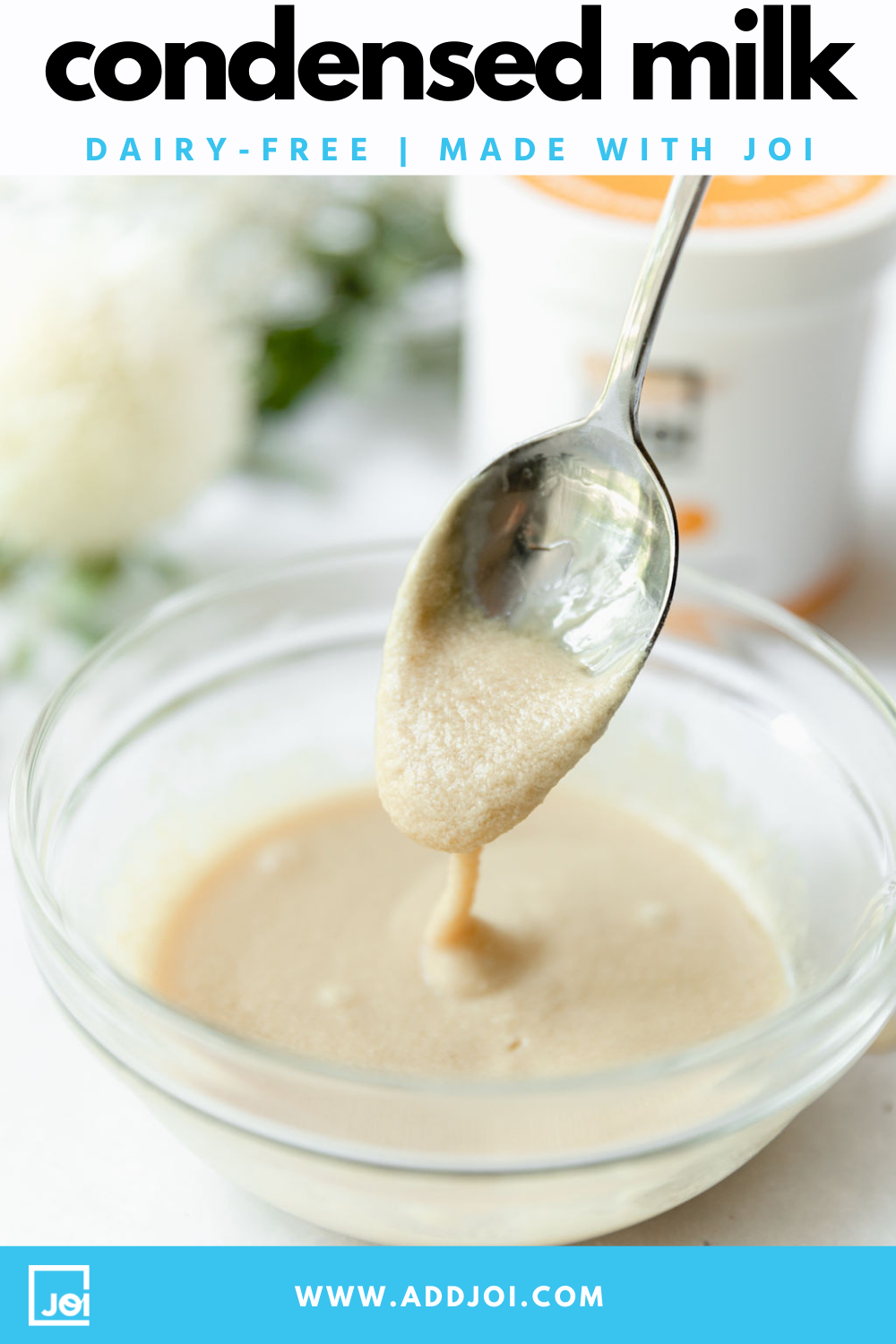 Dairy-Free Condensed Milk for Coffee
Aug 18, 2021| By JOI team
< BACK
Aug 18, 2021| By JOI team
Dairy-Free Condensed Milk for Coffee
Almond-Base |&nbspCashew-Base |&nbspCreamer-Base |&nbspDairy-Free |&nbspKeto |&nbspOat-Powder |&nbspRecipe |&nbspSugar-Free |&nbspVegan |&nbspVegetarian |&nbsp
When you choose to cut out dairy from your diet because you have an allergy or want to eat cleaner, it means having to change how you prepare some of your favorite foods and beverages. For many people, it can be challenging to give up adding creamer to their coffee because of the creamy texture and milky taste it adds. Fortunately, you can make delicious sweet condensed milk without dairy but with a similar taste and texture to the real thing.
A Delicious Dairy Alternative
This sweet yet strong coffee is the perfect beverage to enjoy when you want to cool down in the summer. It's easy to make homemade vegan sweetened condensed milk without a lot of ingredients. With a JOI nutbase on hand, you already have a key ingredient for this dairy-free iced coffee with condensed milk that tastes like you ordered it from your favorite coffee shop. You can continue to enjoy the creaminess that makes all types of coffee delicious.
It's quick and easy to use the JOI nut milk base to craft a high-quality beverage inspired by Vietnamese iced coffee. Grab your brewed coffee, some ice cubes, and this coconut-free dairy alternative to naturally enhance the flavor of your coffee. Coconut milk is often used as a substitute for traditional condensed milk, but many people can be put off by the distinctive coconut taste or even experience coconut allergies. Enjoy almond, cashew, hazelnut, and oat milk base alternatives instead when you choose JOI.
Not only are people drawn to JOI for the delicious flavor and texture, but they also love the nutrition that it delivers with each sip. Each dairy-free product is made with plant-based ingredients that fit all types of diets. It even has a customizable consistency that allows you to choose how thick or thin you want it before adding it to different types of beverages. The long shelf life also ensures you can take your time using your nutbase.
Making Your Own Dairy-Free Condensed Milk
You can now make your own dairy-free creamer in the comfort of your home without consuming a product that has tons of additives or artificial ingredients. The recipe includes a few simple steps and doesn't require special kitchen tools or equipment. 
The options are endless when it comes to the different types of beverages you can create with this delicious dairy-free alternative. You can prepare the sweetest almond milk bubble tea, blended Frappuccinos, and even iced English breakfast tea.
Although you may not have a jar of dairy-free condensed milk in your pantry, it's extremely convenient to use JOI because it's a shelf-stable solution for making condensed milk in minutes. The recipe can be made with hot coffee or iced, so don't be afraid to change up how you prepare your java beverage each day, and enjoy having more options, especially depending on the season.


Iced Coffee with Condensed Milk Recipe
Yields 2 cups of coffee 
Ingredients
½ cup JOI nut base 

¼ cup agave syrup (or substitute maple syrup or honey)

¼ cup water 

2 cups strongly brewed coffee

1 cup of ice 
Instructions
Brew a very strong pot of your favorite coffee. Set aside to cool.

Make the "condensed milk".  In a mixing bowl combine the JOI, agave syrup, and water. Whisk well. 

Pour half of the sweetened "condensed milk" mixture into the bottom of each of 2 glasses. 

Pour the cooled coffee on top of the condensed milk.

Top with ice and enjoy!
Note:  Prefer a hot coffee?  Skip the ice and use freshly brewed coffee instead.