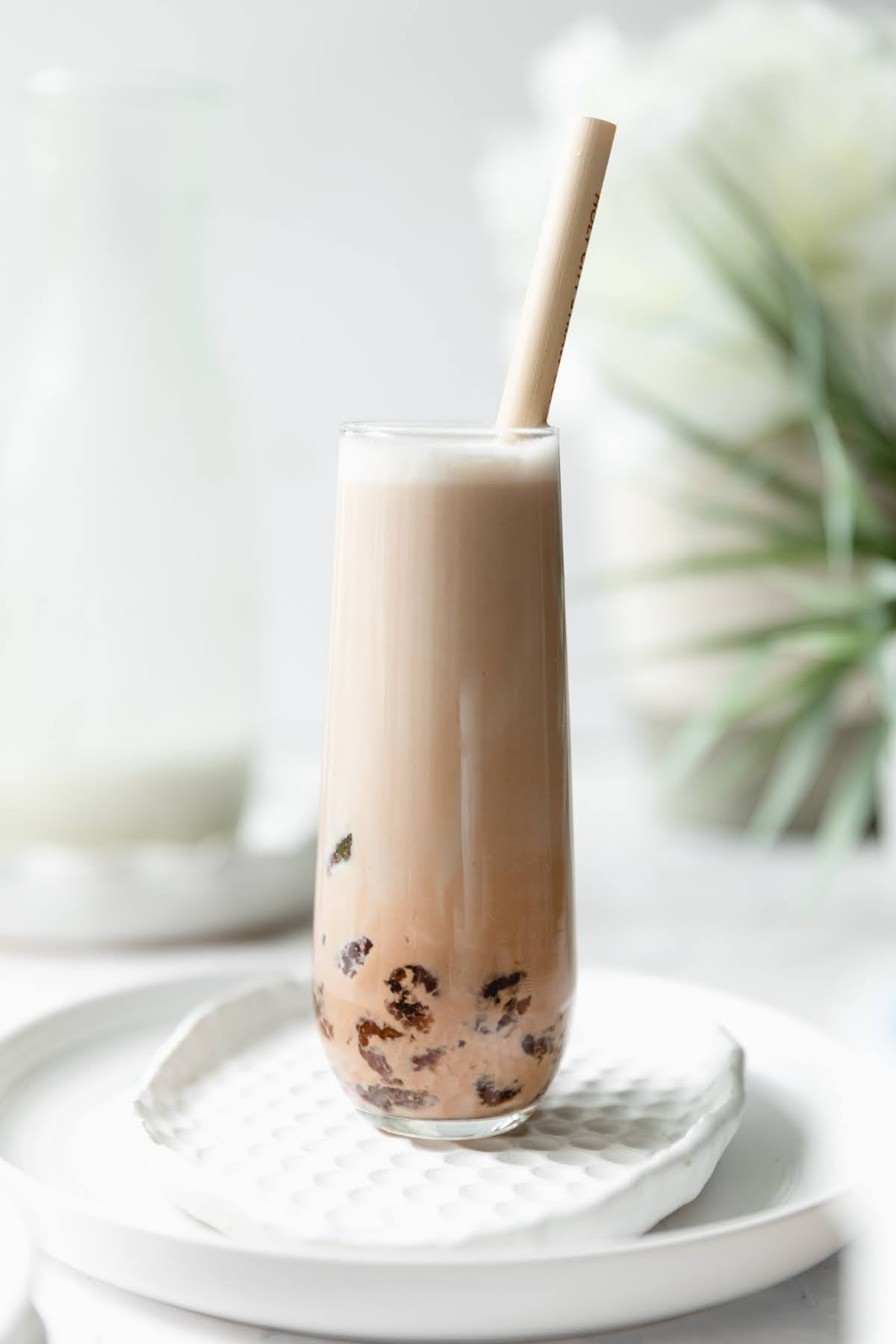 The Sweetest Almond or Oat Milk Bubble Tea Recipe
Jul 21, 2021| By JOI team
< BACK
Jul 21, 2021| By JOI team
The Sweetest Almond or Oat Milk Bubble Tea Recipe
Almond-Base |&nbspCashew-Base |&nbspCreamer-Base |&nbspDairy-Free |&nbspKeto |&nbspOat-Powder |&nbspRecipe |&nbspSugar-Free |&nbspVegan |&nbspVegetarian |&nbsp
If you love
bubble tea
, you're not alone. People across the United States and around the world enjoy boba tea:  the craze is real! 

In fact, how many hours have YOU spent waiting in line for a bubble tea at your local café??   Not all of us have that kind of time.  So why not make it at home instead? If you want to make your own bubble tea, this almond milk tea recipe is a winner!  It is made with ingredients that are either already in your pantry, or you can find online or at your local grocery store. 
It's time to become a tea mixologist. Let's dive into our bubble tea recipe that tastes as good as the one at your favorite local tea shop!
What You'll Need
First, gather your ingredients.  You'll need a few things to make your boba pearls, the tea, the milk, plus pull out your favorite flavor syrup, if you like. 
The Boba Pearls
For the tapioca pearls that make the boba in your tea, you'll need: 
That's it! The boba pearls are particularly easy to make and turn out beautifully. Plus, since you make them yourself, you know they're free of unwanted additives.  While part of the fun of bubble tea is the pearls themselves, of course, knowing exactly what they're made of is the beauty of making them yourself.
Not up for the task?  Buy some boba pearls online or at your local Asian market.
The Milk
Next, you'll need the ingredients for the almond milk. To make the milk, you'll want to gather: 
1 cup of water
2 tablespoons of JOI plant milk concentrate (almond, cashew, hemp, oat or oat creamer)
1 teaspoon of vanilla extract
A pinch of sea salt (unless you're using the creamer base, then skip salt)
Sweetener of choice, such as maple syrup, date syrup, honey, or agave (to taste)
With these ingredients, you're ready to whip up your new favorite almond milk recipe. This milk will also taste great on its own, in smoothies, cereal or coffee.  So why not make a double batch and use it all week long?
The Tea
Finally, it's time to grab the ingredients for your tea. For this, you'll need: 
1 cup of hot water
Powdered matcha green tea or white, green, or black tea bags

How to Make the Boba Tea
Now that you have all your ingredients, it's time to get to work whipping up your beverage. You'll follow three steps to accomplish this.  
First, Make the Tapioca Pearls (or Buy Them!)
The first step to make your bubble tea is to make the boba pearls. This could be a fun weekend project.  Maybe get someone involved to help - a child or a friend!  Or if you're short on time or not up for this part of the recipe, just purchase boba pearls online or at your local Asian market and skip to the easy part below.   

You'll start by combining the brown sugar and the water in a small saucepan over medium heat. Stir them together until the mixture is well combined.
When the mixture comes to a boil, turn down the heat and add in half of the tapioca starch. Continue to boil on the lower heat setting and stir it with a spatula until the mixture begins to come together in a sticky dough.
Now, add in the other half of tapioca starch and stir it until the mixture is mostly combined. Once it's well combined, turn the dough out onto a lightly floured surface and knead it for one to two minutes.
As you're kneading, make sure to be careful! The mixture will be warm to the touch, so handle it with care to ensure you don't burn yourself.
Then, roll it out onto parchment paper and allow it to come to room temperature. This takes roughly 15 minutes.
After it's cool, cut slices into the dough going in one direction. Then repeat the process going the other direction to create squares that are about one centimeter on each side. 
Next, lightly dust the top of the dough with extra tapioca starch and roll each square into a tiny ball. After you have rolled all of the pearls, bring a large saucepan of water to a boil and then drop in 1 cup of boba pearls at a time.
Once the pearls rise to the top, continue to cook them for another 20 minutes and then turn off the heat. Using a spoon, remove the cooked boba balls and place them in cold water.  Repeat the process with extra pearls.
Second, Prep the Milk and Brew Tea (a/k/a "The Easy Part")
Next, it's time to make the milk and the tea. This is the easy part! 
Start by boiling the water for the tea according to the packaging instructions.  Note:  don't boil the water if you are using matcha to avoid a bitter taste. Steep the tea bags in the hot water or whisk the matcha into the heated water to create a smooth beverage.  Because you are adding milk to the recipe, we're making the tea extra strong.  Put aside and let cool.  Or make the tea ahead if you like and keep it in the fridge!
Then, whip up a batch of milk if you don't already have some made in the fridge.   Simply combine the JOI milk concentrate of your choice (almond, cashew, hemp, oat or oat creamer), sea salt, water, and vanilla extract in a blender. Blend the ingredients together at medium-high speed for about 30 seconds.  For the instant oat powders, you don't need a blender - just a hand whisk or frother will do.  The milk lasts at least 7 days in a refrigerated, air tight container, so make it ahead for whenever the need for boba tea strikes!
Voilá! You've got a tea that's ready to go and tasty milk that you'll be able to mix it with.  
Third, Prepare the Drinks
Now it's time to put everything together into your new favorite boba tea recipe.  Are you ready to be a boba-barista?
Just take two glasses. Add boba to each glass. You'll need roughly two tablespoons of boba for each beverage. 
Next, scoop in some ice. Squeeze in some chocolate date syrup (or other flavored syrup) if you choose. Then pour half a cup of the tea into each glass. Top off each drink with half a cup of the plant milk, and you're ready to go!
You'll have a drink that's better than ice cream on a hot summer day! Stir, sip, and enjoy your tasty boba treat.  Gluten-free, dairy-free and vegan to boot.
Experiment With This Delicious Bubble Tea Recipe
Once you've learned how to make this bubble tea recipe, we guarantee you won't want to drink any other kind.  Have fun experimenting with different tea flavors, syrups and sweetness levels!  
It's time to bring the bubble tea shop to your home and to make boba tea at home in your very own kitchen!  And don't stop there.  Why not try making frozen coffee drinks (like frappuccinos) at home?  No boba - no problem.  Try our recipe for Iced English Breakfast Tea or Iced Matcha!