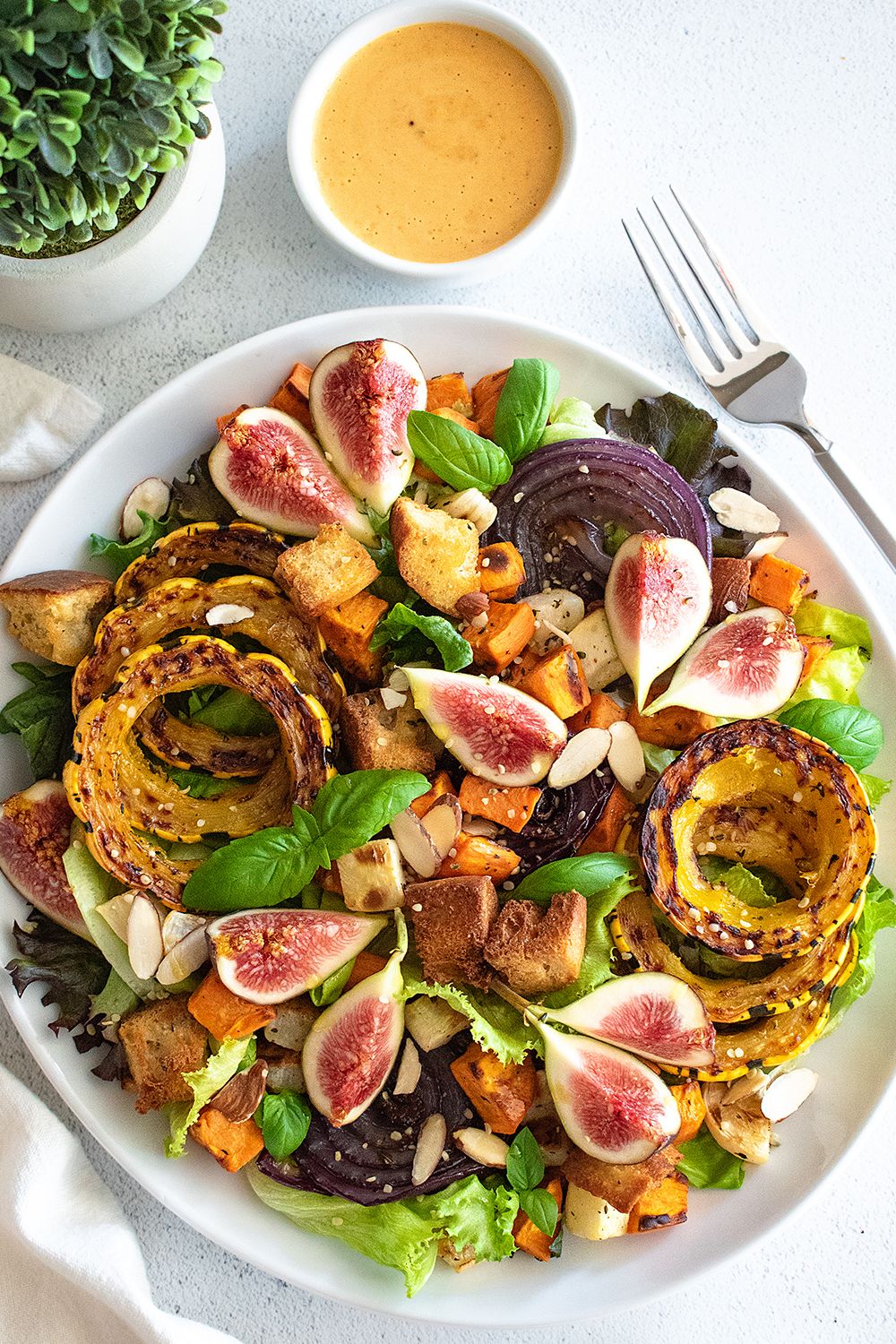 Fall Roasted Vegetable Salad with Creamy Pumpkin Dressing
Oct 27, 2022| By JOI team
< BACK
Oct 27, 2022| By JOI team
Fall Roasted Vegetable Salad with Creamy Pumpkin Dressing
Almond-Base |&nbspCashew-Base |&nbspDairy-Free |&nbspDinner |&nbspDressing+Dip |&nbspHealth+Wellness |&nbspHoliday |&nbspLunch |&nbspRecipe |&nbspsalad |&nbspVegan |&nbspVegetarian |&nbsp
This flavorful harvest salad has it all: crunch, crisp, and creaminess. It celebrates the best of fall produce (from root veggies to apples and pumpkins), all tied together with chunky croutons and a creamy pumpkin dressing. Tuck into it as a side dish or a main course!
This Dressing is the Best Part of the Salad.
First things first. We really do think that the dressing is the best part of the salad. Why?
Because it moistens the crunchy bread pieces and imbues them with flavor.
Because it's the perfect use for that odd bit of pumpkin puree that you don't need at the bottom of the can.
Because the savory and sweet notes really show off the roasted fall vegetables.
Because it's a pretty orange color!
Are you convinced? Then mix up a batch. In fact, make extras and use it for your next salad too.
Just whisk together JOI almond (or cashew) concentrate, pumpkin puree, lemon juice, minced garlic, dried thyme, EVOO, agave and S&P.

What Makes This Salad Different?
What makes this salad a showstopper is that it echoes all the autumnal colors (think changing leaves!) right in your salad bowl. The jewel tones from the squash, turnips, sweet potatoes, figs, apples, red onion and pumpkin almost seem to mirror the foliage outside.
What makes this recipe special is the crunchy bread. If you're the kind of person who is constantly asking yourself, "What can I do with this stale bread?" then you're in luck.
Meet "panzanella" (or Italian "bread salad"). Panzanella is the perfect way to use up crusty bits of sourdough or ciabatta or baguette. In fact, better yet if the bread is stale (if it's not, just dry it out a bit overnight or in a low oven). The dry or stale bread just means that it's lost its moisture.
Enter salad dressing! The crunchy bread will absorb the sauciness and take on a whole new (darest we say better?) version of itself. For a more "true" panzanella, ramp up the bread-to-vegetable ratio in this salad.
Of course the real stars of the show are the roasted veggies, fresh fruit and crisp greens.
Layer it altogether and you have a harvest celebration in a bowl.
Can I Make Substitutions and Customizations?
But of course you can make swaps and tweaks.
For example, any type of hard winter squash can be used instead of delicata. Try butternut squash, acorn squash or even a sugar pumpkin instead. If brussels sprouts are the darlings of your fall plate, add some of those to the mix too.
When spring and summer come around, take the same approach. Use grilled and fresh summer produce (tomatoes, summer squash) instead.
Not a fan of turnips? Try roasting radishes (revolutionary!) or chunks of celeriac, rutabaga, parsnips or carrots instead.
And type of greens will do will in this mix - use your favorite. We are loving watercress right now for it's nutrient density.
Use any seasonal fruit instead of fig or apple. We love dates and persimmons and pears for fall. Try peaches during summer! Or dried fruit available year-round, dried cranberries or apricots.
The sliced almonds can be swapped for pecans, walnuts, hazelnuts, pumpkin seeds or sunflower seeds or ... your favorite nut or seed.
In the dressing, swap agave for date syrup, maple syrup, honey or just skip it altogether. If you don't have fresh lemon juice, you can always substitute a vinegar for acidity, such as a balsamic vinegar.
Not enough of a meal for you?  Top it with your favorite protein.
Tips and Tricks
For Roasting:
This recipe calls for roasting the vegetables in a 425°F oven (don't forget to drizzle them with olive oil and sprinkle with salt and pepper!). But different vegetables cook at different temperatures. Here's what we suggest for roasting times:
Red onion – 18 to 20 mins
Delicata squash – 20 to 25 mins
Sweet potato – 25 to 35 mins
Purple turnip – 25 to 35 mins
As you can see, the roasting time for delicata squash and red onion is almost the same, as is the roasting time for sweet potato and turnip. Place these items coupled together onto the same baking sheet while sweet potato and purple turnip on another.
Toss them halfway, and remove each when golden brown and cooked through.
For the Dressing:
Add more water to the dressing for a thinner consistency.
For the Bread / Croutons:
If you prefer homemade croutons instead of store bought ones, bake a day old 12 oz. baguette (sliced to ¾" cubes) with ¼ cup avocado oil, preferred dried herbs, salt and black pepper to taste at 375°F for ~15 mins.
More Salad Recipes!
If we've inspired you to make salads for breakfast (yes, it's #trending), lunch and dinner, here are some other favorites you can make with JOI: