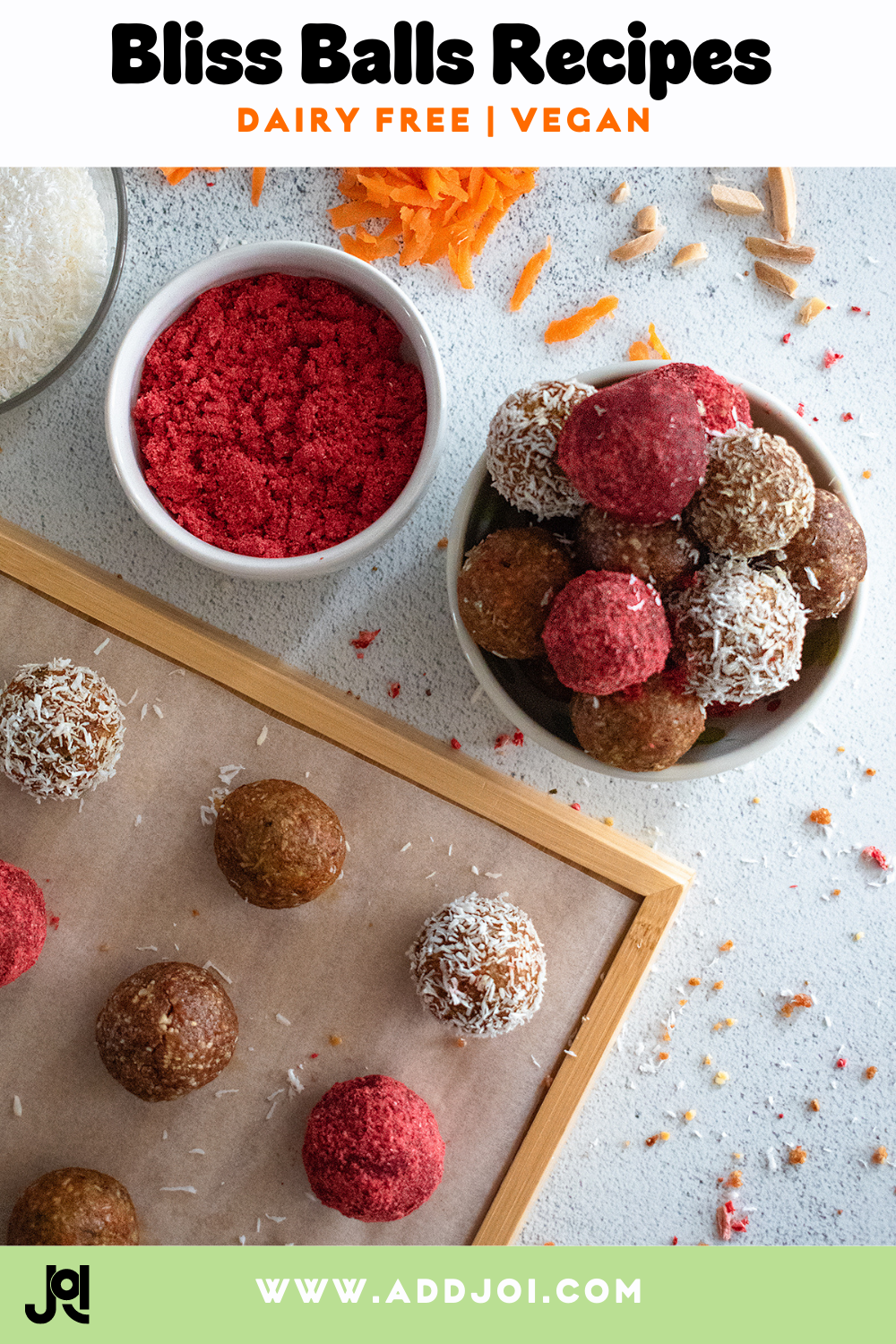 Healthy Spring Bliss Balls Recipes (Carrot Cake and Strawberry)
Apr 14, 2022| By JOI team
< BACK
Apr 14, 2022| By JOI team
Healthy Spring Bliss Balls Recipes (Carrot Cake and Strawberry)
Almond-Base |&nbspCashew-Base |&nbspCreamer-Base |&nbspDairy-Free |&nbspKeto |&nbspOat-Powder |&nbspRecipe |&nbspSugar-Free |&nbspVegan |&nbspVegetarian |&nbsp
Protein bites are an excellent pick-me-up...and they pass the criteria for a healthy snack! We've got two spring-inspired recipes so you can make delicious and nutritious bliss balls at home:  carrot cake and strawberry. Excellent for breakfast, lunch, snack — or any time in between.
The What and Why of Bliss Balls
Bliss balls, energy bites, protein balls — or whatever you call them — are a delicious and healthy treat.
One of the best things about them is that they satisfy a sweet tooth, without any of the guilt. The sweetness comes from the dried fruit, hold the refined sugar, please!
Also, you can prepare batches of them in advance.  Just keep them in the freezer or an airtight container in the fridgue.  Think of them as a "grab and go" snack that is always at the ready. 
While our bliss balls are excellent snacks to keep you energized, they are also full of nourishing ingredients to keep your body properly fueled. 
Why Make These Bliss Balls
While store-bought granola bars and protein bars are widely considered a healthy snacks, that isn't always the case.  They are often loaded with artificial ingredients and added sugars. And who would want these no-no's in their diet? Opt for whole food ingredients and an at-home preparation instead.  So that you can control exactly what is going into your bites and your body. 
Are These Easy to Make?
DEFINITELY. These nutrient-dense energy bites are super easy to make. Making them is quicker than gathering all the ingredients together!  30 minutes or less, start to finish, guaranteed.
Just gather your ingredients, combine in the food processor and roll them up.  Get your little ones involved - scooping and rolling is the fun part.  And so easy.
Bliss Balls Just for Pre-Workout? Nope!
Munching on energy balls may be ideal before a workout, but why stop there? They are perfect any time of the day when you need a hit of protein, fiber and healthy fats! An easy breakfast, a morning or afternoon pick-me-up, or dessert? Sure. These satisfy.
Better yet, be unique and creative by using them as a smoothie "bomb" — wait...what? When you're making a smoothie or smoothie bowl, throw a couple of bliss balls into your blender with your JOI, water, seeds (we love sunflower seeds and chia seeds), and frozen fruits and veggies, or whatever smoothie combination tickles your fancy, for an even more nourishing combination!
Flavors and More Flavors
We've concocted these new Spring-inspired flavors...carrot cake and strawberries...yes! But if you've got more of a chocolate bliss balls craving, try these Cacao Nut Energy Bites, packed with cocoa powder (antioxidants!), dates and the power of seeds.
Want more of an indulgent version of the bliss ball experience? Whip up a batch of these Vegan Chocolate Coconut Truffles. Same technique, but more of a dessert experience.
Recipes and Tips
What are you waiting for?  Gather all ingredients and take note of the measurements.  It's always smart to read through the whole recipe before getting started.
Avoid using a blender if you can - we prefer the magic of the food processor. 
A couple of tips for the strawberry nutty bliss balls. Use soft, dried unsweetened strawberries if you can find them. Add a bit of extra water only when the mixture is too crumbly or dry to stay together when formed into a ball.
Firmly pack blended mixture into the tablespoon before rolling into balls. For this particular recipe, compress the measured mixture in the palm of your hand prior to rolling.