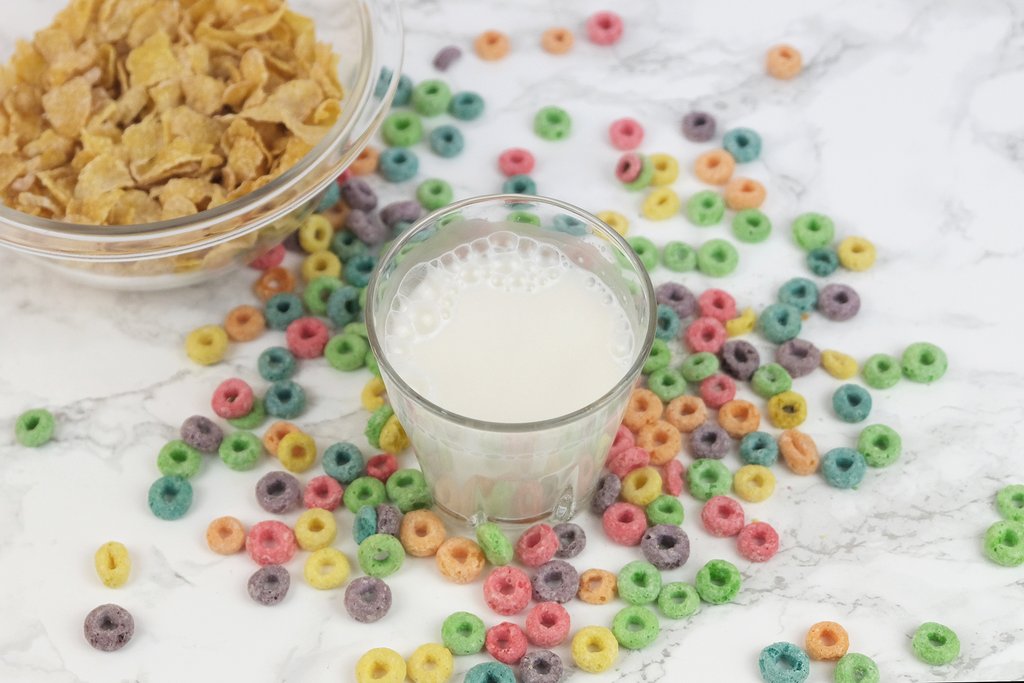 Homemade Cereal Milk Recipe (Milk Bar Inspired, Dairy-Free, Vegan)
< BACK
Jun 3, 2020| By JOI team
Homemade Cereal Milk Recipe (Milk Bar Inspired, Dairy-Free, Vegan)
Almond-Base |&nbspBeverage |&nbspBreakfast |&nbspCashew-Base |&nbspCreamer-Base |&nbspDairy-Free |&nbspDessert |&nbspOat-Powder |&nbspRecipe |&nbsp
No matter how much of a health nut you are, you can't deny the comfort, and frankly the sheer joy, of some good old-fashioned sugary cereal. If you're like us, sugar bomb cereal was a staple of childhood mornings (ok, maybe college dinners too). But the best part was never really the cereal—it was the milk left behind.

What is Cereal Milk?

Much-hyped dessert-masters of Momofuku Milk Bar (all, hail, Christina Tosi!) tapped into the magic of this treat-waiting-to-happen with their recipe for Cereal Milk.  
Basically, you're recreating the flavor of that milk that pooled at the bottom of your favorite childhood bowl of cereal.  Which was delicious.  So, why not go straight to the good stuff and uncork your best memories of growing up?  No cereal required!

We've adapted that nostalgic formula with our own plant-based, vegan take made from milk blended from JOI plant bases for a grown up, healthy-ish version of a nostalgic favorite. Sip on this Cereal Milk made with JOI as a treat all on its own, incorporate it into your next vegan baking project (ummm, birthday cake with sprinkles anyone?), sub in for standard plant milk for extra-indulgent overnight oats, or get truly meta and pour over a bowl of cereal or granola.

Tips and Tricks
This recipe is so easy, but don't skip on a few important steps!
First, toasting the cornflakes (if that's your cereal of choice) deepens the flavor of the final delicious milk product.  You may be tempted to just soak.  But trust us, it's worth it.
Play around with flavors - cornflakes not required.  Perhaps you were more of a Fruit Loops kinda kid?  Cocoa Puffs your game?  Apple Jacks, yes!  No matter what it may be, "cereal milk" it.  Yep, we're coining the verb "to cereal milk".
A word of advice:  if you are making cereal milk out of more plain, single-flavored products (cornflakes, rice krispies, chex), toasting is the way to go.  If your cereal is already a sugar / flavor bomb, skip that step.

The JOI Cereal Milk Recipe

Ready for an extra-fun indulgence? Here's our vegan recipe for Milk Bar's Cereal Milk Made with JOI:
Ingredients:
2 heaping cups corn flakes (or cereal of choice)
3 cups milk made with JOI plant base (almond, cashew, creamer or oat)
1 Tablespoon brown sugar (or other sweetener of choice), adjusting to taste
¼ teaspoon (scant) sea salt
How It's Made:
Preheat oven to 300 degrees F.

If using corn flakes or a similar cereal (see note above), spread corn flakes on a parchment lined baking sheet and bake for 15 minutes, until lightly toasted.

Allow to cool completely upon removing from oven.

Add cooled cereal and JOI milk to a large bowl, pitcher or Mason jar. Seal and shake vigorously. Allow to steep 20 minutes at room temperature.  If using a bowl, placing a plate on top of the mixture may help to infuse the milk.

Strain the mixture through a fine-mesh sieve, collecting the milk in a medium bowl or large glass measuring cup. The milk will drain off quickly at first, then become thicker and starchy toward the end of the straining process. Using the back of a ladle (or your hand), wring the milk out of the cornflakes, but do not force the mushy cornflakes through the sieve.

Whisk the brown sugar and salt into the milk.  Do not transfer the milk until fully dissolved.

Store in a clean pitcher or glass milk jug, refrigerated, for up to 1 week.
That Was Fun, Let's Spread More JOI with Recipes!
Have we opened your eyes to the possibilities of milk made with JOI plant bases? Keep exploring the sweet and savory options.  Why not start with this just-sweet-enough Strawberry Milk?  From Elderberry Milk to Frozen Coffee drinks, keep experimenting with JOI milk in your kitchen and spread JOI in a glass to those lucky enough to share in your creations!