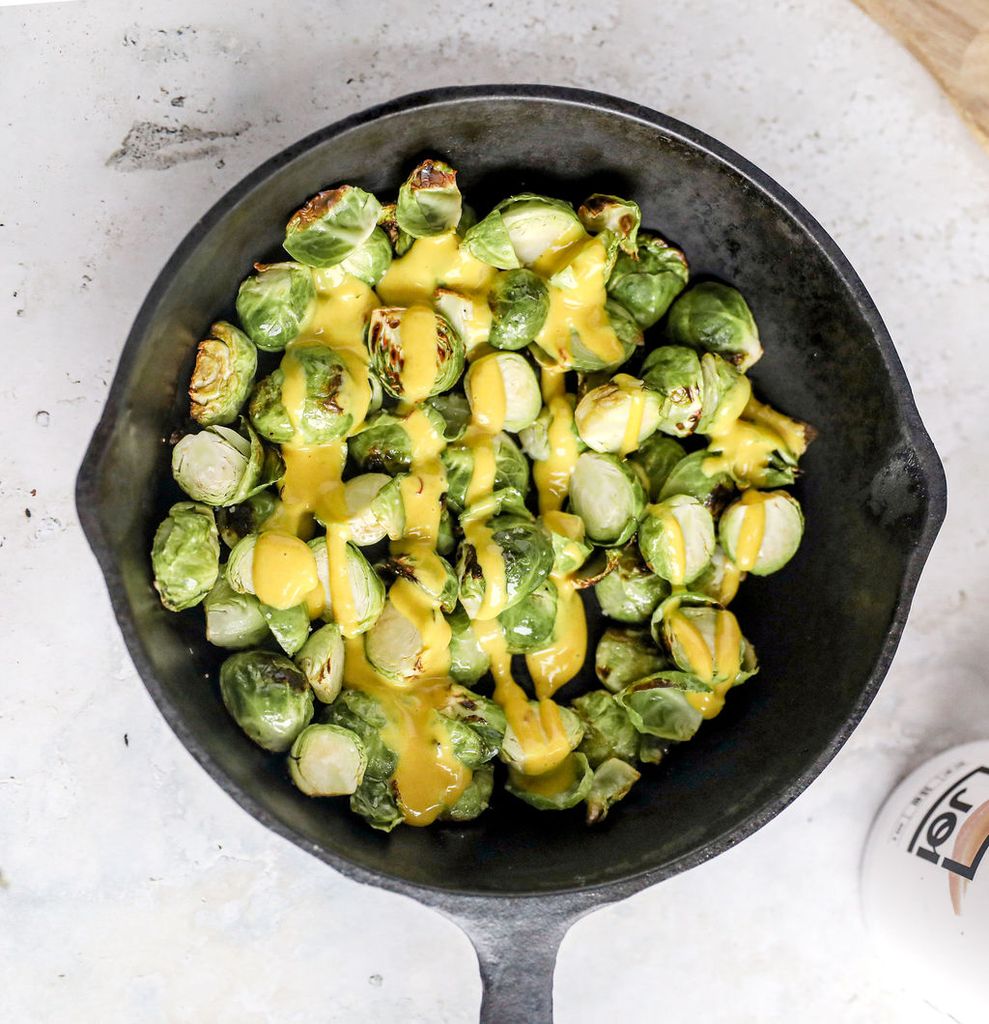 Brussels Sprouts with Creamy Honey Mustard (Dairy-Free)
Dec 14, 2021| By JOI team
< BACK
Dec 14, 2021| By JOI team
Brussels Sprouts with Creamy Honey Mustard (Dairy-Free)
Almond-Base |&nbspAppetizer |&nbspCashew-Base |&nbspDairy-Free |&nbspDinner |&nbspGluten-Free |&nbspKeto |&nbspLunch |&nbspRecipe |&nbspVegan |&nbspVegetarian |&nbsp
Side dishes seem to be in never-ending demand during the cooler months and during the holidays. Be prepared at the drop of a hat with these creamy Honey Mustard Brussels Sprouts. A tangy mustard blended with the slight sweetness of honey and creamy JOI plant base, whips up in no time!  And it's set over earthy Brussels sprouts.  Side dish perfection that travels well too. 
Why This Combination Tastes So Good!
Why is this brussels sprouts recipe so unexpected and delicious? It's because the seared Brussels sprouts (or roasted brussels sprouts) are a match made in heaven with the creamy mustard sauce and we can't forget some fall herbs to top it all off!
The honey mustard sauce gets a creamy kick from JOI, which balances the acidity in the mustard really nicely. Plus, no need added oil to emulsify the mixture.
Oregano and thyme are an optional addition to this dish that really make it feel like a holiday party side dish! They bring a warmth to this side dish that makes it perfect for any weeknight or holiday dinner table. 
Why This Honey Mustard Sauce is Healthy:
Using JOI plant base packs a nutritious punch while avoiding the use of oil! Get a kick of protein, fiber and healthy fats while making the sauce creamy.
A tasty sauce with a hint of sweetness, without using refined sugars, crowns the brussels sprouts. Brussels sprouts are a great source of Vitamin C, Vitamin K, Folate, Carotenoids (beta-carotene, lutein, zeaxanthin) and Fiber!
Baking or quickly searing the Brussels produces delicious caramelization and toasty notes without the need to fry these vegetables in unhealthy oil.
Easy & Portable.
This recipe is so easy. Whip up the sauce while the Brussels cook. Leftover sauce? Use it over any roasted vegetables or chicken, or as a salad dressing!
And, it travels well. Need a side dish to bring to a dinner party or pot luck? Make these ahead and serve them room temperature!
Now that you've sorted out your side dish, what else will you serve alongside your Honey Mustard Brussels sprouts?
Cacio e pepe pasta or Stuffed Shells as your main dish makes this a filling and delicious meal. 
Or make a salad and serve with the Brussels alongside your protein of choice.  You could even "put an egg on it".  Plate yourself a serving of Brussels sprouts, fry an egg and serve it on top of the green beauties.
Got leftovers? No problem.
Make Brussels sprout salad with those leftovers! 
Here's how:  shred or chop your leftover honey mustard brussels sprouts.  Toss them with chopped endive, arugula leaves, toasted nuts of choice (pecans or pine nuts or whatever is hanging around), some halved green olives and fresh herbs, such as parsley. 
If you didn't have any extra dressing, just toss it all together with a splash of olive oil and a squeeze of lemon juice, plus some salt and pepper.
How good does that sound?
Thanksgiving Recipe Round Up: Create New Traditions with 17 Healthy, Vegan Options for Appetizers, Entrees, and Dessert Made with JOI
Spend $10 More for Free Shipping!
Your cart is currently empty. Why not add some JOI?