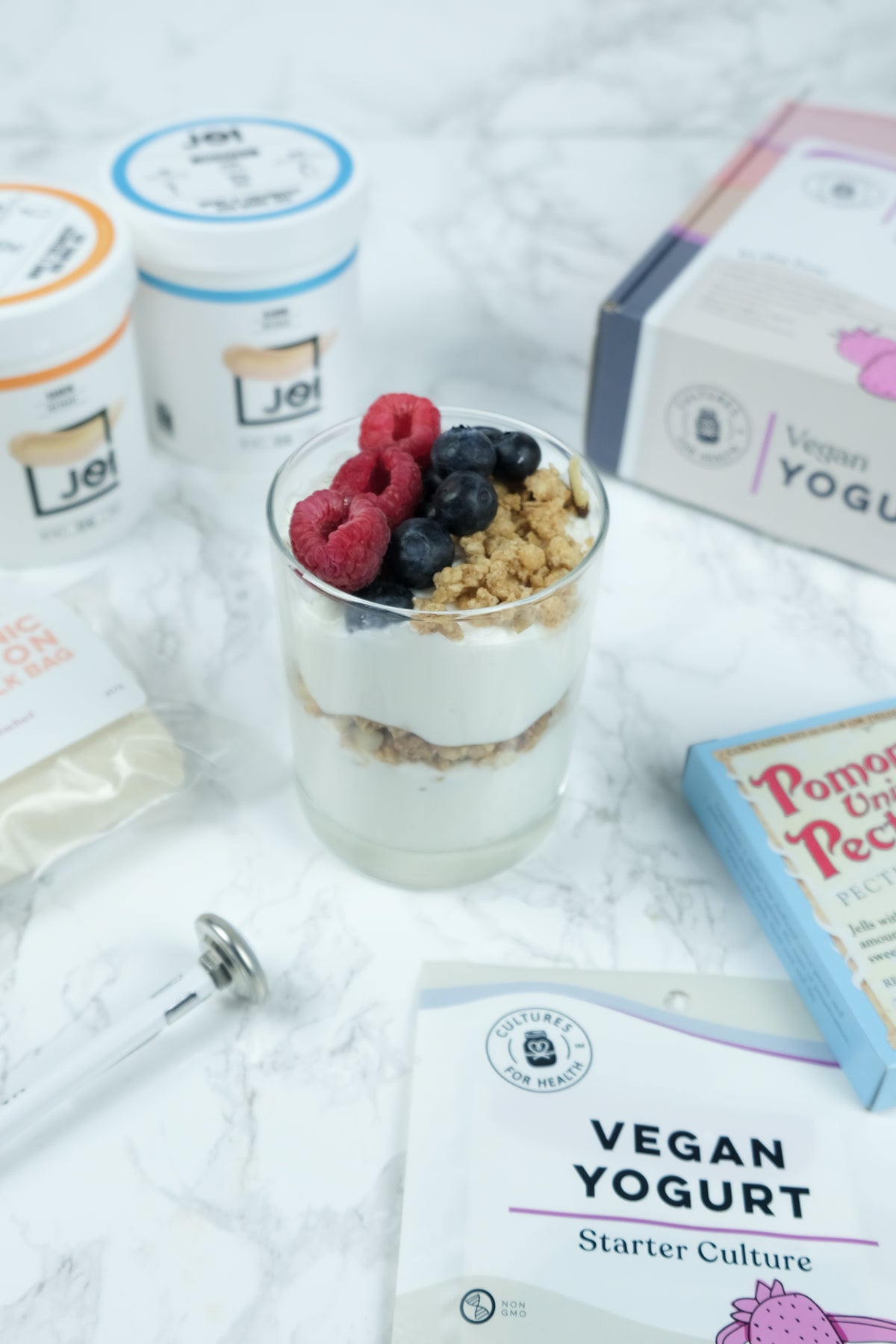 Creamy Homemade Vegan Yogurt Recipe
< BACK
Jan 3, 2022| By JOI team
Creamy Homemade Vegan Yogurt Recipe
Almond-Base |&nbspBreakfast |&nbspBrunch |&nbspCashew-Base |&nbspCreamer-Base |&nbspDairy-Free |&nbspDessert |&nbspKeto |&nbspOat-Powder |&nbspRecipe |&nbspSugar-Free |&nbspVegan |&nbspVegetarian |&nbspYogurt |&nbsp
Have you been missing yogurt on your plant-based diet? If you're one of the 30 to 50 million Americans who are lactose intolerant or just avoiding dairy for personal reasons, you are probably looking for a delicious yogurt alternative.
Why Try Our Homemade Yogurt Recipe?
There is nothing more delicious than creamy yogurt added to a smoothie or mixed into a bowl of crunchy granola.  Bonus: yogurt is good for you because it helps support gut health (think:  good bacteria!).  
Living dairy-free doesn't mean you have to go without your favorite snack.
But, many commercial plant milk yogurts you can buy at the store are
too watery,
too high in saturated fat (looking at you coconut milk!), or
filled with additives, like gums and sugars.
So why not control what your yogurt is made of and make it at home?  Developed to perfection with Cultures for Heath, this step-by-step recipe will make your plant-based yogurt dreams come true!
In less than 30 minutes of prep time, you can get started on your own homemade yogurt.  As Ina Garten would say, "How easy is that?"    
 
Another reason to try this recipe is because it uses shelf-stable, pantry items.  Using JOI plant milk concentrates to make milk means you never have to run to the store to get going on this weekend cooking project!  It's ready to go on your pantry shelf whenever you need some fresh plant milk.  Keep at hand the other shelf-stable products you need to kick start your fermentation process, and you can make homemade yogurt anytime. 
Plus, by making your own yogurt at home, you are in control of the ingredients you put in.  Not a fan of added sugar, gums and fillers?  Yeah, neither are we.  Using JOI plant milk concentrates with Cultured for Health's probiotic powder can make a yogurt suited to your dietary needs. 
Why is Yogurt Good for You?
Yogurt is a food many cultures have incorporated into their diets over the last 4,000 years.  Perhaps that's because it is rich in nutrients and probiotics. And while goat, sheep, and cow's dairy are the "traditional" kinds of milks used to make yogurt, with current health trends, plant-based yogurt is in high demand.
Our gut health can suffer if we don't supply our digestive system with sufficient and varied prebiotics and probiotics. And our homemade plant-based yogurt recipe is a great way to keep these essential probiotics in your diet.
We used to eat plenty of cultured foods before convenience items made their way to grocery stores. "Cultured" food is that changed from its original state with the help of either vinegar, salt, water, or introducing good bacteria. Kimchi, miso, kombucha, and yogurt are all examples of cultured foods that have undergone a fermentation process.
It is important to include cultured foods daily into your diet to supply your body with the good bacteria it needs to keep a healthy gut. There is ample evidence that shows our gut communicates with our brain through its microbiota, so consuming daily probiotics are good for boosting brain power and keeping our moods stable. You could take probiotic capsules instead, but yogurt is a delicious and easy way to get the benefits! 
JOI Plant Milk Concentrates Are More Sustainable Options
JOI is perfect for those people looking to add more plant-based foods into their lives, and also for those looking to reduce their consumer waste! The reusable glass jar that JOI comes in reduces 85% of packaging waste and up to 96% in if you purchase JOI in the larger pails.  Each jar yields up to 7 quarts of milk.  That's a lot of cartons you're saving from the landfill.

Chew on this:  the main ingredient in store-bought plant milk is water.  That means you're buying a carton of milk that is burning fossil fuels because it's being shipped around the country.  Why not improve your carbon footprint and add the water yourself?
The long shelf life of JOI concentrated milk means you can make as much as you need, when you need it (like when you're craving a bowl of cereal or want to make yogurt)! You won't have to stock up on cartons of store-bought, commercial milks that may spoil before you get around to finishing them.  Food waste, be gone!  

How to Enjoy Your Homemade Yogurt
Yogurt cultured at home is made with better ingredients, and it can be customized for the taste you prefer.
Want to make it sweet?  Adding a drizzle of maple syrup or honey or date syrup is a healthy way to sweeten your creamy yogurt!

Try making this Turmeric Cashew Granola and eating it with your homemade yogurt for an easy, nutritious and delicious breakfast.
Or, just top with some fresh fruit!