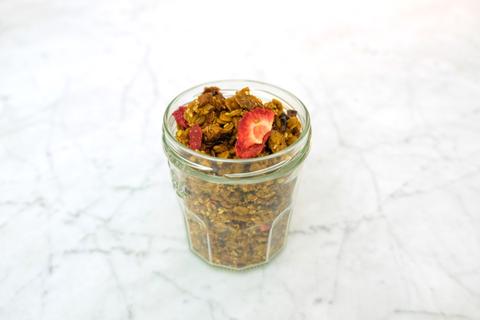 Joy The Baker's Cashew Turmeric Granola
Sep 22, 2022| By JOI team
< BACK
Sep 22, 2022| By JOI team
Joy The Baker's Cashew Turmeric Granola
Breakfast |&nbspCashew-Base |&nbspDairy-Free |&nbspGluten-Free |&nbspGranola |&nbspRecipe |&nbspSnack |&nbspVegan |&nbspVegetarian |&nbsp
Perfect for mornings with the kids or a mid-afternoon pick me up, this cashew-turmeric granola recipe is inspired by our friend Joy The Baker (see bio below - she rules). It's a delicious and nutritious twist on your typical granola formula. This winning combination has it all: immune boosting turmeric, wholesome oats, crunchy cocoa nibs and of course, JOI cashew milk concentrate to pull it all together.
Why granola for breakfast?
We've all been hearing about the health benefits of oats for years.  But perhaps you need to change up your morning routine.  That bowl of oatmeal is getting old.  And so are the overnight oats.  Come to think of it, our go-to, store bought granola is no longer exciting either.  So why not try your hand at making granola instead?
The baseline ingredient is just that:  oats.  From there, this recipe takes you on a wild granola ride!  Once you mix up the exciting ingredients and toast them in the oven, you can move onto the fun part:  eating it.
Of course, there is the classic bowl of cereal.  We pour homemade JOI milk on ours.
Perhaps you're more of a yogurt gal than a milk guy.  Make a delicious parfait, layering your favorite yogurt with fresh fruit and granola.  What a great breakfast!  Whether you opt for classic yogurt or a plant-based alternative, such as almond milk or coconut yogurt this winning combination will have you coming back for more. Need a weekend project?  Why not make your own JOI yogurt!?
On a smoothie bowl kick?  Nothing takes a smoothie bowl to the next level like crunchy toppings.  And this granola already contains everything you'll want on top!  Though if you want an extra kick of protein, try drizzling some almond butter over your smoothie bowl as a final flourish. 
Make the recipe your way
The great thing about this recipe is that you can keep switching up the ingredients and technique to keep your taste buds interested!
Short on time? Skip the oat grinding step and use all whole oats instead!
Not into pepper in your granola?  Omit it and amp up the other spices instead.
Substitute your favorite nuts or seeds.  Or whatever you have in the pantry! We love using sunflower seeds and pumpkin seeds for nutrition and crunch.
Using freeze-dried fruit adds color.  The strawberries are great, but we also love using dehydrated raspberries.  Their tang is a great complement to the other flavors.
Not a fan of freeze-dried fruit?  Use your favorite dried fruit.  Or use fresh fruit instead!
What Ingredients are in this Recipe?
There are a couple of surprising ingredients in this recipe, but believe us, they make the granola sing!  
JOI cashew (or almond) plant milk concentrate really helps this granola stick together, and adds the nutrient power of nuts.
Heart-healthy oats
More nuts - raw cashews or walnuts or pecans!
Sesame seeds and flax seeds
Spices for rich layers of flavor.  We use the best:  Burlap & Barrel New Harvest Turmeric and Burlap & Barrel Royal Cinnamon or Cinnamon Verum and Nutmeg
Salt (to heighten all the flavors), and Pepper (to enhance the absorption of the turmeric)
Coconut oil for crispiness
Vanilla extract (we LOVE Origin vanilla) for even more layers of flavor
Maple syrup (for sweetness) and date syrup (optional but rich in nutrients and helps the granola clump)...have you tried Joolies organic date syrup yet?!
Dehydrated strawberries (or any other dried or dehydrated berry or fruit you prefer) for color and crunch.
Cocoa nibs a/k/a the "healthy form of chocolate" 
Who is Joy the Baker?
Joy Wilson is a self-taught baker, turned professional baker, turned food photographer, and three-time cookbook author. Her blog, Joy the Baker, started in 2008, where her love of baked goods quickly turned into a huge success. Her website was named Best Baking Blog by Saveur Magazine and one of the 50 Best Food Blogs by The London Times.  She was kind enough to let us adapt her winning recipe, with a JOI twist.  Thanks, Joy!  Joy x JOI.  It's a thing.
What else is for Breakfast?
Now that you're on a roll (who'd have thought you'd be making your own granola?), keep it going!  Try this grain-free chocolate granola next!
Here are some other ideas for your homemade breakfast table: 
For other sweet breakfast options, make a Dutch Baby or Clafoutis or French Toast Bake or Muffins!
Don't forget to pair your breakfast with a coffee or matcha latte!
Feeling more savory than sweet?  How about potato pancakes (a/k/a "latkes") for breakfast, perhaps with a side of eggs or tofu?