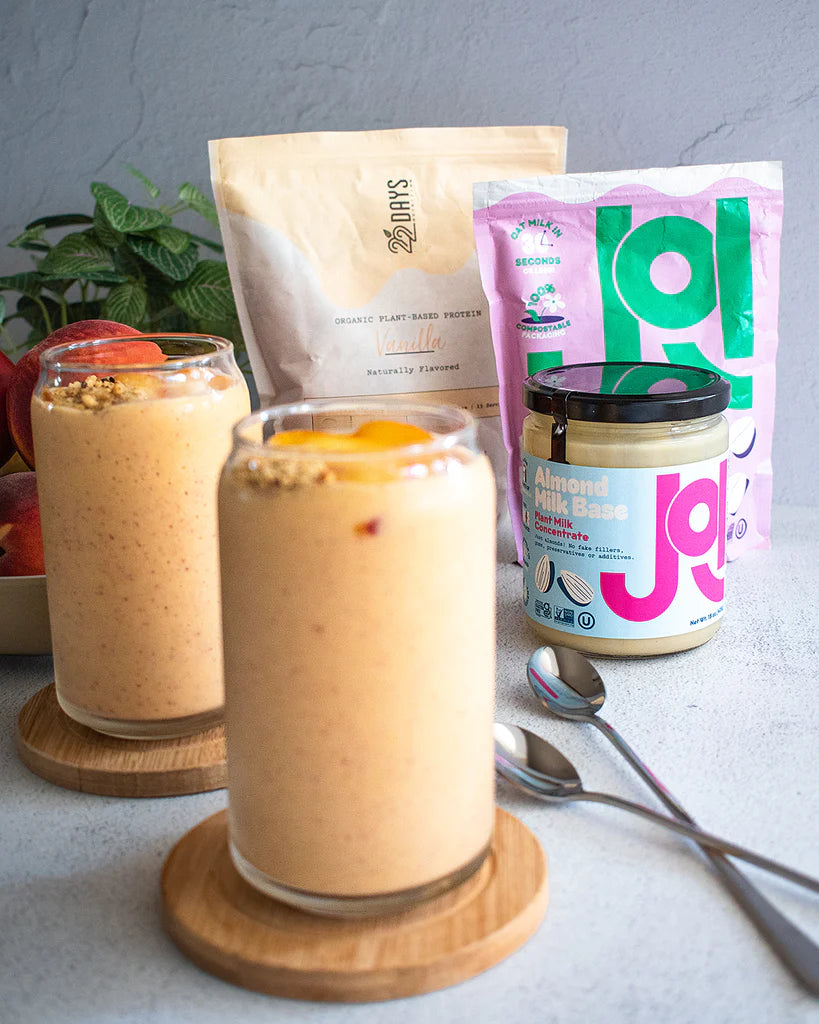 This Healthy "Peach Cobbler" is Actually a Smoothie!
Jul 28, 2022| By JOI team
< BACK
Jul 28, 2022| By JOI team
This Healthy "Peach Cobbler" is Actually a Smoothie!
Almond-Base |&nbspBeverage |&nbspBreakfast |&nbspCashew-Base |&nbspDairy-Free |&nbspDessert |&nbspOat-Powder |&nbspsmoothie |&nbspSnack |&nbspVegan |&nbsp
Want to get the old fashioned taste of a peach cobbler, but served up in a healthy, frozen, drinkable version? Presenting our Peach Smoothie recipe! This is one of those great recipes for summer.  When you're craving delicious dessert vibes made with seasonal produce, but don't feel like turning on the oven.
What are the Ingredients in a Traditional Peach Cobbler?
A traditional peach cobbler is prepared by first making a simple peach filling (think brown sugar and melted butter tossed with peaches). That filling then is hidden by (or bejeweled with) a cobbler topping. Cobbler topping is typically some form of simple biscuit dough that's dropped onto the filling. Bake it all together with some cinnamon and nutmeg for flavoring, and you've got a bubbling hot dessert right out of the oven.
Some folks serve hot cobbler with a scoop of vanilla ice cream (or even greek yogurt). That provides a cold contrast to the hot dish.
How is this Peach Cobbler Smoothie different than Peach Cobbler?
This recipe is inspired by the flavors of cobbler, but served up as a protein shake. (No biscuit included!) So, drastically different than your traditional cobbler.
We're relying on the natural sweetness of peaches (and banana or dates if you want to amp up the sweet factor) to power this easy recipe. Echoes of biscuit ring from the oat milk powder and optional granola topping. Instead of a side of ice cream, we're transforming the entire dish into a drinkable shake!
Think of this as the healthy, frozen version of your typical recipe. That you can "eat" with a straw. Plus it's gluten free and dairy free! To brush up on our analogy skills: this peach smoothie is to "frozen hot chocolate" as peach cobbler is to hot chocolate!
How Can I Adapt the Basic Recipe?
This recipe is easily customizable. Here are some swaps or tweaks to consider:
Don't have frozen peaches? Try using some peach juice or fresh peaches, with another frozen fruit or ice to deliver on the cold factor.
Peaches not in season? Swap out a different frozen fruit, such as cherries, blueberries or pineapple. In Miami we love mango cobbler - why not smoothie-fy it?
Substitute protein powder with a teaspoon each of chia seeds, hemp seeds and flax seeds.
Not in the mood for warming spices? Try a big squeeze of lemon juice instead for a zesty version of this smoothie.
Or contrarily, can't get enough of those "pumpkin spice" flavors no matter what time of year?  Then amp up the cinnamon with nutmeg and ginger and allspice too!
Want to boost the veg factor in this smoothie?  Throw in some frozen riced cauliflower or a handful of spinach.
Recipe Tips
For a thicker consistency, use more frozen fruit.
Stock up on extra peaches while they're ripe and in season!  Freeze them in wedges and slurp up summer all year long.
For a creamier consistency, add more JOI almond milk base.
The peach cobbler smoothie taste great with ground roasted walnuts.
This recipe works well with JOI cashew milk base instead of almond.  
What Else Can I Make With Peaches?
We've got some great ideas for you!
If you're into baking, try Peach Muffins.
If you're into grilling, try Grilled Peaches with Cashew Drizzle.
If you're into salads, substitute peaches for apricots in this Vegetable Pasta Salad.
We say, "Peachy keen!"