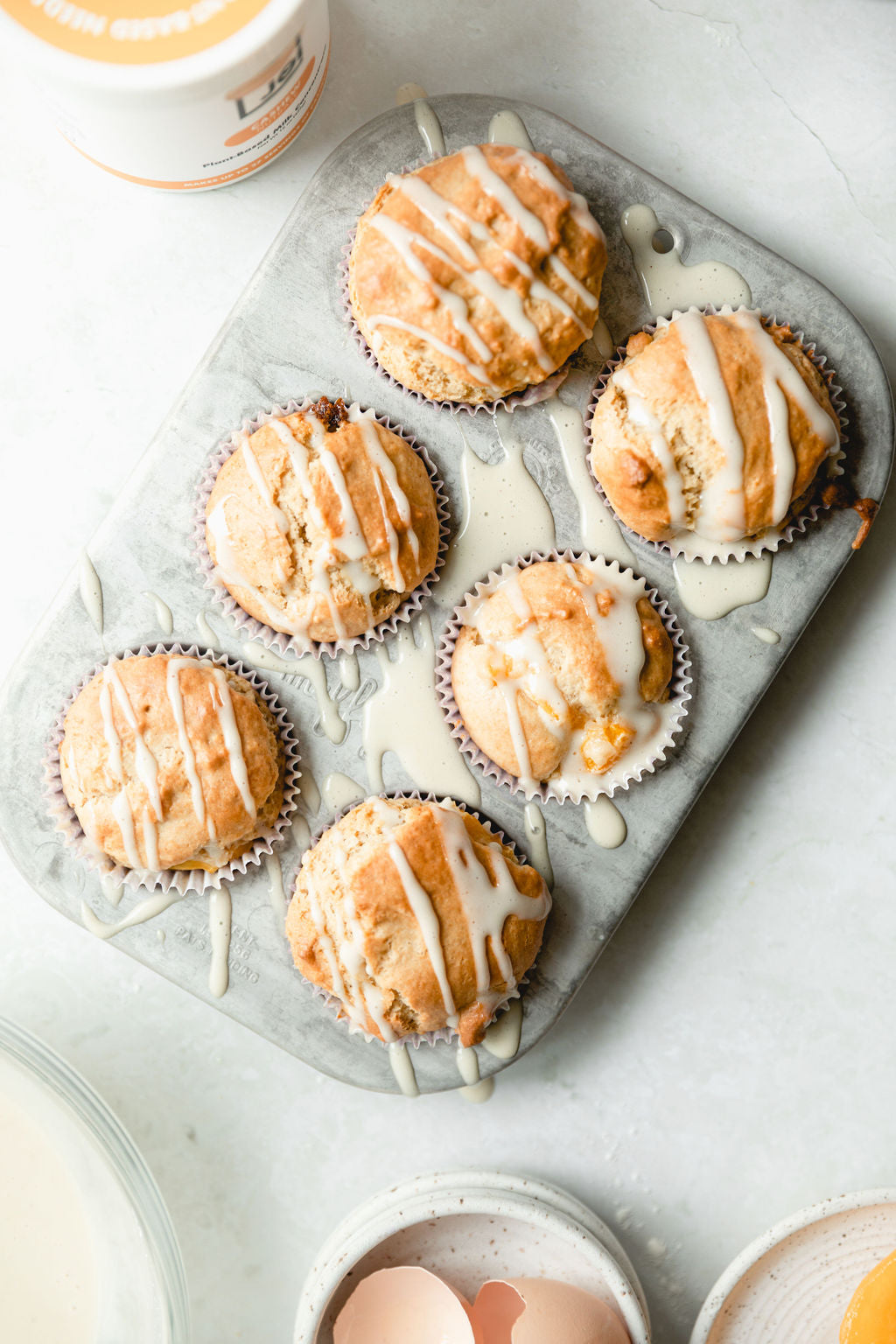 Peaches and Cream Muffins
Aug 29, 2023| By JOI team
< BACK
Aug 29, 2023| By JOI team
Peaches and Cream Muffins
Almond-Base |&nbspBaked Goods |&nbspBreakfast |&nbspBrunch |&nbspCashew-Base |&nbspCreamer-Base |&nbspDairy-Free |&nbspKeto |&nbspMuffins |&nbspOat-Powder |&nbspRecipe |&nbspSugar-Free |&nbspVegan |&nbspVegetarian |&nbsp
Breakfast muffins have never tasted so sweet! Light and flavorful peach muffins with a sweet creamy drizzle utilizes JOI in so many ways.
How is JOI used in this Recipe?
JOI plant milk concentrate is used 3 different ways in this recipe. In the batter, cashew or almond JOI keep these muffins tender and fluffy. We also used it to create the creamy drizzle that brings the cream to these peaches and cream muffins.  And as usual in baking, we added milk to the wet ingredients...JOI milk, of course.
Tips and Tricks and Substitutions
If peaches aren't in season, or you want an easy shortcut, listen up!
Another bonus for this recipe is that you can use canned peaches! These sweet breakfast treats can be made year round even if you don't have access to fresh peaches. Make these on the weekend and enjoy them all week.
Not a fan of peaches?  Use apricots, plums, cherries or mango during the summer.  Peeled pear or apple (pre-cooked) are great in the fall and winter. 
What Other Breakfast Recipes are Made with JOI?
Head over to our recipe blog for loads more breakfast recipes!  We've got everything from baked goods (Chocolate Oat muffins, pancakes, french toast bake, cinnamon buns and more) to cold, non-cook items (smoothie bowls, overnight oats, chia puddings, tapioca pudding).
We can't wait to see what you make!