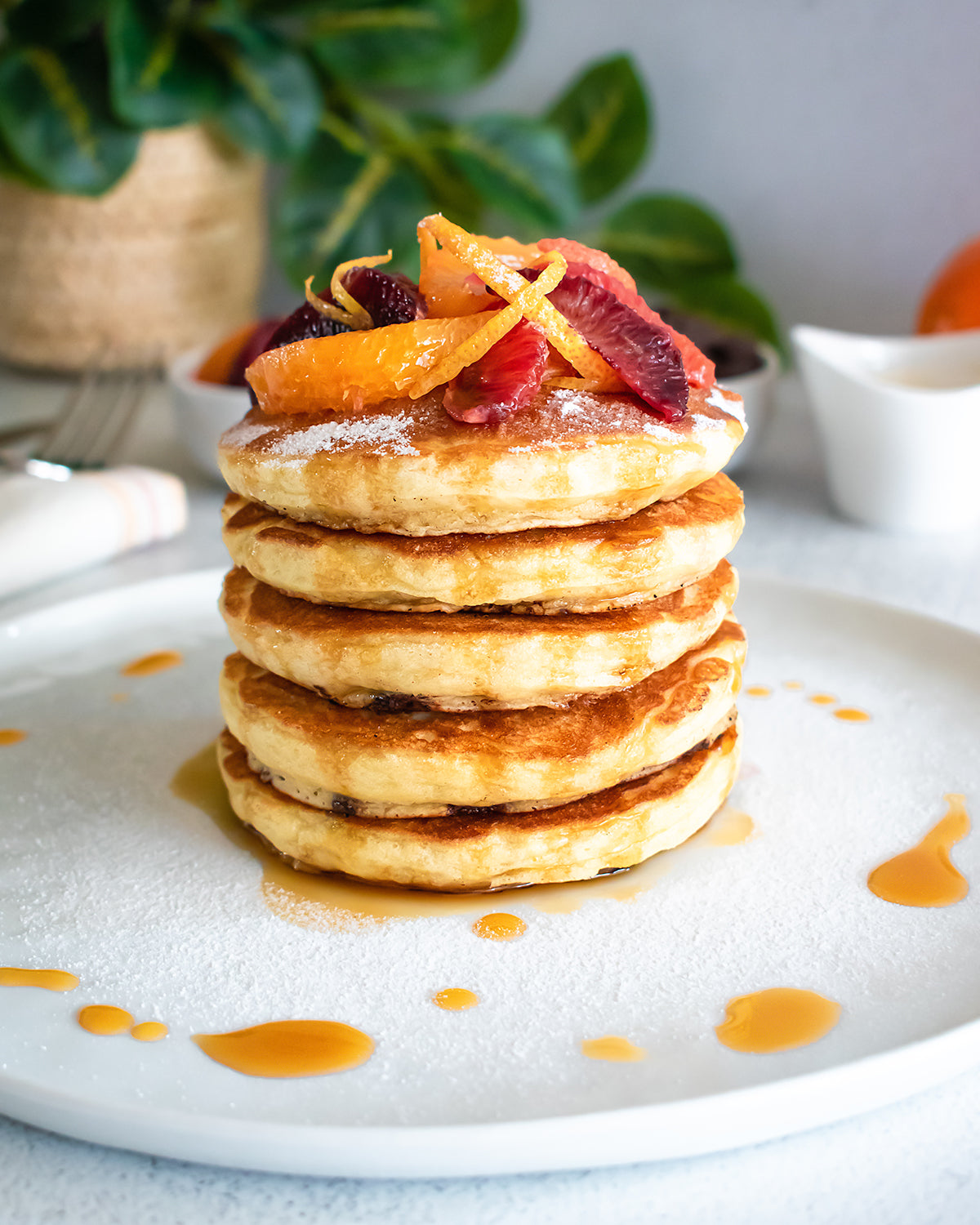 Vegan Buttermilk Pancakes with Chocolate Chips and Orange Compote
Feb 21, 2023| By JOI team
< BACK
Feb 21, 2023| By JOI team
Vegan Buttermilk Pancakes with Chocolate Chips and Orange Compote
Almond Milk |&nbspAlmond-Base |&nbspBaking |&nbspBreakfast |&nbspBrunch |&nbspButtermilk |&nbspCashew Milk |&nbspCashew-Base |&nbspChocolate |&nbspDairy-Free |&nbspPancakes |&nbspVegan |&nbspVegetarian |&nbsp
Everybody loves pancakes! These vegan chocolate chip pancakes have it all. They are healthyish, golden brown and delicious. They're great for a weekday but special enough for an occasion. Especially if you pull out all the stops and make our orange compote to top (sorry, maple syrup - we'll keep you around though!) Buttermilk. Chocolate. Orange. Pancakes. Yes!
What Ingredients Are in this Pancake Recipe?
Besides your standard "flour sugar baking powder", there are a couple of critical ingredients to making this recipe sing.
First, these pancakes wouldn't be "chocolate chip" if they weren't dotted with those critical chips!  We're using dairy-free chocolate chips.  We like the mini chocolate chips because they don't overpower the batter.  Or use shards of chopped dark chocolate instead.
In this recipe, we use JOI cashew (or almond) milk concentrate to make our own buttermilk. Adding buttermilk creates that signature tangy flavor, which perfectly complements the sweetness of the chocolate chips. 
And making buttermilk is so easy!  It's as simple as combining water, JOI and vinegar and letting science work it's magic.  And never run out of buttermilk again!
Plus, JOI milk is nutritious, clean label and vegan.  That means it's perfect for those who are lactose intolerant or want to avoid dairy.  Not a fan of cashew?  Substitute almond JOI.  
The stunner is that citrus compote on top.  Jump to the recipe for compote below! 
Substitutions & Customizations
If you're looking to make substitutions for this recipe, there are a few things to keep in mind.
You can replace the all-purpose flour with your favorite gluten-free flour.  That will make these pancakes gluten-free. Just make sure to check the packaging for substitution ratios.
For the wet ingredients, you can replace JOI cashew milk concentrate with any other JOI base. Almond and oat both work well in this recipe.
You can substitute the virgin avocado oil with coconut oil, another neutral-flavored oil or vegan butter. Keep in mind, though, that virgin avocado oil gives the batter a nice yellow tint. It is unrefined and tastes neutral.
Substitute vanilla extract with almond extract if you prefer that flavor. Or mix in a dash of cinnamon with the dry ingredients.
With a bit of creativity and experimentation, you can make these pancakes your own while still maintaining their healthy and delicious qualities.
Some Recipe Tips
Sift and whisk dry ingredients in a large mixing bowl, make a well in the center and set aside.
Make your own buttermilk! In a measuring jug or large cup, add the water, cashew concentrate and apple cider vinegar. Use a handheld milk frother and whisk all the ingredients until well combined. Alternatively, you can use a mini blender. Let the combined mixture sit for 5 mins. The mixture may separate but should be thick in no time. 
Granulated sweetener (like monk fruit sweetener or coconut sugar) is recommended for this recipe.  Because it helps to maintain a fairly thick batter. A thick but pourable batter creates light and fluffy pancakes!
Use fresh (unexpired) baking powder to make the most fluffy pancakes. Replace your leaveners every 6 months or so to ensure they still "work".
Do not overmix the batter. Lumps of batter are perfectly fine.
Don't let the batter sit for too long before you make these pancakes.  That's because the baking powder "activates" once combined with the liquid. If the batter sits too long, the baking powder "deactivates" and the pancakes will not rise. So, heat the pan or griddle before combining the wet and dry ingredients.
For most fluffy results, only flip the pancakes once! And do not press the pancake with the spatula.
The Wow Factor: Orange Compote Topping
If you're looking to add a "wow" factor to these healthy vegan chocolate chip pancakes do this!  Make this delicious orange compote topping. Orange and chocolate are a classic flavor pairing.  The tartness of the oranges balances perfectly with the sweetness of the chocolate chips in the pancakes.
To make the orange compote, just do this.  Simply cut the oranges into segments or wedges and set them aside. In a small pot on medium heat, add the freshly squeezed orange juice and sweetener and boil until reduced by half. Remove from heat and let the mixture cool. Pour the cooled mixture over the orange segments in a bowl and let it sit for a few hours or overnight in the refrigerator.  Simple, right?
When you're ready to serve, bring the compote to room temperature and spoon it generously over your stack of pancakes. The orange compote adds a burst of freshness and flavor to your pancakes.  It is sure to impress your friends and family.  Especially if you use a variety of oranges for an ombre effect!
Here's the Recipe:
Here are some other great healthy pancake recipes!
Do not fear, pancakes are near!  Check out the JOI website for these other treats:
Dairy-Free Lemon Dutch Baby Pancake
More healthy ideas for breakfast - or anytimne - on our recipe blog!