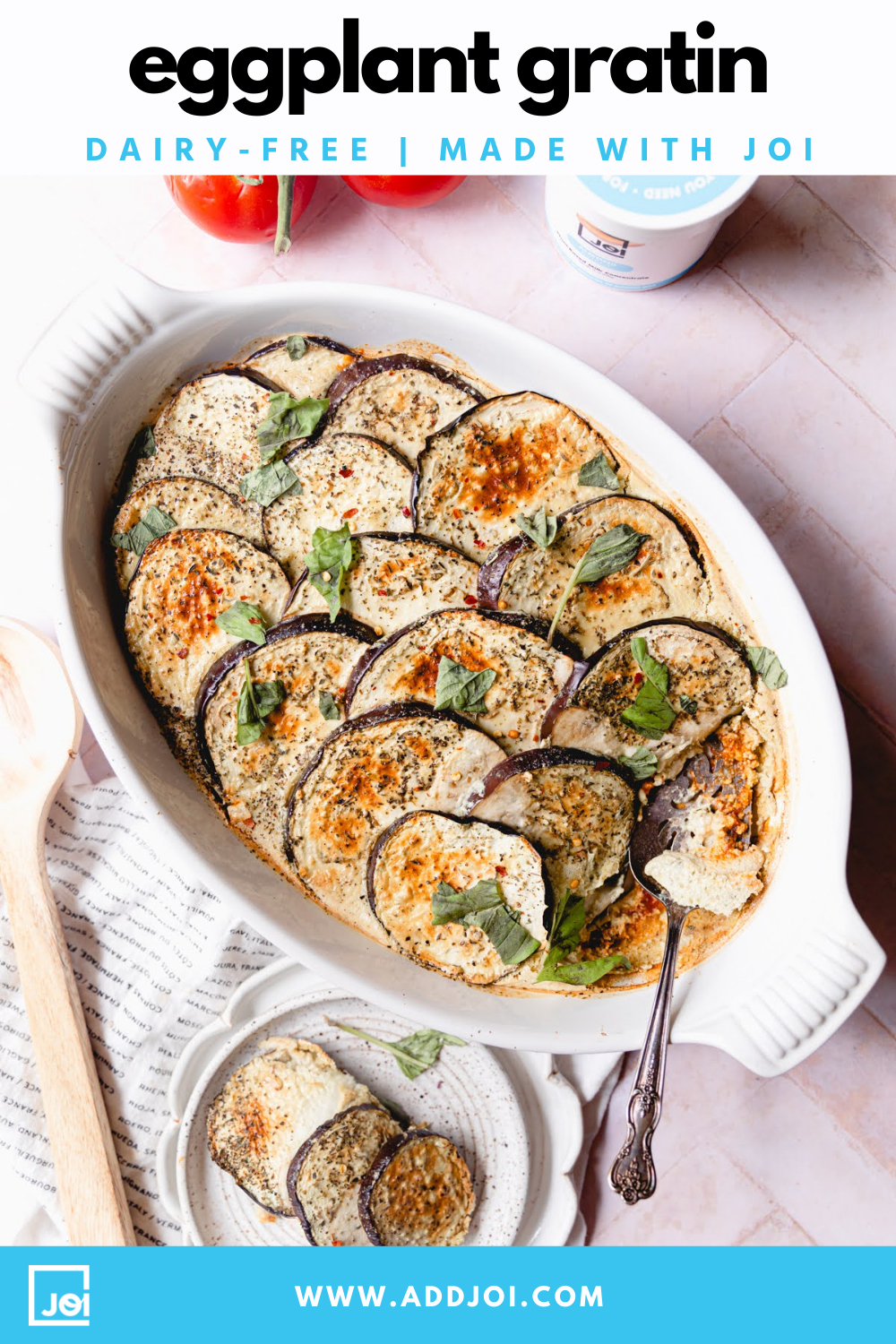 Eggplant Gratin (Dairy-Free, Gluten-Free)
Sep 21, 2021| By JOI team
< BACK
Sep 21, 2021| By JOI team
Eggplant Gratin (Dairy-Free, Gluten-Free)
Almond-Base |&nbspCashew-Base |&nbspCreamer-Base |&nbspDairy-Free |&nbspKeto |&nbspOat-Powder |&nbspRecipe |&nbspSugar-Free |&nbspVegan |&nbspVegetarian |&nbsp
It's that time of year:  you've got piles of beautiful eggplants. That you don't know what to do with!? Lucky for you, we've put together a mouthwatering, dairy-free eggplant gratin recipe that you can make year-round. Check out our quick guide for "everything you need to know about eggplant gratin". 
Why Choose Eggplant Gratin
We've all heard of eggplant parmesan and crispy fried eggplant (both delicious!), but why isn't their first cousin, eggplant "gratin" quite as famous? After all, this dish is one of a kind, tasty and nutritious. 
The basics: A gratin is simply a baked casserole dish, containing layers of (usually) vegetables and other ingredients. Probably you've heard of that creamy cheesy most popular gratin: the potato gratin.
Our eggplant gratin takes eggplants and turns them into is a healthier alternative to traditional fried eggplant recipes. By now we all know the drill: "deep-fried" equals high amounts of unhealthy fats. Instead, this dairy-free, vegan recipe gets a boost of healthy fats from the JOI plant base. 
Also, this eggplant gratin recipe is a great gluten-free option: no breadcrumbs, no "encrusting" or coating required. Just pure and simple eggplants shining, without any gluten to cloud the recipe.

Dairy-free but craving creaminess? Look no further! The creamy JOI-based sauce used in the gratin is a great substitute for cheese or béchamel. 

This recipe serves well as a side dish, packing in those veggies we all need.  Or, perhaps add some organic, grass-fed ground beef or cheese (vegan cheese, anyone?) and this becomes a main dish: a one-pot wonder!
Finally, one of the best reasons to choose eggplant gratin is because this recipe comes together fast! Assemble it, then you just pop it in the oven and let the heat work its magic. 
What to Know About The Recipe Process
Now that we know a little bit about why you might want to make eggplant gratin, let's talk a bit about the process. That way, you'll be ready to make this recipe like a pro! 
To get started, you'll need to preheat the oven to 375 degrees Fahrenheit. This will allow the oven to fully heat up while you prepare the rest of the ingredients and get ready to start cooking! Preheating the oven is an important step for keeping your cooking temperature even.
Another pro tip to know about the recipe process is that you can switch out traditional gratin dishes for a glass baking dish (such as Pyrex brand) or a pie dish. Use what you have! You don't need to rush out and purchase new bakeware just for one recipe.
Finally, be sure to cut the eggplants to the same thickness so that they all cook at the same rate. Using a mandolin can help make that process easy and precise.
Get Creative With the Recipe and Customize It! 
Need to transform this from a Side Dish to a Main Dish? No problem! Add ground beef or a plant-based meat or cheese to your dish to make it a little heartier. With a salad on the side, dinner is sorted.
You can also substitute all or part of the eggplant with other veggies. Try using  yellow squash or zucchini instead of eggplant. Add some fresh tomatoes or onion. Just be sure to slice the vegetables appropriately so that they cook at the same rate.  
Plus, your finishing touches can take things to the next level. Adding a sprinkle of non-dairy parmesan cheese or mozzarella cheese, or seasoned bread crumbs is a great way to give the gratin a crispy and cheesy topping.  
Create the Perfect Eggplant Gratin for You
With this delicious recipe, you're ready to whip up a plate of tasty eggplant gratin. It's time to serve up some yummy eggplant dishes that will leave you feeling satisfied all summer long. 
The Recipe
Round Out Your Menu with These Recipe Ideas!
Do you want more amazing baked vegetable recipes? Be sure to check out these dairy-free recipes that work as main dishes or side dishes:
Creamy Herb Baked Cauliflower

Baked Carrots with Dijon Dressing

Creamy Jackfruit Enchiladas with Green Salsa
Veggie Lasagna
Pot Pie

And don't forget to pick a Salad from our many recipes!

Plus, we've got all the dairy-free products and bases that you need to make these recipes all year round. Need to re-stock your pantry?  Shop now!