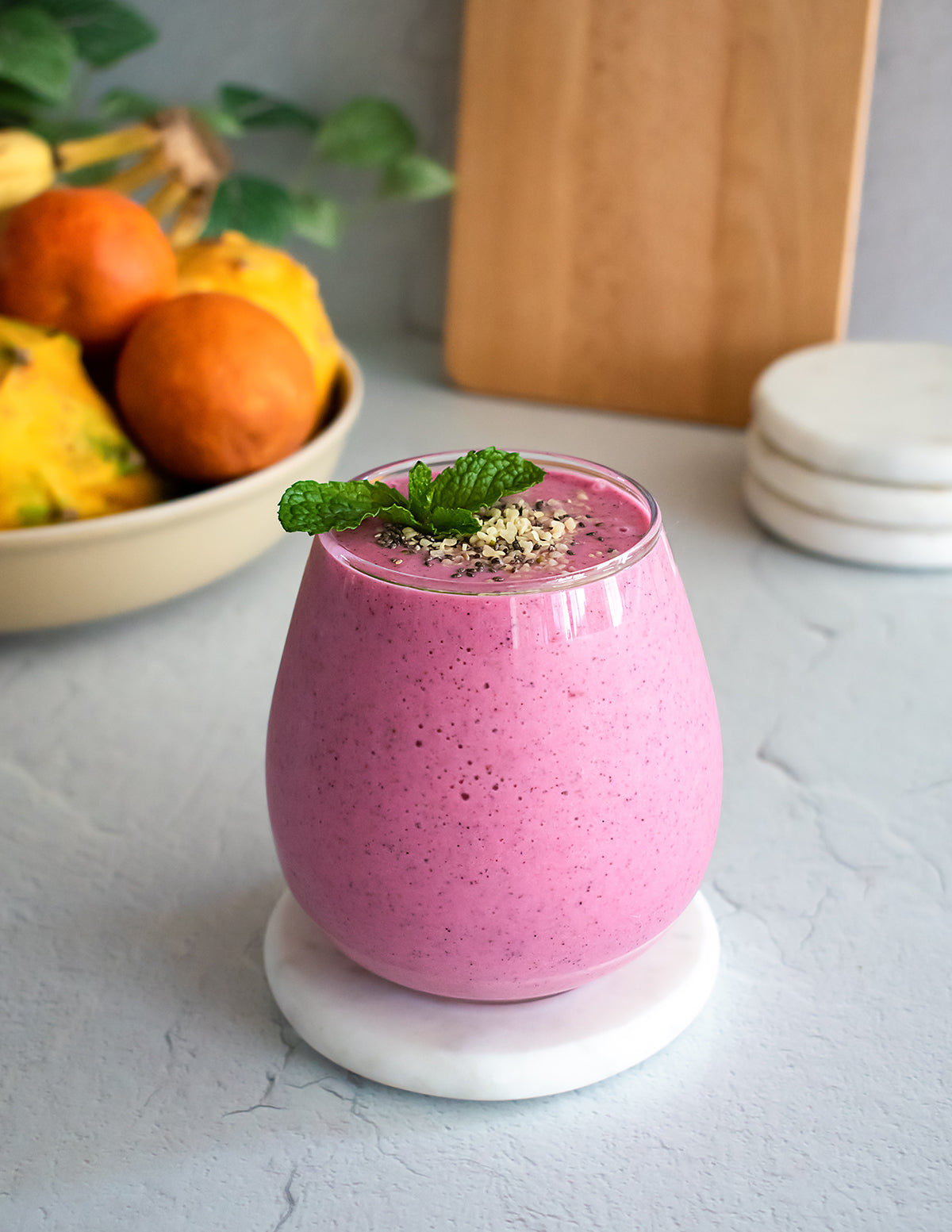 Superfood Dragon fruit ("Pitaya") Smoothie
Mar 17, 2023| By JOI team
< BACK
Mar 17, 2023| By JOI team
Superfood Dragon fruit ("Pitaya") Smoothie
Almond Milk |&nbspAlmond-Base |&nbspBreakfast |&nbspBrunch |&nbspCashew Milk |&nbspCashew-Base |&nbspDairy-Free |&nbspOat-Powder |&nbspPlant Milk |&nbspSmoothie |&nbspSmoothie Bowl |&nbspVegan |&nbspVegan & Dairy Free |&nbspVegetarian |&nbsp
This vibrant smoothie is loaded with antioxidants. Frozen pitaya (also known as dragon fruit) gives it a beautiful pink color, while frozen cauliflower adds creaminess. JOI milk concentrate adds protein and healthy fats, and lemon juice and hemp seeds give it a refreshing and nutty flavor. Throw in some superfood powders to turbo charge! Ready to give it a whirl?!
What is Dragon Fruit?
Dragon fruit, also known as pitaya, is a *unique-looking* fruit.  Ha!  What does THAT mean exactly?!
Well, it's got either a bright pink or yellow outer skin.  Which is covered in green "scales"...that give this fruit a dragon-like appearance.
The flesh of the fruit is either white or bright magenta (gorgeous color!) speckled with small black seeds.   
PItaya has a mild, sweet flavor similar to a combination of kiwi and pear.
Dragon fruit is high in fiber, vitamin C, antioxidants.
The fruit is native to Central and South America, but is now grown in many tropical and subtropical regions around the world.
The smoothie is naturally sweetened depending on the type of pitaya used in the recipe. The yellow pitaya is very sweet while the white ones are not at all. Pink pitaya falls in the middle. If using white or pink pitaya, you may want to add a pitted Medjool date or some sweetener of your choice to this smoothie.
Are you convinced to try if you haven't already?  
Why Make Smoothies at Home?
First things first.  Why make a smoothie at home instead of paying for one on the road? 
Smoothies are a great way to get a quick and nutritious meal or snack, especially when you're running out the door.  Because smoothies are so portable!
Making them at home means you have complete control over the ingredients.  That means you're getting the freshest and healthiest options available to you.  No hidden sweeteners or sugary sources here.  
Plus, you can customize your smoothies to your personal tastes and dietary restrictions.  More ideas on customizations below!  But we like adding JOI, chia seeds, hemp or flax to just about every smoothie we make.
No upcharge for the plant milk options from the home smoothie blender, either.
Is This Recipe Easy?  (Yes!)
This smoothie recipe is incredibly easy to make.  In fact, why not get the kids to help?
All you need is a blender and a few simple ingredients.  Even dragon fruit is popping up in grocery stores, whether fresh or frozen.  Can't find those options?  How about ordering a dried dragon fruit powder instead (thanks, amazon!)?
How to make it?  Simply toss everything into the blender and blend until smooth.
With just a few minutes of prep time (we like making smoothie "jars" ahead of time for the ultimate easy solution), you can whip up a delicious and nutritious smoothie that's perfect for a quick breakfast, snack, or post-workout refuel.
How Can I Adapt this Recipe?
One of the great things about smoothies is that they are highly customizable based on your personal taste, preferences and dietary needs.
If you don't have (or don't like) frozen dragon fruit, you can substitute it with any other fruit such as frozen bananas, mango, strawberries, or blueberries.
Similarly, if you don't have frozen oranges, you can use fresh oranges or any other citrus fruit, like grapefruit (for a more bitter flavor) or tangerines.
As for the frozen cauliflower, you can substitute it with frozen zucchini, spinach, or kale for added nutrients.
Use your favorite JOI concentrate for this recipe.  We like to use a combination of almond, cashew and/or oat.
What is your favorite superfood powder?  Use that! 
Personally, we can't resist adding chia seeds and flax seeds to just about every smoothie.
Feel free to experiment with different flavor combinations and ingredient substitutions to find the perfect smoothie for you!
Why Choose JOI Plant Milk Concentrates?
JOI plant milk concentrates are made from just one ingredient. They are free of additives and preservatives (unlike most plant milks available at the store).  And, you can easily customize the thickness and flavor by adding more or less water.
Using JOI concentrates is more sustainable than buying cartons of plant milk.  That's because one jar or pouch of JOI makes large quantities of plant milk, reducing packaging waste.  And because you add the water, you're improving your carbon footprint!
The addition of JOI plant milk concentrates provides a super creamy texture without the need for dairy milk or yogurt.
Why Use Superfood Powders?
Adding superfood powders to your smoothie is an easy way to boost nutritional content - such as additional vitamins, minerals, and antioxidants, depending on what superfoods are included in each product.
Superfood powders are made from a variety of nutrient-dense plants and can come in many different forms, such as spirulina, maca, acai, and moringa.
They can also be a great source of protein, fiber, and healthy fats.
Happy Viking is one brand of superfood protein powder that we love. Their powders are made with high-quality, organic ingredients and are free from artificial colors, flavors, and sweeteners.
Adding a tablespoon of your favorite superfood powder to this smoothie recipe is a great way to give it an extra nutritional boost.
Smoothie or Smoothie Bowl?
If you prefer to eat your smoothies with a spoon instead of sipping them through a straw, you can easily turn this recipe into a smoothie bowl by making a few tweaks.
First up, you'll want to thicken the mixture slightly by reducing the amount of water used in the recipe. Start with 1/2 cup of liquid and add more as needed until you achieve a thick, spoonable consistency.
Once blended, scoop the mixture into a bowl and top with your favorite toppings.  We love fresh or dried fruit, cocoa nibs, dried coconut, granola, nuts, or seeds.
Smoothie bowls are a great way to switch up your breakfast routine and can be a fun and creative way to add more fruits and vegetables to your diet.
Here's the Recipe
What Other Smoothies Can I Make?
Mastered this dragon fruit smoothie recipe and ready to rev up that high speed blender for another round of smoothies?
For more smoothie inspiration, be sure to check out our recipe blog. We've got a variety of recipes featuring JOI milk concentrates and other wholesome ingredients that will help you fuel your day.
From green smoothies to tropical flavors, there's something for everyone. And the best part? All of our recipes are simple and easy to make. So head on over to our website and explore all the delicious options, like these:
Many more on the site!